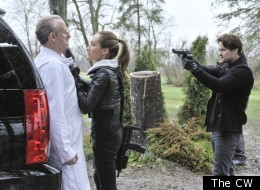 Note: Do not read on if you have not seen Season 2, Episode 13 of The CW's "Nikita," entitled, "Clean Sweep."
It's no wonder that "Nikita" showrunner Craig Silverstein has been referring to this episode as "Game Change 2," since "Clean Sweep" managed to realign many allegiances going into the second half of the season. Percy has finally escaped from his Magneto-esque plastic prison, Oversight is all but eliminated, and Nikita and Michael are faced with the possibility of a real happy ending -- something that our heroine didn't actually seem all that enthusiastic about.
As much as Nikita has been searching for a home and a sense of identity this season, many of the peripheral characters have been repeatedly emphasizing the fact that she's a "killer," that she was "born for this" and that she really has no idea how to be anything but an assassin. While Michael's journey is arguably a quest to recapture the sense of family and security that he lost when Kasim murdered his wife and daughter, Nikita never really had that normalcy; even during her relationship with Daniel, she was looking over her shoulder, knowing that the charade could fall apart at any moment. Michael clearly still craves the opportunity for a regular life, but over the course of the season, thanks in large part to Maggie Q's subtle, nuanced performance, it's becoming increasingly apparent that Nikita no longer sees "happily ever after" as a viable option. I just hope that Michael will someday be able to prove her wrong and give her the safety she's been missing for years. She and Michael would be foolish not to accept the presidential pardon that Senator Pierce offered, but it's obvious that she's still conflicted about her ability to function in the real world outside of her quest for revenge.
The pair's confrontation with Percy was another masterfully played scene, illustrating just what a world-class manipulator the former Division head can be. Was Michael really aware of the kill order put out on Daniel? He was certainly slow to refute it, even though we know that Percy was lying about Nikita's relationship with Owen. His words had the desired result, though, revealing the couple's weaknesses so that Percy knew which ones to exploit in the future.
Another interesting moment came when Percy praised Nikita for becoming "a world class operative," and urged her to embrace her potential, ominously observing, "I'm in your blood, for better or worse." As one fan, "Mrs_Amelia," noted on Twitter, many of the show's most striking lines often have double-meanings, no matter how throwaway they may seem in the moment. Could it have been Percy's way of hinting that he's somehow Nikita's father? I feel like there have been other lines littered throughout the show, even back in the first season, that pointed to Percy's particular fascination and fondness for Nikita -- she was always his favorite operative, but was that simply because he's a diligent manager, or because he had a deeper investment in her success, secretly been manipulating her life for years from behind the scenes and grooming her to become the perfect soldier? Given some of the other long cons he's pulled off, I don't think it's such a wild theory, but I'd love to hear your opinions.
In another delicious twist, Amanda's mystery caller was revealed to be Gogol's Ari Tasarov, who is apparently working with Amanda to undermine Semak's ownership of Zetrov, with Alex being positioned as their ace in the hole. After the last episode, I did suspect that Ari might be at the other end of the line, since "Nikita" has always excelled at those juicy on-screen reveals, and there was a fairly narrow selection of candidates that could've made such an impact, short of Semak himself (which would've made far less sense). Regardless of whether you think the reveal was telegraphed or not, the implications of their unholy alliance set up an interesting set of possibilities. Does Amanda really think she has Alex in thrall enough to use her to take command of Zetrov, or does she plan to kill the freelance agent once she's sent Alex to depose Semak? And, since this is Amanda -- and Ari -- do the pair really trust each other, or are both plotting to dispose of the other once they've removed Semak from the equation?
It was a relief to see Amanda back on top after the mind-games Percy played with her in "Sanctuary." This episode (written by Kalinda Vazquez), once again reasserted Amanda's dominance, illustrating that, even though she might not have predicted all of Percy's labyrinthine moves (because who could?), she still had her own contingency plans in place -- such as the gas mask she had stashed in her office in case "Operation: Clean Sweep" was initiated. I'm intrigued to see where her alliance with Ari will take them both.
I was also glad to see Alex and Birkoff given something meatier to do this week; I've been missing our nerd's one-liners while he's been recuperating, as well as his pithy banter with Alex. The "Buffy" fan in me paid particular attention to the use of "five by five," as well as his "Terminator" reference, a description that fits Roan like a glove. I was sad to see our unkillable super spy live to murder another day, especially now he's out in the world with Percy and the remaining Guardian -- a more terrifying threesome I haven't seen since Hilary Duff and Jessica Szor banged Lonely Boy on "Gossip Girl." I'm sad that Alex is still in a more reactive role, but I'm interested to see how she plans to handle Amanda if they go ahead with her plan to challenge Semak for Zetrov's throne.
Though the episode was slow to kick into high gear -- because of all the maneuvering, the pacing was a little more measured than in some recent episodes -- it was undoubtedly a solid and necessary foundation for the stories to come, and there's nothing wrong with that. There were a number of engaging and stand-out scenes (pretty much everything involving the excellent Xander Berkeley was top notch), and the board is now reset with plenty of potential conflicts. I can't wait to see how Percy furthers his nefarious plans now that he's on the outside. Share your thoughts on "Clean Sweep" in the comments below!
"Nikita" airs Fridays at 8 p.m. EST on The CW.
Check out the slideshow for the full rundown of what to tune into this week.
What's On TV January 30 - February 5
"Gossip Girl" (8 p.m. EST on The CW) The stylish soap hits 100 episodes this week, featuring an elaborate musical dream sequence involving Serena, Blair and all the men in their lives. Also, while Chuck wrestles with the reality that Blair is about to walk down the aisle with Prince Louis (guest star Hugo Becker), the return of Georgina Sparks (guest star Michelle Trachtenberg) might make the royal affair a royal disaster.

"RuPaul's Drag Race" (9 p.m. EST on Logo) season premiere The fourth season kicks off with a spooky twist, as 13 new queens embark on their quest for the title of "America's Next Drag Superstar," facing drag zombies and an impending apocalypse. Elvira, Mistress of the Dark appears as a guest judge.

"Oprah's Next Chapter" (10 p.m. EST on OWN) While visiting Haiti with actor Sean Penn, Oprah meets a young American woman who is running an orphanage, a Haitian businesswoman, and fashion designer Donna Karan, who talks about the business opportunities that she helped create post-earthquake.

"Glee" (8 p.m. EST on Fox) Though the series tends to fluctuate between trainwreck and triumph on a regular basis, we're hoping that tonight's tribute to the legendary Michael Jackson will fall into the latter category. The rivalry between New Directions and the Warblers intensifies en route to Regionals, while Kurt and Rachel receive news regarding their admissions process at NYADA, and things continue to heat up between Sam and Mercedes.

"Ringer" (9 p.m. EST on The CW) After a two month hiatus, we're hoping Sarah Michelle Gellar's freshman drama comes out swinging, since the material in the first half of the season wasn't living up to the strong cast. Bridget offers to host a fundraiser that her friend Greer (guest star Madchen Amick) is holding for Juliet's school and discovers that Greer knew one of Siobhan's deep, dark secrets. While back in New York, Siobhan discovers that Bridget has settled into her former life more easily than Siobhan expected and she is determined to change that.

"Tori & Dean: Home Sweet Hollywood" (10 p.m. EST on Oxygen) season finale As the season wraps up, Tori and Dean host a baby shower that brings all of their family and friends together one last time before the birth. A few days following the shower, Tori goes into early labor and needs to be rushed to the hospital for the birth of their third child. The Spelling-McDermotts spend this momentous occasion together, welcoming a baby girl into their family.

"Key & Peele" (10.30 p.m. EST on Comedy Central) series premiere Keegan-Michael Key and Jordan Peele are best known for their impressive ability to do improv, and conjure up original characters and celebrity impressions. In this new series, the comedic actor-writers will examine life in a provocative and irreverent way, through a combination of filmed sketches and live stage segments. Whether it's satirizing the President, spoofing Nazis, or ordering up some soul food, "Key & Peele" showcase their chemistry, camaraderie and unique point of view, born from their shared background and experiences growing up biracial in a not quite post-racial world.

"Super Bowl's Greatest Commercials 2012" (8 p.m. EST on CBS) one-hour special presentation An interactive countdown special where viewers will be able to vote live when this year's program focuses on Super Bowl's Greatest Commercial Brands. The special will count down the 10 greatest Super Bowl commercial brands which will vie for the number one spot. Super Bowl commercial brands to be featured in this year's special include Budweiser, Bud Light, Careerbuilder.com, Coke, Doritos, E*Trade, FedEx, GoDaddy.com, Pepsi and Victoria's Secret.

"Beast Tracker" (9 p.m. EST on Discovery) series premiere Dr. West sets his sights on an apex predator: the alligator, a cold-blooded killer that in some years claims more lives in the USA than sharks. He investigates why there is so much conflict between humans and alligators and finds out what's being done to prevent it.

"Face Off" (10 p.m. EST on SyFy) The contestants go to an abandoned hospital in Los Angeles, where they are challenged to create a unique horror villain based on a phobia. Tom Savini appears as a guest judge.

"The Big Bang Theory" (8 p.m. EST on CBS) Sheldon's selfish demands force Leonard to reconsider their friendship. Meanwhile, Wolowitz tries to pick his astronaut nickname.

"Parks and Recreation" (8.30 p.m. EST on NBC) It's Valentine's Day and Leslie decides she needs to find Ann a new man. Ben must enlist Ron's help when he is stumped by Leslie's elaborate Valentine's Day scavenger hunt, and Chris is depressed about the status of his love life.

"Grey's Anatomy" (9 p.m. EST on ABC) The buzzed-about episode that shows Seattle Grace as it never was, but could have been. As Meredith puts Zola to bed and falls asleep she begins to wonder -- what if her mother had never had Alzheimer's and she'd had loving, supportive parents? The reverberations of a happy Meredith Grey change the world of Seattle Grace as we know it. What if she had never met Derek in that bar and he had never separated from Addison? What if Callie and Owen had become a couple long before she met Arizona? And what if Bailey never evolved from the meek intern she once was?

"I Just Want My Pants Back" (11 p.m. EST on MTV) series premiere Struggling with sex, love, career and friendship as a young twenty-something living in Brooklyn, the series follows Jason Strider, played by Peter Vack. Jason puts hanging with his friends, going to bars and hooking up above his entry level job where he's the lowest rung at a casting agency, and dreams of being in music journalism-but has no idea how to get there. It's not until a one night stand steals his heart and his pants, that he begins a quest to get his beloved jeans back, and hopefully the girl, while also growing up along the way.

"Nikita" (8 p.m. EST on The CW) Percy has his Guardians hold the members of Oversight hostage until Amanda agrees to his demands. If she doesn't, the Guardians will shoot all the members of Oversight and release a deadly gas inside Division that will instantly kill everyone, including Amanda. Nikita is torn between letting the enemy fall and saving the innocent lives inside Division. Meanwhile, Sean is frantic to save his mother from Percy's clutches and turns to Nikita, Michael and Alex for help.

"Fringe" (9 p.m. EST on Fox) Our Astrid gets an unexpected visit from her Alternate, while Peter and Olivia track a killer using a toxin that has yet to be invented. Both universes collide in a case that pushes the boundaries of what is possible.

"Supernatural" (9 p.m. EST on The CW) Also at 9, "Vampire Diaries" star Sara Canning guest stars in an episode that could challenge the Winchesters' perceptions of family. Sam and Dean investigate a case where the victims' hands and feet have been severed and each have been branded with a strange symbol. While Sam does some research at a local university, Dean heads to one of his favorite places to investigate: the town bar. Dean strikes up a conversation with a local named Lydia (Canning), and the two go back to her place, with unexpected results...

"Spartacus: Vengeance" (10 p.m. EST on Starz) Spartacus and his men liberate a Roman villa, but its slaves are wary. Oenomaus throws himself into the brutal Pits, and Glaber supports Lucretia's prophecies, despite Ilithyia's protests.

"Secrets of Eden" (8 p.m. EST on Lifetime) original telefilm This telefilm centers on Stephen Drew (John Stamos), an adored small-town minister in Haverhill, Vermont and the brutal and sadistic murder-suicide of Alice and George Hayward, the town's most-beloved parishioners. While the community never imagined such a destiny for the Haywards, dark secrets begin to surface, causing many to realize they may not have been the perfect family everyone thought they were. When evidence of an affair between Alice and Reverend Drew surfaces, Detective Catherine Benicasa (Anna Gunn) suspects that the crime may actually be a double-murder -- with the likable minister as the prime suspect.

"Shameless" (9 p.m. EST on Showtime) While there's nothing on the broadcast networks to oppose the Super Bowl, we can always count on cable. As well as "Downton Abbey" on PBS and "Luck" on HBO, things heat up for the Gallaghers as Sheila uncovers the truth about what transpired between Frank and Karen last year. Elsewhere, Fiona attends a high-class wedding with her sugar daddy; Lip discovers startling news about Karen and Jody; Frank's room is rented to a hooker and Veronica suspects Kev of cheating.

"The Voice" (10 p.m. EST on NBC) season premiere The upstart challenger to "Idol's" talent-finding throne is back. The "blind auditions" are held in front of the celebrity panel of coaches including, Christina Aguilera, Adam Levine, Cee Lo Green and Blake Shelton, who each hand pick 12 vocalists for their individual teams. The strongest vocalists from across the country compete to be selected by one of the coaches and fight for a chance to win the title of "The Voice."
Follow Laura Prudom on Twitter: www.twitter.com/LauinLA