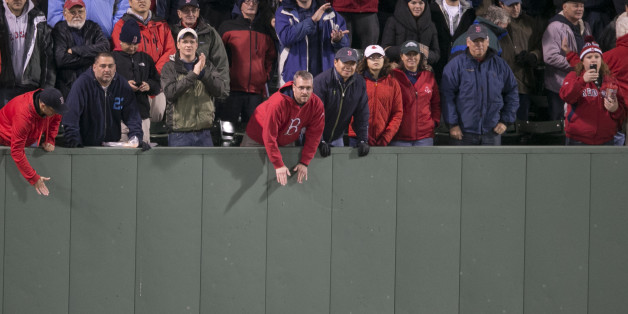 Growing up in northern New Jersey with New Yorkers for parents meant that, when it came to baseball, I could root for the Yankees or I could keep quiet. Mets fandom -- reserved for the truly stubborn and delusional -- garnered the same sympathy typically directed toward three-legged dogs: a sort of, "Hang in there, kiddo," tone.
Unsurprising to those familiar with my resistance to New York culture, I never developed an attachment to the pinstripes. And after a decade under the NY influence, I dove into a whole new ballgame when my family moved to Los Angeles. Surrounded by peers who had grown up drinking the Dodger Kool-Aid, I spent the next eight years trying on blue for size. From tossing hand signs to represent my city, to becoming a regular of the stadium's all-you-can-eat section, and mastering the correct local pronunciation of our team -- Los Doyers -- I did everything I could to be a part of their world.
Blame it on the hellish 110 traffic on game-days, too many cases of stadium-food indigestion, or the all too regular fan fights and deaths, but the Blue Crew never felt quite like my team.
When the time came, I landed on Boston as my college city destination. I knew if any place could make a fan out of me, it had to be this one: a place home to storied and well-deserved team loyalty.
My love affair with the Sox did not start out well. At my first game, as the crowd began its time honored chant for David Ortiz, I gleefully joined in, "ROBBIE! ROBBIE! ROBBIE!' It wasn't until later when I starting asking some basic roster questions that I discovered I really had missed the mark on that one.
Undaunted, I returned to Fenway soon after -- this time with my parents in tow for a Yankees/Red Sox match up. My brows still furrow when I remember the disgust I felt toward their Yankees gear and NY attitude. But for once, my disconnect with the Big Apple wasn't out of place. I was home.
Over my five years in Boston, Fenway and the Sox have been a part of some unforgettable moments for me: like the time my freshmen dorm neighbors and I camped out on Yawkey Way at six in the morning for $20 tickets. During our 10 hour sit-in, we had a pizza delivered to our spot in line and scored admission to the Coca Cola deck. As the game ended -- 14 hours into our day -- we learned our dorm had lost power and we were temporarily without a home. We passed the time swept up in the post-game crowd, fueled up on more pizza and ice cream, and hit the BU beach for frisbee and sleep: one of those strangely perfect college nights.
Or, the time my friends and I drunkenly traded up from box seats at the first base line to the green monstah to a suite. Or, when I choked on a Fenway Frank during a staff retreat at the park and upon receiving the Heimlich, ruined our bartender's jeans forever. (Still so sorry, Mike!). I never said all the memories were good ones.
Having spent three of my five years in Boston working at a restaurant around the corner from the park, I still half-expect myself to lose interest in the Sox from sheer over-exposure. And sometimes, halfway through a double shift on the first of a three-game series versus the Yankees, it's hard to feel the love. But, then you watch a moment like this one in your crowded bar and you share a mid-air high-five with the General Manager, and soak in the glow of an impending World Series ticket, and you think, yeah, maybe this is what it feels like to be a fan.
The pure electricity and hope of Opening Day, the sweeping sea of red and blue that pours out from Kenmore station, the palpable sense of community among fans, win or lose -- it's all magic.
I watch ESPN for game highlights, and Fever Pitch for inspiration; I share game predictions with Kenmore's "Numbah 1" Pharaoh, and geek out at every sighting of Fenway's TJ the DJ.
I love this team.
As we enter our first World Series in six years, I don't care if we win or lose. Well... I really do care, but that's not the point. The point is, as Big Papi -- aka ROBBIE -- put so well, "This is our fucking city." And this is my team, one victory closer to a season's perfect ending.
Go Sox!
SUBSCRIBE TO & FOLLOW THE MORNING EMAIL
Start your workday the right way with the news that matters most. Learn more