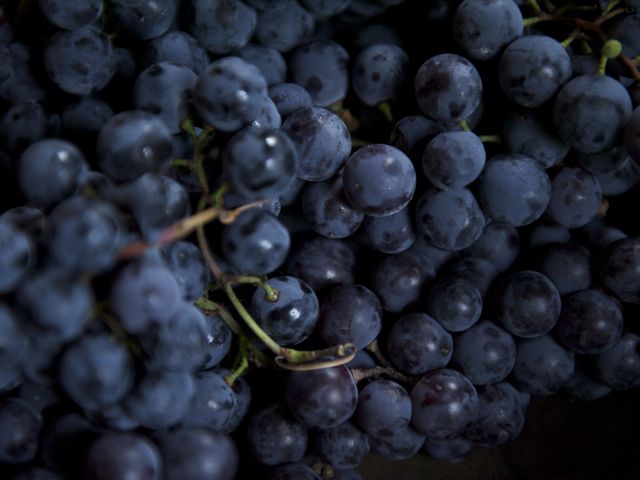 Some people get all excited about the arrival of Beaujolais Nouveau. I anxiously await the appearance of the first Concord grapes from the farm nearby. Those gorgeous purple-black clusters are a sure sign that fall is nigh. A cultivar derived from the Vitis labrusca species, Concords are known as fox grapes because of their "foxy" flavor, an irresistibly sweet, floral taste with a fragrance like candied musk. As with all purple grapes, they are rich in flavonoids which have strong antioxidant properties. The Concord was developed in 1849 by Ephraim Wales Bull in Concord, Massachusetts. It won first place at the Boston Horticultural Society exhibition of 1853, and was developed into the first (pasteurized) juice by Thomas Bramwell Welch in 1869. He provided it to his church to be used in communion. I make it into a delicious, tangy sorbet with a toasty accent of fennel and a subtle hint of salt, the eating of which can be likened to a religious experience.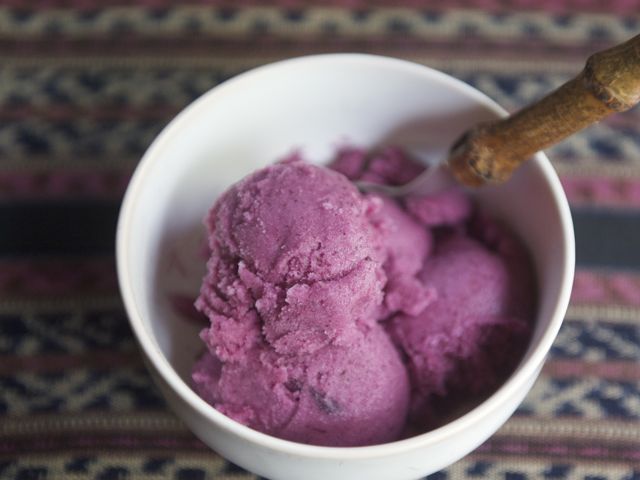 CONCORD GRAPE SORBET
adapted from Meredith Kurtzman,
the inspired pastry chef at Mario Batali's Otto restaurant
serves 8
1 teaspoon fennel seeds

1 teaspoon fennel pollen (or sub another teaspoon of fennel seeds)
2 lbs Concord grapes

1/2 cup organic sugar

juice of 4 medium lemons

2 generous pinches of sea salt

1/2 cup agave nectar
2/3 cup water
Lightly toast the fennel seeds in a small skillet over a low flame, then coarsely grind them in a mortar and pestle. Set aside.
In a large bowl, combine the grapes, sugar, lemon juice, salt, ground fennel seeds and fennel pollen, and mash well with an immersion blender or potato masher. Cover and refrigerate overnight or for at least 6 hours (the longer it steeps, the more deeply purple it becomes).
Remove from fridge and push mixture through a fine strainer into another bowl, discarding solids. Stir in agave nectar and water. Taste and add more lemon juice and/or salt as needed.
Chill for at least 6 more hours in refrigerator, then process in your ice-cream maker. Transfer to an airtight container and place in freezer to firm up for a couple of hours.