With the recent salmonella scares, and all I've learned about factory-farmed meat from watching Food, Inc. and reading Jonathan Safran Foer's "Eating Animals," I feel especially lucky that I have access to Dickson's Farmstand, a purveyor of locally sourced, humanely raised animals. Their shop in New York City's Chelsea Market is the only place, other than the farm near our house upstate, where I feel comfortable buying meat or poultry. In addition to being a wonderful butcher shop, they also have an amazing array of smoked meats, beef jerky seasoned with an addictive mix of star anise and red chile, delicious terrines and rillettes, and fresh lard and stocks.
The owner, Jake Dickson, has made real strides not only in the way he sources his animals, but in the way they're presented, and in the service he offers customers. One of his purveyors, Bob Comis of Stony Brook Farm in Schoharie, referred to Jake as "a forerunner in the creation of the BSA model." Business-Supported Agriculture is a new farm-to-business model, firmly rooted in the tenets of Community-Supported Agriculture, in which both sides are open and honest about their financial positions and take responsibility for the success of the other, simultaneously cultivating and supporting the farm and the business to build profitable enterprises in real partnership. When you think about the way that industrial agriculture has undermined small farms, the quality of the food we eat and thus, ultimately, our health, this is no small achievement.
Jake was kind enough to share with me how and why he started his business, along with some other meaty tidbits.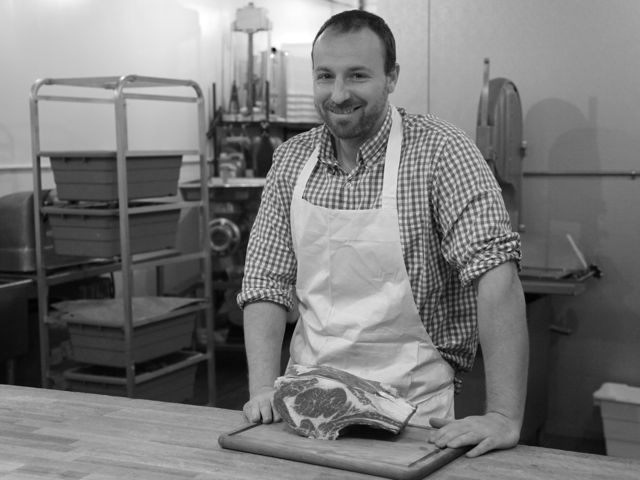 How did you transition from your job in marketing to your meat business?
I did everything I could to learn as much as possible. Among the many jobs and internships I took on was working for Craig Haney, the livestock coordinator at the Stone Barns Center in Westchester. I also lived in a bunker with 700 dairy cows at Cornell, worked in a slaughterhouse, and then spent time building relationships with farmers.
What were your most valuable lessons?
I learned that it's not enough to read books. You have to really be with the animals at every phase to develop your own personal belief system, your own set of ethics and practices. It's about doing right by yourself, by the people you are feeding, and by the animals for whose life and death you are responsible. I try never to forget that this is a serious business.
How did you decide to go with meat from within a 400-mile radius?
It's actually a 400-mile maximum supply chain (farm-to-slaughterhouse-to-NYC) rather than a radius. I chose 400 miles because it's a reasonable day's drive if I ever need to--or my customers ever want to--follow the path that an animal took from the farm to their dinner plate. We always provide the farm name to customers as a way to help tell the story of our meat and where it comes from.
You're an advocate for eating less meat. What would you say is an optimal amount to incorporate into one's diet on a weekly basis?
I think it's a good idea to eat less meat, but to eat meat of a higher quality. It's a personal decision, but twice a week seems about right to me.
SLOPPY JOE
from Chef Gabriel Ross at Dickson's Farmstand

serves 4
1lb of boneless beef shin

2 tablespoons vegetable oil

1/2 cup homemade beef stock 

1/2 large onion, minced

1 generous tablespoon minced garlic

5 oz crushed tomatoes, strained, liquid reserved

1½ teaspoons tomato paste

1½ teaspoons ground cumin

3 teaspoons ancho chili powder

2 teaspoons chipotle powder

3 teaspoons freshly ground black pepper

1½ teaspoons ground allspice 

3 teaspoons ground coriander 

3 teaspoons sweet paprika

1½ teaspoons dried thyme

3 teaspoons mustard powder

sugar, to taste

salt, to taste
Chile Paste:
You can prepare this up to 1 week in advance.
Combine spices (cumin through mustard powder). Fry garlic in vegetable oil until it begins to turn golden brown, then add onions and cook until soft. Add spice mixture, cooking until fragrant and onions are coated. Add tomato paste. Cook, stirring frequently until mixture begins to dry out. Add tomato solids and cook until liquid evaporates. Transfer to a container and refrigerate until ready to use.
Braise:

Preheat oven to 350 degrees.
Cut meat into 1-2" chunks. Heat oil in a large pan and brown meat. In a large oven-safe casserole, combine meat with liquid from tomatoes, stock and chile paste. Liquid should cover 2/3 to 3/4 of the meat. Lay a piece of parchment paper on top of meat and cover with lid or foil to help retain moisture and prevent the surface from drying out. Reduce heat to 250 degrees and braise for 6-8 hours.
To test for doneness, remove one piece of meat and crush it with the back of a spoon. It should shred effortlessly. Cool slightly and strain cooking liquid into a pot. Bring to a gentle simmer, adding sugar and salt to taste.
Shred meat with a potato masher or two forks, removing any bits of tendon and sinew that have not fully broken down during the cooking process. Combine shredded meat and seasoned liquid. Taste again and adjust seasoning.
To serve, mix in ketchup or hot sauce of your choice. We use a sweet and spicy Malaysian sauce called Ligham's.
The traditional way to eat a Sloppy Joe is piled onto a soft bun, but it's also great over rice or mashed potatoes.