This post is part of the Global Mom Relay. Every time you share this blog, $5 will go to women and girls around the world. Scroll to the bottom to find out more.
I didn't spend much time in my formative years with my mother, so I learned a great deal of my life lessons through my Dad, Ted Turner: He always gave sage advice and led by example. His actions have profoundly impacted the world, and he has helped to alleviate poverty and improve health outcomes for millions.
"It takes a village" has always been our family's philosophy, and so I had the good fortune of being raised with many surrogates -- equally strong and caring women -- who mentored me and filled in the missing pieces of my life puzzle.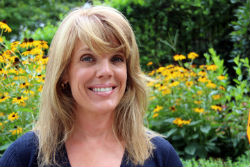 I learned early on that lessons must be placed in context. If we want children to respect the environment, we must teach them by giving them memorable experiences in nature. If we want our children to eat healthier meals, we must provide them with nutritious, chemical-free food. If we want to advance women's rights around the world, we must first empower them.
In my travels in the U.S. and around the world, I'm often asked how I personally foster a healthy lifestyle in my own home. My answer is always the same: I work hard to learn as much as possible about the best choices I can make that will ultimately promote wellness. In other words, I support companies and their products that won't make my family and I sick. What we eat, drink, breathe and put on our bodies really does matter.
At our home in Atlanta, we have installed six raised beds where we grow our own vegetables. The best part about it is that it brings us all together and becomes a wonderful, family-oriented affair.
Digging, planting, watering and harvesting plants is a fascinating and fun activity for kids who love to eat the fruits and vegetables they grow.
Whenever we can, my family cooks together, breaks bread together and even composts together! We value dinner as a special time where we can share special parts of our day or discuss important issues of global importance. I love listening to my kids talk about their hopes and dreams whether it's for tomorrow or 10 years from now, knowing all the while that I am providing the fuel their bodies and brains need to succeed.
According to Dr. Mark Hyman, research has shown that children who eat regular meals with their parents are 42 percent less likely to drink alcohol and 50 percent less likely to smoke. Regular family meals also protect girls from bulimia, anorexia and reduce the incidence of childhood obesity.
But way too many mothers in places around the world do not have the opportunity to cook a healthy meal for their children in a safe environment.
I witnessed this firsthand during a recent trip to Ghana to work with Rotary Club and young business professionals to improve children's health and environmental conditions in impoverished communities.
I was astounded by the prevalence of three-stone fires and the amount of smoke that piled out from them. Exposure to cooking smoke is the fifth worst risk factor for disease in developing countries. Because cooking and fuel collection largely remain a woman's responsibility in developing countries, women and girls are most at-risk for developing serious health issues such as emphysema, cataracts, cancer, and heart disease. Open fire cooking also depletes forests and contributes to global warming by emitting carbon dioxide, a powerful green house gas.
For all of these reasons, I am proud and honored to support the Global Mom Relay, a virtual initiative that is affecting real-world, tangible change for women and children around the world. Every time this particular post is shared, $5 will be donated to The Global Alliance for Clean Cookstoves to save lives, improve livelihoods, empower women, and protect the environment.
I have seen firsthand how much small sums of money can significantly impact the lives of those who need help the most. I have happily contributed... Won't you please help, too? Together if we share just a token of our many blessings, we can provide the seeds of change and help moms and their children to have a better quality of life.
Follow Laura on Twitter: @LauraSeydel
Each time you share this Global Mom Relay piece on Facebook, Twitter, or Email, or donate $5 or more through clicking on the above graphic, a $5 donation (up to $62,500 per week or $125,000 every two weeks) will be donated by Johnson & Johnson and the Bill & Melinda Gates Foundation to the Global Alliance for Clean Cookstoves. Join us by sharing it forward and unlock the potential for women and children around the globe. For more information, visitwww.unfoundation.org/globalmomrelay. The United Nations Foundation, Johnson & Johnson, BabyCenter, The Huffington Post, and the Bill & Melinda Gates Foundation created the Global Mom Relay, a first-of-its-kind virtual relay with a goal of improving the lives of women and children around the globe.
SUBSCRIBE TO & FOLLOW TRUMP'S FIRST 100 DAYS
How will Donald Trump's first 100 days impact YOU? Subscribe, choose the community that you most identify with or want to learn more about and we'll send you the news that matters most once a week throughout Trump's first 100 days in office. Learn more