Once upon a time, when it was still considered de rigueur to append "...and the City" to just about any word or phrase (in an effort to borrow a whiff of hipness from that certain ubiquitous HBO Original Series and its foursome of archetypal female characters), women everywhere donned five-inch heels, ordered pink cocktails in oversized martini glasses and turned to their girlfriends at Tao to ask, "So, which "Sex and The City" girl are YOU?"
I won't lie to you: I worshiped at the altar of Sex and the City, as much as anyone else. I saw each episode multiple times. I was first on line to see the movie when it came out. I totally "got" why Carrie kept going back to Big, and I knew I was "a Carrie" even before Facebook, iVillage, and just about every woman's magazine, confirmed it.
But Carrie wore a suit to her wedding. And Charlotte married the bald guy and converted to Judaism. Miranda moved to Brooklyn, and Samantha doesn't even live in "The City" anymore. Are you really going to make me be the one to say this?
It is with a heavy heart that I hereby pronounce Sex and the City: over. So over, in fact, that we need "a new word for over" (to paraphrase Carrie...for perhaps the very last time ever).
But even as I now propose a ban on any further tacking of "...and the City" onto the tail end of any word or phrase going forward (can we please agree to that?), we need not despair for lack of televised "sex" and "the city" (calm down...it's okay in this case because I used quotation marks to separate the "sex" from "the city"), or for lack of female television characters with whom we can play the "Which One Are You" game.
Fortunately, we have AMC's original series, "Mad Men" to fill the void.
Mad Men takes place in and around the New York City of the early 1960s, which is to say that it takes place a long time ago in a galaxy far far away that knew nothing of women's liberation, political correctness or, seemingly, sexual harassment lawsuits. As a result, there is, arguably, even more sex in the New York City in which Mad Men is set than there ever was in Sex and the City. More importantly, with Mad Men's fresh set of compelling female characters, women everywhere can finally cease asking, "Are you a Carrie, a Miranda, a Charlotte or a Samantha" for the eleven-billionth time and, at long last, ask this brand new question:

Are you a Betty? A Peggy? Or a Joan?
Let's take a look, shall we?

Betty: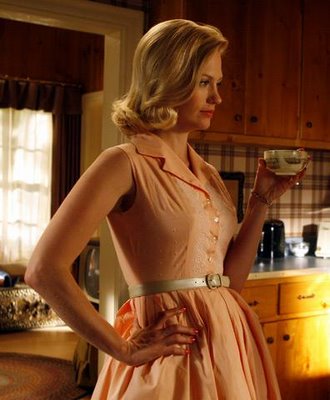 Betty Draper (played by January Jones) is a 30-year old housewife and mother of two young children. A dead ringer for Grace Kelly, Betty lived the glamorous life as a model in Manhattan before she met her dashingly handsome husband, Donald (played by Jon Hamm), who swept her off her feet and into a house in the suburbs. Betty is protective of her children (as much as a chain-smoking woman in the 1960's can be, without the benefit of car seats or a modern-day understanding that the problem with children playing with dry-cleaning bags isn't that your clothes end up on the floor but that your children might end up suffocating). She always makes sure to have a delicious, nutritious dinner on the table each night, which she always manages to serve wearing some crinoline-skirted shirt-dress that displays her slender waist. Betty tolerates Don's secrets (after years of marriage, he still has not told her anything significant about his shadowy, apparently Appalachian past, including his real name, which is Dick Whitman). And she stoically pretends not to see the signs of his obvious philandering, as if this were part of the marriage contract. Indeed, when her friend and neighbor, Francine, cries to her that she has discovered that her own husband is unfaithful, Betty suggests to Francine that perhaps she (too) can pretend not to know.
So, Betty drank the Kool-Aid, but that doesn't keep the deceptively deep, Bryn Mawr-educated beauty from feeling isolated and empty. Her nagging dissatisfaction sneaks up on her in the form of psychosomatic finger-paralysis, inexplicable crying jags, and inappropriate interactions with nine-year old boys, door-to-door salesmen and auto mechanics. In short, Betty is an intelligent, beautiful, and once-successful career woman who "gave it all up" for the dream of a picturesque family, only to find herself sorely disappointed by the reality and unable to do anything about it (at least for the time being).
If you're still not quite over Sex and The City, you might want to think of Betty as what Charlotte York might have been had she come of age in the late 1950's/early 1960's. If you used to be a "Charlotte", then perhaps you are now a "Betty".

Joan: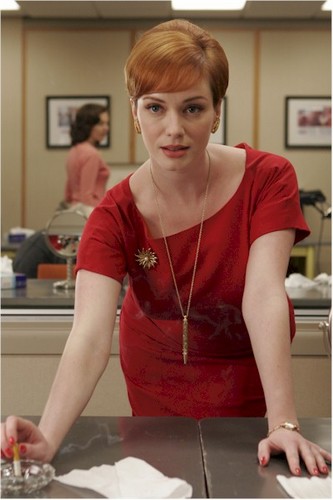 Joan Holloway (played by Christina Hendricks), is the office manager of Sterling Cooper, the fictional Madison Avenue advertising agency at which Donald Draper is the Creative Director. Joan's dearest dream is to get married and move to the suburbs. But Joan has made it into her early 30's without having managed to do so. It's not that Joan isn't beautiful or intelligent and accomplished. In fact, Joan is a ravishingly sexy redhead who runs the office with a unique savvy that belies an innate understanding of how men really think and what men really want. Unfortunately, in her hunt for a husband, Joan has made one terrible strategic error: Joan has fallen in love with an unavailable man. A married man. A married man who has no plans to leave his wife. Joan's enduring love for Roger Sterling (one of the founders of Sterling Cooper and a grey-haired fox played by John Slattery) has rendered her seemingly unable to form a lasting and satisfying relationship with any other man, let alone any available man.
Shades of Carrie and Big? Indeed. You might view Joan's life as what Carrie's would have been had she been born in 1930. If you used to be a "Carrie", then perhaps you are now a "Joan".
Peggy: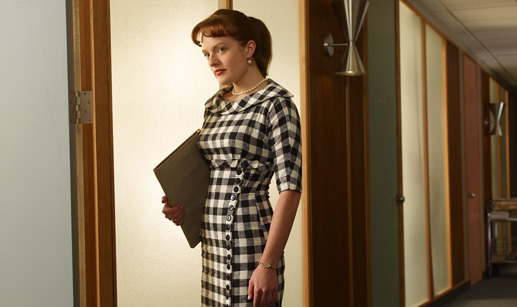 Peggy Olson (played by Elisabeth Moss) is a career woman. She is only 22, but she knows exactly what she wants, and what she wants is to get ahead in business. In less than a year at "Sterling Coop", Peggy advanced from "freshman girl in the typing pool" to junior copywriter. Notwithstanding some off-kilter advice from Joan on Peggy's first day at work that led Peggy to believe that she might have to sleep her way to the top, Peggy quickly ascertained that the only way to advance in this man's man's man's world is to be very very very good at her job.
That said, Peggy did make a couple of tactical errors early on in the game, one of which became immediately irrelevant (an awkward play for Don) and one of which will likely haunt her for a long time to come: Peggy slept with Pete Campbell, a then-engaged, now-married account exec and found herself pregnant with his child. He doesn't know this yet, since Peggy spent her entire pregnancy in absolute denial, coming to terms with the pregnancy only on the day she gave birth. Everyone in the office thought she had simply gotten fat (as, apparently, did she). Peggy's child, now a toddler, is cared for in Brooklyn by her uber-religious mother and her already put-upon sister. As for Peggy, she went back to work after a few months off. The guys at work take note of the fact that since Peggy returned from her (unexplained) time off, her career seems "charmed". And perhaps it is.
Sound like a certain red-headed lawyer with an out-of-wedlock child? Perhaps if Sex and the City's Miranda Hobbes had been born in the first half of the twentieth century, her name would have been "Peggy", and she too would have made a few mistakes on her way to the top of her field and motherhood. If you identified with Miranda, then perhaps you can now call yourself a "Peggy".

But What About Samantha?
For better or for worse, there is no one character on Mad Men who can take the place of Sex and the City's sexually-liberated Samantha. Back in SATC's heyday, there were those who believed that the character of Samantha was modeled not on any female or female archetype, but on the fantasy of a hedonistic gay man. Whether or not that was the case, the "Samantha" of Mad Men would have to be any or all of the sexually voracious, hard-drinking men who inhabit the offices of Sterling Cooper.
So, if you are one of the few women out there who can actually say that you identified with Samantha during the Sex and the City years, then you probably are neither a Betty, a Joan nor a Peggy, but a Don, a Roger or a Pete, or any of the other "Mad Men" in the office.
So, there you have it. Sex and the City, rewound to the early 1960's, plus a whole new "Which One Are You" game. If you can play it while drinking Scotch/rocks or a Vodka Gimlet (it's time to step away from the Cosmo), then you're doing just fine.
Now, if we can just put a stop to all further use of the phrases "Mad for Mad Men" and "Mad About Mad Men" and the like, before things get out of hand...
SUBSCRIBE TO & FOLLOW LIFESTYLE
We're basically your best friend… with better taste. Learn more