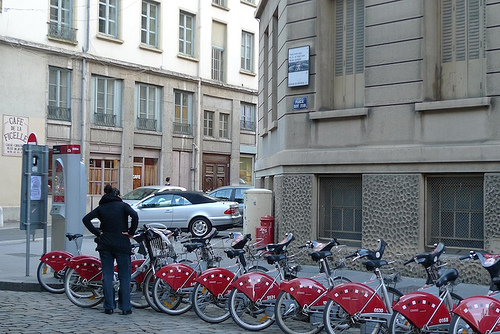 Bikes have replaced berets as the "it" accessory in France. The two-wheeled vehicles may be chic and eco, but this is not why locals ride them. It's because bikes are cheap and they are everywhere. In May, while on assignment for a story about this summer's Normandy Impressionist Festival--an event mostly accessible by the Train à Grand Vitesse (TGV), for those interested--I saw firsthand how France is trumping the United States on the alternative transportation front.
This past week, socialist Mayor Bertrand Delanoë revealed a 2014 bike plan to create a total 435 miles of bike lanes--up from the current 275 miles--including 10 new entry points from the suburbs into Paris. In addition to the capital's Velib bike-sharing system, the biggest of its kind in the world, there are 18 other independent operations across the country, from the Northwest with Nantes' Bicloo to the south with Aix-en-Provence's V'hello. You can bring the bikes on any local or express train for free, and the cost to use them is marvelously low. For a day rental, the price may range from two to seven euros; for an hour (plus a free half hour) it is one euro, or 29 euros for a year subscription.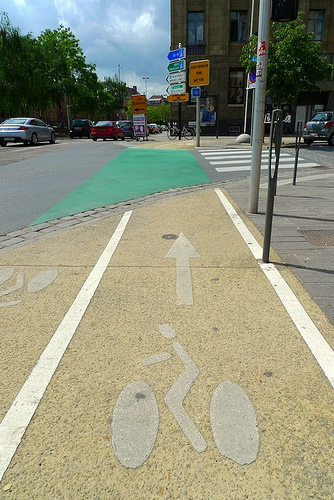 In summer 2008, our capital was the first city in the country to launch a bike-sharing program with SmartBike DC. There are currently 10 stations in Washington, whereas Paris has 1,639. D.C. residents pay a $40 annual membership and have access to the bikes for three hours max per day. As of April 2010, with 500 newly installed Trek bikes, Denver's B-cycle now has the largest bike-sharing system in the U.S. And beginning this June, these Colorado red bikes will be equipped with RFID chips to track mileage, carbon offsets, and calories burned. (Los Angeles, did you hear that? Bikes that help you stay skinny! What are you waiting for?) Portland, Oregon is rumored to be the next place to launch a Velib-like network, although the tree-hugging city with more bike lanes than highways seems to be twiddling their green thumbs instead of implementing anything.
In other major U.S. cities like Miami, Chicago, San Francisco, and New York City--where 600 miles of designated bike lanes are nice but lukewarm efforts to share bikes are not--we have the more tourist-oriented BikeandRoll, which costs $35 for the day. What about the smaller towns in the Midwest? Or Hawaii and the Caribbean? Those charming little villages in France, Dijon, Perpignan, Orléans, and six others, have a bike-sharing system. Even the Canadian's have a wildly popular Bixi program, with solar-powered stations, three-speed bikes, and wireless technology. At the rate the United States is going, Betty White will be president before this country has a nationwide public bike sharing system.
How can we Americans help to quicken the green travel pace, and be more like France? Around every cobblestone corner, I saw locals taking advantage of the cost-effective bike system: Crossing Pont Neuf, cruising by France's oldest restaurant in Rouen and the newest contemporary museum in Metz, and lined up patiently like pets outside the cafés while their temporary owners sipped and people watched. And would you know, the country is now onto building an electric car-sharing system?
President Obama, if you're looking for a bike ambassador, I'm your pedal-pushing gal.
Lauren Matison is the co-founder of offManhattan.com, the New Yorker's Green! Travel Guide.
Thanks to Atout France and RailEurope for helping with additional research.
SUBSCRIBE TO & FOLLOW THE MORNING EMAIL
The Morning Email helps you start your workday with everything you need to know: breaking news, entertainment and a dash of fun. Learn more