The entire point of the aptly titled play cycle The Great Game: Afghanistan is to overwhelm ignorance about Afghanistan with history, up-to-date fact, and epic storytelling.
I got to see this incredible theatrical marathon this weekend at Berkeley Rep -- a 3-part cycle of short plays covering the 200 complicated years of history of Afghanistan. The project was created by the UK's Tricycle Theatre and is touring the United States with support from The British Council (currently at Berkeley Rep until Nov 7th, then at New York's Skirball Center presented by The Public Dec 1-19).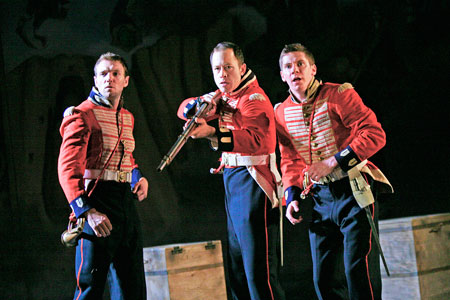 (l to r) Tom McKay, Daniel Betts and Karl Davies star in The Great Game: Afghanistan
Nick Kent, Artistic Director of the Tricycle Theatre, who originally dreamed up and put together the The Great Game, was struck by the informational lacunae surrounding Afghanistan.
"This started in 2008 because I was not seeing a lot of journalism on Afghanistan, certainly not an artistic response," Kent says. "This was going to be the biggest foreign policy issue of the next ten years. We needed some sort of public debate." Thus Kent commissioned 12 plays that covered the last 200 years of Afghan history.
The British Council brought this production to the US (starting at DC's Shakespeare Theatre, then The Guthrie in Minneapolis) to build understanding.
Sarah Frankland, Head of Arts in the US for The British Council, says, "It's an opportunity to have a historically accurate context for a complicated issue seen through true artistry."
(Of note for comparison's sake -- The British Council was established 75 years ago in response to the rise of fascism in Europe. Let me slow that down for all of us in the US: they made art to fight fascism. We can't keep music lessons in our schools. )
Coming into the theatre last night, the fact was... I knew very few facts about the history of our almost 10 years running war partner. Until this play.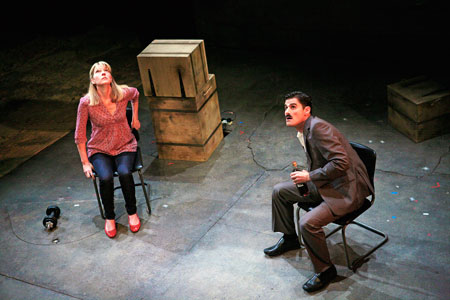 (l to r) Jemma Redgrave and Daniel Rabin star in The Great Game: Afghanistan
Part 1 dramatizes moments in our shared history with Afghanistan until 1929; Part 2 explores 1979-1996 and the rise of the Taliban; Part 3 imagines and articulates our contemporary struggles from 1999 until now. This is not historical drama, it is dramatized history. It is fact replayed. It is accurate, sometimes verbatim, events enlivened onstage.

It made me wonder why the US doesn't do this more. The British have a category for this kind of political theatre "docudrama." David Hare's Stuff Happens, Peter Morgan's Frost/Nixon, National Theatre of Scotland's Blackwatch, Katharine Viner and Alan Rickman's My Name Is Rachel Corrie.
All of these Brit-born plays tackle real politics, using real words, in the closest thing we have to real time in the theatre. Dramatization of contemporary politicians, activists, soldiers, and real people onstage. Whatever the reasoning (taste, entertainment value, audience comfort or expectations), the United States simply does not do much of this.
There are exceptions of course. We have Jessica Blank and Erik Jensen's The Exonerated and Aftermath, Eve Ensler and Anna Deavere Smith's work, as well as Tectonic Theater Project's The Laramie Project. Yes, most of these are dramatizations of verbatim interviews on highly charged subjects. But there is not the flood of "Right Damn Now Theatre" that we see in the UK. We don't put our politicians onstage like the Brits do.
Nick Kent noted a renaissance of "verbatim political theatre" and docudrama in the UK in the last decade or so. In The Great Game short collections of verbatim dramatizations bind the short plays. This "brings them right up to date" on the issues, Kent says. One of the verbatim pieces is from September of this year.
As the British Council's Frankland says, "The UK is a huge proponent of political theatre. And it's very direct, but artistically beautiful."
As Susan Medak, Managing Director of Berkeley Rep, quickly pointed out about The Great Game: Afghanistan, "I don't think its' 'political' theatre. I think its topical theatre. It's theatre of ideas. Shaw would be smiling."
"Political Theatre is often perceived as having only one point of view, being reductive," Medak says. In an age of instant news, constant information, and little analysis at times theatre in the US has had difficulty appearing to be "politically" relevant. "But," Medak says, "Theatre is best at being reflective. That's what The Great Game is for our audience."
"It's not pro-war or anti-war," Kent spoke of The Great Game, "It's a way to find out more about what happened and what's current. It's a way to start the debate."
In the US, we tend to like our "debate" as metaphor (The Crucible), revival (Kushner's Angels in America or Miller's All My Sons) or satire (Will Ferrell's You're Welcome America or Mamet's November). We also like fictionalized based-on-a-true-story human interest plays - Lynn Nottage's fabulous Ruined, or the crop of plays about American soldiers returning from war, might fall under this category. Audiences get real-time politics in the lobby displays or program notes, but not always in the actual productions.
Beside perhaps Wallace Shawn's brilliant political rants, we do not deal directly with the timeliest and largest scale contemporary American issues. The British brought us Enron: The Musical, for god's sake. Even Shakespeare wrote contemporary(ish) history plays. Why are the British better, bolder, brassier and at the very least faster at contemporary political/topical plays?
Like so much in politics, it's all about money and access. "There is a principal of arts funding in the UK that allows artists to take risks and delve deeply into sensitive and complicated subject matter," Sarah said.
Please prove me wrong if I go ahead and say that real political/topical theatre in the US is rare and slow.
Even General Sir David Richards, Britain's top military commander agrees about The Great Game's immediate impact. Richards sent soldiers to the Tricycle to see this play because,
"I found The Great Game a fascinating, entertaining and historically accurate account of Britain's and latterly the wider international community's involvement - good and bad - in Afghanistan since the 1840s. Nothing learnt in the classroom will have the same subliminal effect as this. It is crucial that all of us who work out there, or have responsibility in any way for our nation's policies in the region, have a more nuanced understanding of the historical background that got us to this point."
An active general sent his soldiers to a play. Topical? Those soldiers were headed to Afghanistan. Political? I think so.
Near the beginning of Part 1 an Afghan man approaches a British sentinel and they discuss why they are in Afghanistan, to which this Afghan man says,
"Ah. An opinion. The Beginning of an opinion."
That's what The Great Game: Afghanistan really is. Whether Right Damn Now Theatre is always your cup of (British) tea or not, this is a rare chance to learn, feel, and explore a hell of a lot of history and humanity - and not just from behind your New Yorker but in the company of fellow citizens.
Go see these plays. And begin your own opinion.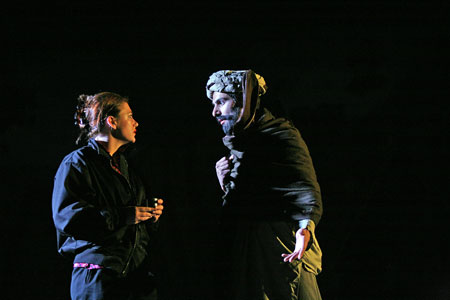 (l to r) Cloudia Swann and Danny Rahim star in The Great Game: Afghanistan

Follow Lauren Gunderson on Twitter: www.twitter.com/LalaTellsAStory