This past Saturday, surf icons, art collectors, environmentalists and children gathered together at The CAMP in Costa Mesa on Saturday night for the opening reception of "Ithaka's: The Reincarnation Of A Surfboard," an exhibit which features wall sculptures that once glided along cresting waves.
Ithaka's brightly colored recreated surfboards hanging against high white walls pulled visitors into the pristine paradise. Deep blue carpet circles have been scattered around the concrete floor as a little dog, Zoi, runs between the legs of patrons. The scent of fresh organic food from local restaurants hovers near the entrance as Ithaka's beats fills the space. There is a light hum in the air of people talking about his work. "That was a surfboard?!" questions a little girl as she looks up at a huge sculpture of scissors that looms in front of her. Her eyes were wide in amazement as she gazed upon what in fact had been a surfboard. "Isn't that cool?" commented her friend that stood beside her both little girls looking up in awe. Their reaction was not unusual, but in fact was being echoed around the room by the nearly three hundred visitors.
California-born contemporary artist, vocalist, writer, photographer and surfer, Ithaka, began his immense body of sculpture work, "The Reincarnation Of A Surfboard" after accidentally breaking one of his own boards in half while surfing back in the late 1980's, later restructuring and retexturing the destroyed board - recycling it into an extraordinary piece of wall-hanging sculpture. His innovation and creativity captures the spirit of the ocean magnificently and he is rightly showcased as one of the most influential and creative surfers in the world in the epic 444 page book and "soon to be" major exhibition, "Surf Story", created by Robb Havassy, featuring 88 surfer artists and their stories, which was on sale at the event.
This Orange County exhibition is produced by Pamela Spyrs, founder of INSPYRS, a company based on showcasing the humanitarian efforts of talented artists and innovators. "Ithaka's art speaks to the earth. Its captivating beauty leaves one speechless," says Spyrs, "He is one of the most talented, dedicated and innovative artist of our time. We are thrilled to have such talent here in Orange County and for the opportunity to showcase his brilliant sculptures."
Sponsors of "Ithaka's: A Reincarnation Of A Surfboard" exhibition include The CAMP - A innovative retail community, The LAB - The "anti-mall", SoBeCa District - A Gateway to the "City of the Arts", Surf Story Project - 444 pages and 88 of the most inspirational and creative surfers in the world, HILLAS BEER - Imported Beer from Greece and Sweatlodge Records.
See this astounding work for yourself before it catches the next wave. "Ithaka's: The Reincarnation Of A Surfboard" exhibition will be on display at The CAMP from Saturday, June 5, 2010 through Saturday, June 12, 2010 at The CAMP | 2937 Bristol Street Bldg. B | Costa Mesa, Ca 92626. The exhibit is open to the public.
Press contact:
Pamela Spyrs
INSPYRS public relations
(562) 216-0095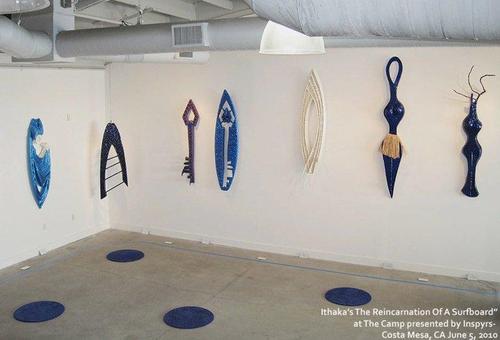 SUBSCRIBE AND FOLLOW
Get top stories and blog posts emailed to me each day. Newsletters may offer personalized content or advertisements.
Learn more