Dec. 16-19
LA Phil, Disney Hall
Nicholas McGegan conducts Cherubini, Mozart and Haydn
Robert Levin, piano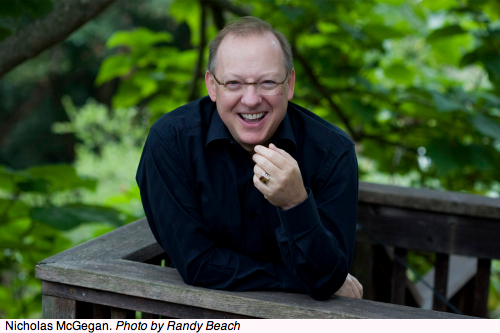 • Cherubini: Anacreon Overture by the French answer to Beethoven
• Mozart: Piano Concerto No. 22, K. 482, of all Mozart's greatest piano concertos the most erotically playful and serene, in Mozart's favorite key of E flat major
• Haydn: Symphony No. 93, just the right offbeat, late Haydn symphony to send the audience home laughing along with the musicians, features the most famous of all bassoon jokes, perhaps to show off Phil's new first bassoonist
Conductor McGegan and pianist Levin have set their marks on the Mozart original instrument scene through numerous recordings and public concerts and appearances, not to mention time and study and teaching time put in at many of the world's higher institutions of learning.
In addition to improvising on the spot during the actual performances (so if you went to all four performances, you will hear four different sets of cadenzas!), Levin will improvise at the keyboard taking audience suggestions from the stage as an encore.
The line in Vegas is 1-10 against LA Phil playing like a band from Vienna and Prague in the 1780s, but maybe this time they'll try a little harder and will field their first-line troops.
One thing is for certain: However conventionally the strings play, Phil's woodwinds will never let the side down. The clarinets will be rustic in a cool, sophisticated way. The flutes will be mellifluous until you think they're going to be fluted away. The oboes will capture the core of each note the way hummingbirds suck nectar. The bassoons will sing sweetly when asked and never flinch at the impossible runs of 16th notes Mozart loves to throw at them, as if for payback for some inside joke.
What to listen for: In music like this, where the textures are simple, listen to instruments which are normally obscured, like the timpani, and the violas, and the second violins. What makes concerts so great is that it's easy to listen selectively this this, according to what you're watching.
And clap between movements!
Life of Mozart
Pasadena Master Chorale, soloists, conductor Jorge Mester
January 8 at 7:30 p.m.
First Congregational Church, 464 East Walnut Street, Pasadena
Not "Monty Python's Life of Mozart," this more serious theatrical event will interweave excerpts from Mozart's letters with movements from music written during the last year of his life, with particular emphasis on his death. Dan Selon will portray the composer. The music, including the part of the Requiem that Mozart actually composed, will be by Mozart.
In fact, the two works added to the Requiem bits are total winners which you may never hear live soon again: The superb heroic overture to La Clemenza di Tito, a spectacular demonstration of what Mozart could do when he put his mind to it, and Ave Verum Corpus, a motet more sublime even than the Requiem.
I can't vouch for the theatrical presentation, but the musical prospects are considerably raised by the participation of Jorge [pronounced George] Mester who will conduct the program. The archetype of the kind of conductor that could whip our orchestras into competitive shape but could never get a major orchestra to take a chance, Mester and the Pasadena Symphony gave concerts to rival and often exceed those by LA Phil. It's too bad there wasn't a mechanism to showcase the results he achieved at the Music Center.
In retrospect, it is disappointing that Mester, who is of Hungarian descent but was born and raised in Mexico City, was never drawn on as an ideal organic classical music resource for reaching out to LA's music education communities and to their children. The Music Center certainly was remiss in that.
A note, too, about the Pasadena Symphony under his command for those many years. The orchestra, which featured many of the Hollywood studios' finest musicians at first-chair posts, loved to play for Jorge. It was more than liberation from studio sessions drudgery, it was working with someone who shared a commitment to musical integrity in preparation and world-class execution in performance.
And clap between movements.
What's wrong with this picture?
Berlin: New Year's Concerts with Gustavo
December 29-31
Berlin Philharmonic, Gustavo Dudamel, Elīna Garanča
Music by Berlioz, Saint-Saens, Bizet and Falla.
Los Angeles: New Years' concerts at Disney Hall with Kristin Chenoweth
December 31
2 performances of New Year's Eve with Kristin Chenoweth.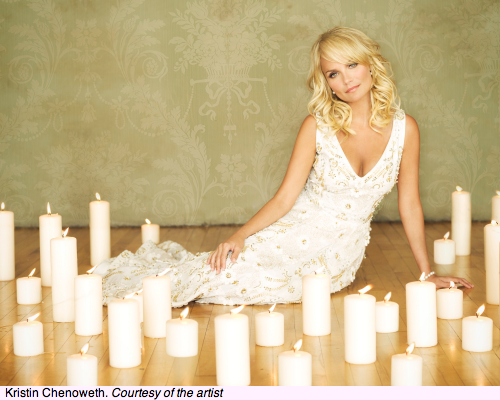 /
I hope this is just a contractual thing and that the Dude will start conducting New Years concerts at Disney Hall starting in 2011.
Otherwise, what the ???

SUBSCRIBE TO & FOLLOW CULTURE SHIFT
Level up. Read THIS and be the most interesting person at your dinner party. Learn more