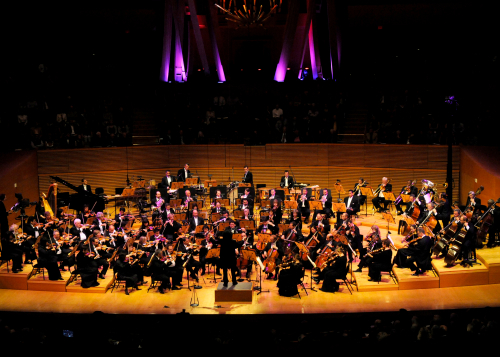 Making his second season return, Gustavo the Dude led the L.A. Philharmonic in two concerts. One was serious. One was not.
The Not Serious was the high-class date night Gala last Thursday night, with camera crews scurrying around the stage during the performance, fab Patina eats for the lucky few under a tent outside on Grand Ave, and autograph hounds chasing down celebrities like True Blood's Steven Moyer as they made their way to the garish pink carpet. The women averaged 8.5, the men about the same.
The first half was Rossini overtures featuring sexy, seductive solos by oboist Ariana Ghez and Rossini Arias featuring sexy seductive superstar tenor Juan Diego Florez who's never met a high 'C' he didn't like. The second half, described by the Dude as a "Latin party," was studded with emotional favorites like "Granada," topped off with an encore by Donizetti. Throughout, Florez's small voice shone out like a laser against the orchestra's combined might; the audience, seeing his courage and rejoicing in his voice, took him to their heart.
The Philharmonic played like Hollywood's top classical music band should: Resplendent brass brassy at times, woodwinds brimming with precision and poetry. The usual sumptuous strings. Percussion that wouldn't quit: When the snare-drummer spit out the first bars of La gazza ladra opening the program, the audience thought for a split second it was the Star-Spangled Banner and started to rise. Cooler heads prevailed, there were grins all around, and it set a good-natured mood for the night. Applause flowed free and easy.
LA Phil reported in a press release that the dinner tent was "decorated in a sophisticated combination of white and black tables with raspberry accents and a continuously changing light display projected onto large spheres suspended overhead."
LA Phil also noted a "surprise appearance" by singer Melissa Manchester, who brought guests, include the Dude and his wife Eloísa Maturén, "to their feet and dancing with 'Let's Face the Music and Dance'."
Saturday night was Serious Night, consisting of three substantial Romantic warhorses: Weber's Overture to Der Freischuetz, Beethoven's Fourth Piano Concerto with Emanuel Ax, and Schumann's Fourth Symphony. There were some exciting moments, indications that the Dude may someday have his way with this repertoire (and they'll like it, too), but on Saturday night the Dude was overmatched. (Read my full review on Music Web International by clicking here.) Applause was well controlled by the Dude himself with hand signals and body language. Huge applause came after the Beethoven and the Schumann.
On Thursday, the Dude takes on Messiaen's mighty Turangalila Symphony: a ten movement, eighty minute love song merged and converged along the lines of Wagner's Tristan und Isolde, spirituality and birdsong.

SUBSCRIBE TO & FOLLOW THE MORNING EMAIL
The Morning Email helps you start your workday with everything you need to know: breaking news, entertainment and a dash of fun. Learn more