The last Classical Underground, before proprietors Alexey Steele and Olga Vlasova's twins arrive in May, started out as a subdued affair and ended with roars from the crowd.
The theme was friendship; many friends were in the house, and on the stage. Moni Simeonov opened the evening with both inconsolably sad and defiant Brahms, the outer movements of the composer's last "Violin Sonata No. 3 in D minor, op. 108" written to patch up a quarrel. Playing with almost painful vulnerability and solicitude, the young Bulgarian virtuoso traced Brahms' lines of lyrical solitude in incomparable collaboration with Jiayi Shi's luminous piano.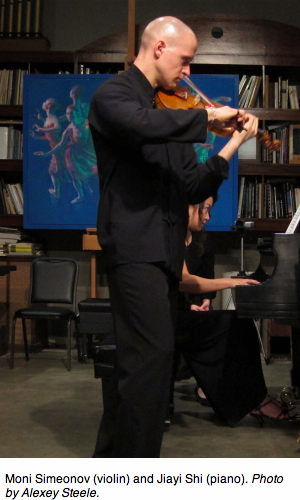 Next up, Jura Margulis was greeted by warm applause that only real friendship can give. He is a longtime friend of Alexey and Olga, and through his father Vitaly Margulis links to the glorious Russian romantic past which Classical Underground celebrates with unique, fierce pride. Margulis maintained momentum with 30 emotion-drenched, magisterial minutes of Rachmaninoff, "Preludes from Op. 23" and "Op. 32" which have deep personal meaning for the whole classical music community (Margulis will be performing these Monday night, April 16, on a memorial concert for his father in Schoenberg Hall at UCLA).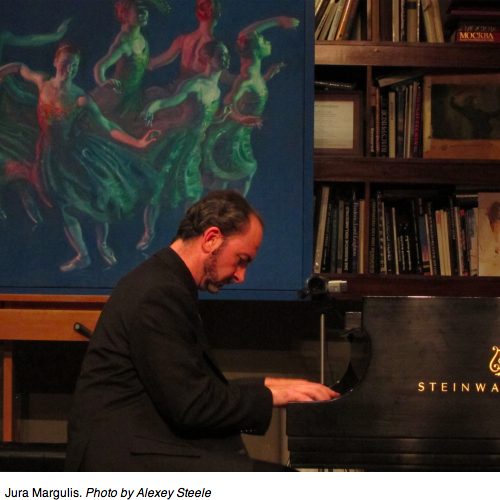 Dressed in film-noir garb, Margulis approached his formidable task quietly. Before the concert he had spent a few minutes running through some warm-up exercises, and bits and pieces of his program, to check out the Steinway's mood and the room's ambient resonance. Once on stage and into the Rach, it took him only a few minutes for the blood to flow through his fingers, at which point he launched into a series of performances that sculpted from Rachmaninoff's miniatures, each a universe and none more than five minutes long -- a deep, endearing relationship between heart and brain. Steele came on stage to thank his friend and tell the audience about the memorial concert; while doing so, he uncharacteristically shed a tear.
During the intermission, Classical Underground celebrities and many other luminaries flitted across Steele's artist studio landscape of masks, statues and nudes. They were ready when Eduardo Delgado, a lion among pianists, rhapsodized with music of exhilarating celebrity itself by Astor Piazzolla, Carlos Guastavino and Alberto Ginastera, probing its pulse and poetry. With an elegance and grace that would have stunned Chico Marx, he even nailed a few, nifty one-finger glissandos.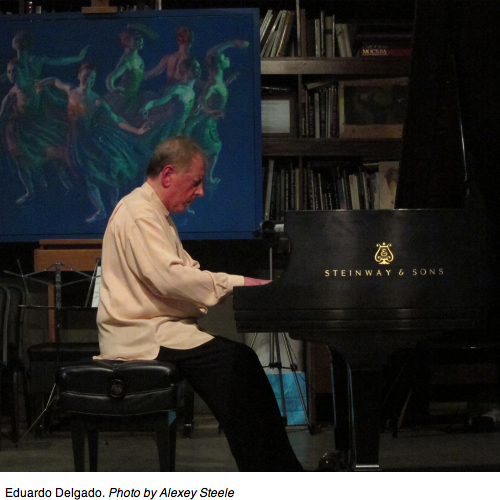 Handed the task of changing musical gears from Buenos Aires to Vienna, Elicia Silverstein, Evgeny Tonkha and Anna Drubich smiled shyly, licked their chops nervously and came on stage to play one of Mozart's most innocently treacherous and deceptively innovative works: his "Piano Trio in C major, K. 548." They took it seriously and played it frothily, the way young virtuosos who are also good friends do, and when they occasionally stumbled, as Mozart intended, they smiled and won the audience's heart, also as Mozart intended.
After the trio landed safely with the help of Mozart's last few winks and grins, Tonkha and Drubich returned to wind up the evening with Piazzolla's "Le Grand Tango," written for the great Russian cellist Mstislav Rostropovich; playing with style and panache that suited Piazzolla, and the passion and command that characterized Rostropovich, they young duo sent the last Classical Undergrounders before the twins exiting happily into the cool night air, humming and otherwise brimming over with the evening's message of friendship and love.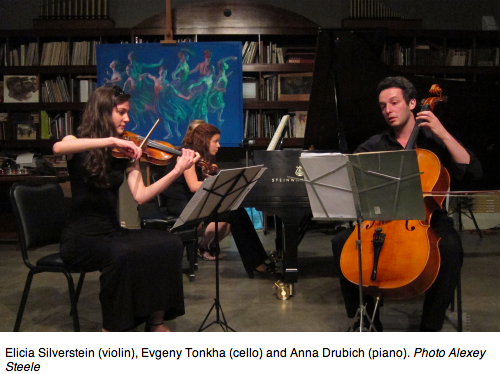 SUBSCRIBE TO & FOLLOW CULTURE SHIFT
Every Friday, HuffPost's Culture Shift newsletter helps you figure out which books you should read, art you should check out, movies you should watch and music should listen to. Learn more