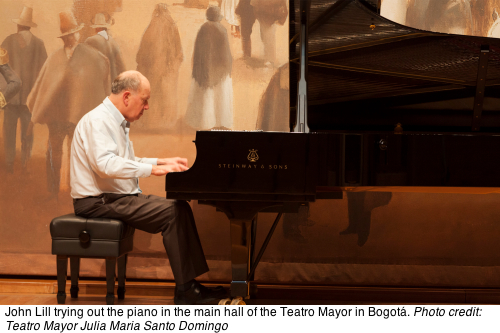 Bogotá's First International Music Festival in the city's three-year-old Teatro Mayor Julio Mario Santo Domingo was a huge success. It expanded the city's own faith in itself, and was a great first step to putting Bogotá on the international classical music map. The festival's impact has been so great that when Gustavo Dudamel and his Simon Bolívar Orchestra perform Beethoven's Ninth in Bogotá in July, this city could explode onto the world scene. It was more than just a musical celebration of the highest quality, it was a brave new world model of how classical music can serve its community, from bringing people together to attracting new business.
In addition to the social and artistic goals that were accomplished, the festival further defined Teatro Mayor director Ramiro Osorio's vision of theaters as public workspaces to the point where that vision can now serve as a template for replication and localization. Expansion is already planned to Calli; other centers of Colombian music, like Medellin and Cartagena, may follow soon.
Osorio's is a uniquely Colombian vision, one that bears contrasts with René Martin's Centre de réalisations et d'Études artistiques in Nantes. Additionally, the idea that classical music of this quality and community embrace would make Bogotá attractive to foreign investors is a credit to InvestinBogota.org, who hosted me. Investors with a cultural portfolio should take note.
Several aspects stood out from a Los Angles perspective
A broadly democratic approach
The festival seems to have acted as if it their brief was to anticipate and meet demand, recruit high-quality performers, and price tickets at whatever people could afford, including nothing; in doing so, the calculation may have been that the Teatro could slash overhead costs and operate on a cost-efficient budget (the operation overall was enormously efficient).
It was a broadly democratic approach: Ticket prices came down for rich people and corporations, too, excepting those who wished to pay equal to their means.
I went to 25 of the 56 concerts, and was staggered by the brilliant array of international and Colombian artists, by their wide range of style and their global scope.
There were performers finding fountains of youth, like the craggy British lion John Lill who found a deeply consoling Beethoven in Bogotá. Always a man of the people, Lill played an incomparable Waldstein Sonata in the main hall of the Teatro after having talked to me about it earlier in the day, sitting at the upright piano in his dressing room to demonstrate.
There were brilliant stars like Andrei Korobeinikov, a pocket rocket Rachmaninov whose reading of Beethoven's Sonata, Opus 111, the composer's last, transfixed a typically sold out crowd of young and old, families with children, couples dating and even critics (from Madrid, Buenos Aires, Mexico City and Los Angeles). At the end, as in all the greatest performances, they didn't know whether to laugh or cry; instead they shouted. Such audience response happened often during the Festival.
Bogotá wouldn't have been Beethoven without the audiences, the demographics of which would make North American orchestras cry (and raise questions about the methods and goals of their outreach programs). The musicians I talked to said that Bogotá's audiences were equal to or surpassed in open-hearted generous warmth, and innocence and freshness of response, those in other great cities like Berlin, Vienna, London, Tokyo and New York.
Colombia's own Manolov Quartet, which drew high raves from every critic who heard them, didn't play in the Teatro Mayor.
Hint, hint: The Manolov Quartet could make up for Colombia's defeat in futbol if they could beat Venezuela's Simon Bolivar Quartet in a special concert when Gustavo Dudamel returns to Bogotá next week!
Next: The Top 10 Concerts at the Festival ...
SUBSCRIBE TO & FOLLOW CULTURE SHIFT
Every Friday, HuffPost's Culture Shift newsletter helps you figure out which books you should read, art you should check out, movies you should watch and music should listen to. Learn more