With so much getting thrown at classical music adventurers, it's almost impossible to comprehend just how vast the classical music universe is and how overwhelming it can become. Plus suddenly there's a classical music critic on every street corner and in front of every barbershop. People in LA want to know everything there is to know about Gustavo the Dude and his boss Deborah Borda.
There are two ways to feel safe with classical music: 1. Immerse yourself 2. Read a book.
Immersion is easy and pleasant to do. Classical music is available free everywhere. It is fun to go to with lot of friends. And on romantic dates, with or without lots of friends.
Reading is for the hardy. If you are one of those, check out the fifth edition, revised and expanded, of The Rough Guide to Classical Music: An A-Z of composers, key works and top recordings. The editor is Joe Staines. The writers are Jonathan Buckley, Philip Clark, Andrew Dickson, Kate Hopkins, Stephen Johnson, Nick Kimberley, Joe Staines and Gavin Thomas. Click here for more info.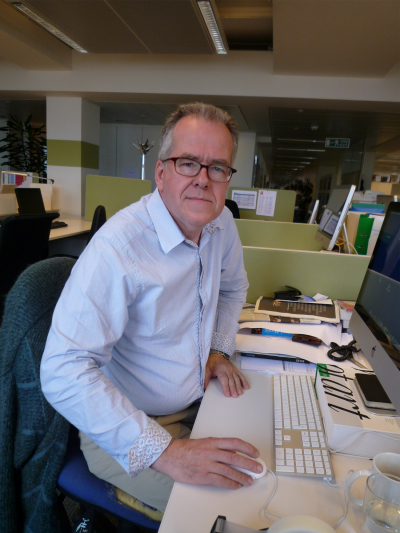 The layout style is elegantly and efficiently presented so that you can cruise through acres of composer and music, eras and aesthetics, received opinion and heresy, before you know it. The information is thorough, lucid and comprehensive at the same time. It is the perfect classical music companion even if you don't care about classical music itself but are fascinated by the larger than life personalities and their often lurid stories.
I talked to Joe via email about the newest version of what he calls his "introductory classical music book."
LV: What's new this time around?
JS: I added just two composers (Widor and Lachenmann) and six new boxes (on minimalism, settings of the stabat mater, the clarinet, the baroque, Lieder poets, and on the great French organ builder Cavaillé-Coll). The main revisions were the addition of new repertoire to existing composers, and a major overhaul of many of the CD recommendations (for reasons of space I only allow one or two -- occasionally three -- recommendations per work).
•Among the works added were Bach's Motets, Beethoven's Mass in C, Mozart's Piano Concerto No. 22 and Haffner Serenade, Haydn's The Seasons, Vivaldi's opera Farnace, Rameau's Pièces de clavecin en concert, Domenico Scarlatti's Stabat Mater, Sibelius's songs, Nielsen's chamber and piano music, and works by Max Reger, Weber, Hummel, Glass, Gyorgy Kurtag, George Benjamin, John Cage and Iannis Xenakis.
•About a fifth of the CD recommendations were changed. In the five years since the last edition many fine CDs appeared, but at the same time I didn't want to replace existing recommendations just for the sake of it.
•We are proud of the fact that contemporary classical music is taken seriously. Out of the current total of 218 composers, 33 are living and 37 were born after 1925.
LV: How did you get involved in such a big project?
JS: I got involved on the first edition when the original editor, Jonathan Buckley (now a successful novelist), and the man whose idea it was, was looking for authors. So I started as contributing author and took over the editorship for the second edition (and all subsequent ones), as well as continuing to contribute to the book as an author. At this stage, I have probably written between a fifth and a quarter of the entire book. The decision about what gets added to each new edition is largely mine, in consultation with other contributors.
LV: How has the classical music industry changed since the first edition in 1994?
JS: Those were the days when the industry was booming, with all the major companies producing lots of big name recordings. There was also room for lots of enterprising independents (e.g. Hyperion and Chandos in the UK, Delos and Bridge in the US). It seems like a golden age, and it certainly was in terms of great swathes of unusual and neglected repertoire getting first rate recordings. But is the situation so bad today? Yes, the majors are in trouble and have downsized to a huge extent, shedding many artists along the way. But many of these artists have been picked up by smaller labels and great recordings continue to be produced with great regularity. The big challenges right now are the global recession and its impact on the arts in general (particularly in the US where state subsidy is minimal), and the rapid advances in digital technology. Downloading seems to be the way things are going (although I haven't succumbed as yet), and artists and orchestras are having to get used to the idea that recordings are no longer the revenue provider they once were. But I don't see a big loss in quality in either live or recorded music. Of course, I do live in London and so am very spoilt for choice.
LV: Do your readers tell you what they think?
JS: The book has been very well received over the years, although occasionally I get letters along the lines of, "I really enjoyed the book but can't understand why you didn't include..." followed by the letter writer's favorite composer(s). These have included (among others) J.C. Bach, Stanford, Edward McDowell, Franz Krommer and Gerard Grisey! All interesting, and potentially includable, but, of course, space is limited and those who make the final cut are either contemporary composers whose profile is such that you cannot ignore them (e.g. Lindberg and Adès) or simply either reflect the enthusiasms of myself and fellow contributors. You can't please all of the people all of the time, and I have been torn off a strip for not including enough women composers but also ridiculed for including too many! The book has done extremely well as is testified by the fact that it is still going strong.
SUBSCRIBE TO & FOLLOW CULTURE SHIFT
Level up. Read THIS and be the most interesting person at your dinner party. Learn more