Sir Richard Branson's estate on his private Caribbean island just burned down from a lightning strike. This shocking event stirred memories of my own surreal experience with the now famed entrepreneur, in and around two of his other homes. Hope you're ready for another travel tale:
Twenty-seven years ago, when I was managing editor of a publication called Travel Smart, I was invited with a few other writers on the first flight of Branson's new airline, Virgin Atlantic, flying from England to Newark.
The entire Virgin fleet was one used Boeing 747 that Branson dubbed "Maiden Voyager."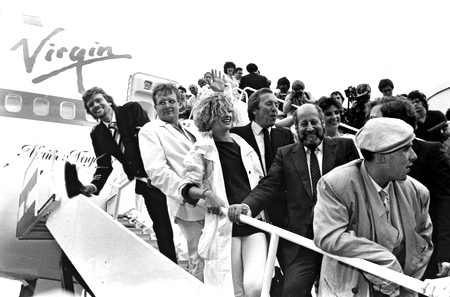 Inaugural flight of Virgin Atlantic, June, 1984. Richard Branson on the far left.
I'm at the top of the pyramid, way in the back.
To get me to London, Branson's company flew me over on Saudi Air from New York. Back then, liquor was not allowed on that carrier and one man's tiny carry-on bottle was confiscated, a far cry from our flight back on Virgin, where drinks flowed like a mighty stream.
In England, we were hosted by Branson for a couple of days before the inaugural flight back to America. We toured around London in our own bus, stopping often for a pushy MTV crew to film the sights. A ditzy blond veejay in a halter and shorts exclaimed when she saw the iconic Parliament clock, "Look, there's Big Bob."
Branson had already amassed a fortune with Virgin Records, and was a genial and generous host. We visited his pad in the trendy canal area in London. He and his blond girlfriend and their toddler daughter Holly hung out in their garden with us, answering questions off-the cuff.
That night, cruising the Thames as guests on his yacht, we discovered that British tabloid writers really know how to party.
For an afternoon press conference the next day we were bussed to Branson's country estate in Oxfordshire, an ancient stone complex with endless rooms, echoing halls, and a recording studio. Nibbles and drinks were placed about, and we seemed to have the place to ourselves. Where was Branson? Our host had not arrived at his own event.
We milled around the mansion and grounds, wondering if he would ever show or if the whole thing was a big prank. Suddenly a car came down the seemingly endless gravel driveway, and Branson, scruffy in jeans, emerged from a beat-up looking car.
Then the car's driver opened the car door, scratching his head as if had stepped into a dream. Had he picked up a hitchhiker, not knowing the man was Richard Branson? Was it a joke? Branson wasn't telling.
The inaugural flight the next day was just as quirky and surprising. Before takeoff, bands were playing, the sounds of Boy George filled the air, and the spirit was rock and roll. Loads of unrecognizable British celebs milled about: cricket stars, pols, rockers, actors; I quickly recognized television host David Frost.
But the flight was delayed. Rumor was that the used plane, rehabbed from Aereolinas Argentina, had engine problems. A PR nightmare.
Branson was onboard in a captain's uniform, and his mum and dad were on the plane as well. So I calmed myself in my seat, figuring that despite the pressure to take off, he wouldn't risk his parents' lives, let alone the rest of us.
After a couple of hours of impromptu music from some of the Virgin Records crowd, including a cello concert, the engines sputtered on and we winged our way on the virgin flight of Virgin Air.
Years later I read that on that inaugural flight one of the engines had indeed conked out over the Atlantic. But we passengers had imbibed so much, none of us seemed to notice.

SUBSCRIBE AND FOLLOW
Get top stories and blog posts emailed to me each day. Newsletters may offer personalized content or advertisements.
Learn more