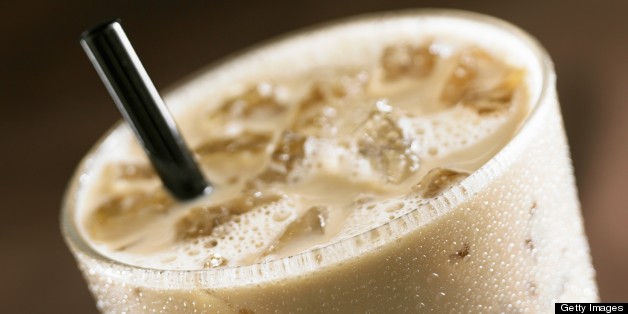 Summer, that long awaited siren, is finally drawing near in New York, beckoning us with promises of steamy nights, al fresco lunches and iced beverages. Debbie Downer spring seems to be retreating, taking her crying fits of rain and confusing fashions with her. We're in the sweet spot, where the city is not yet sweltering and deserted, and we're thrilled to be off the subway, eating ice cream and imbibing outdoors from 4 p.m. onwards. This week, I'm gingerly approaching what might in fact be summer with iced coffee, rooftop salami and of course (trace amounts of) whiskey.
1. Iced Mocha--Mud Truck (New York, NY)
Compared to most, I am a recent coffee convert. I only began drinking the caffeinated elixir after college, and almost never consume more than one cup a day, as more will render me a jittery maniac, thus igniting my hypochondria and forcing me to repeatedly ask those around me if what I'm feeling is normal. As a favor to myself and others, I rarely defy this rule. A year and a half in San Francisco instilled in me the need to support smaller coffee shops, and as a result, I frequent Mud Coffee, both the trucks and East Village store. Occasionally, I yearn for a mocha, that hybrid queen, and in the summer months, an iced version is a thing of utter beauty. Mud's version is a pleasure to watch (a lava lamp swirl of brown and white), consume (the combination of steamy frothed milk and cold iced coffee) and taste (a bitter tang tempered by sweet chocolate and rich dairy). Just one, I promise.
2. Salumi Plate -- Birreria (New York, NY)
In my opinion, few things pair better than cured pork products and summer sunshine. When artisanal cheeses and a beer flight are added to the experience, life borders on ecstasy. Generally wary of crowds, especially those that prevent me from quelling my hunger immediately, I rarely visit Eataly. Last Sunday, however, I braved the madness for an idyllic rooftop lunch at Birreria. We sampled cheese, salad and a very decadent pork sausage entrée to great enjoyment, but the star of the show was the salumi selection. We gorged on silky peppercorn-studded Mortadella (a meal in itself), toothsome disks of Hunter's style Pork sausage, smoky salty Speck, glistening rounds of coppa, which melted onto the tongue, and of course, garlic-laced spicy Calabrian Sorpressata. With pork-fat slicked fingers and a slight beer buzz, we thanked summer for re-appearing, and Italians for mastering the art of porcine preparation.
3. Tofu Banh Mi -- Nam Son (Philadelphia, PA)
In its most basic form, a sandwich combines meat and bread in some fashion. Vegetables are an added bonus, but surely not the main attraction. When it comes to the Banh Mi, I generally go for traditional pork with all the fixins. Arriving in Philadelphia I was famished, but luckily my friend knew of my hunger-induced hysteria and brought me immediately to Nam Son, a sprawling Vietnamese restaurant. As I regained sanity by guzzling summer rolls, I was urged to try the famed tofu sandwich. I acquiesced with more than slight ambivalence, but must report that it despite lacking meat, the sandwich was absolutely delicious. The chewy baguette's crispy exterior gave way to a fluffy inside filled with fragrant cilantro, pickled daikon, and julienned carrot and cucumber. The fried tofu provided an ideal textural counterpoint to the crunchy vegetables, and soaked up tangy Hoisin and a creamy mayonnaise-based sauce. As we set out for a trip to the beach, I almost re-thought my vegetarian sandwich rule. Emphasis on almost.
4. Cheddar Cheese with Tomato Jam -- Farm Stand (Somewhere on Route 72, NJ)
An hour or so from Banh Mis and Philly, we stopped at a New Jersey roadside farm stand to pick up some beach cooking provisions. The selection was enormous, from fresh spring asparagus to locally made peach cider and homemade cheeses. The sharp cheddar was sold with tomato jam, and my love of cheese and passion for condiments inspired me to fight hard for the purchase. Upon arrival at the house, I immediately opened the container and spread its contents liberally on crackers. The cheese was sharp and rich, with a softer than usual texture, its intensity moderated by the jam, which was sweet with an acidic tang. Less than 24 hours later, only a sticky container remained, embedded with cracker crumbs.
5. Rye Ganache -- Nunu Chocolates (Brooklyn, NY)
After a somewhat scarring childhood memory involving a cognac-filled chocolate and the resulting urge to expel the contents of my mouth at the dinner table, I've largely steered clear of alcoholic chocolates. On a recent adventure throughout Brooklyn, however, I encountered a boozy chocolate that changed my opinion entirely. The whiskey was incorporated into rich creamy ganache, imbuing the chocolate with its bracing, slightly spicy flavor. A thin outer shell encased the velvety filling, providing the ideal ratio of hard to soft chocolate while artfully uniting my favorite sweet treat and my tipple of choice.