<0--2133--hh>0--2133--hh>
Today was more about activists talking to each other, working with each other, than it was about talking to or working with -- or working to overthrow -- university power structures.
Police held back student protesters who had threatened to shut down nearby Interstate 80, CNN affiliate KCRA in Sacramento reported.

Police fired rubber bullets into the ground in an effort to deter students, who made it as far as an I-80 exit ramp just south of campus.
"Students are angry and upset," said Sheila Tully, vice president of the executive board for the SF State CFA and an SF State lecturer. "They're exercising their free speech rights, but what I've told some of them is that when they do things like (block the street) the tactic becomes the news story and you lose the message."
"Instead of protesting the negatives they should get involved," [Jonathan] Smallwood said. "Get into committees that can work at ways to try and change the problems instead of trying to bash the government all the time."
"This is a long fight," [Russell] Kilday-Hicks said. "It isn't about March 4, it's about March 5. What are we going to do tomorrow?"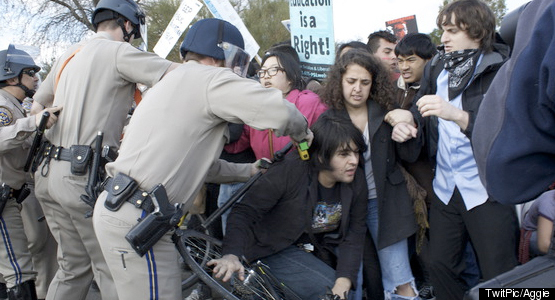 Hat tip to the blog California Beat, whose twitpic below shows students shutting down highways 880 and 980 at the height of rush hor. The Daily Cal reports that the 100 or so protesters have been arrested.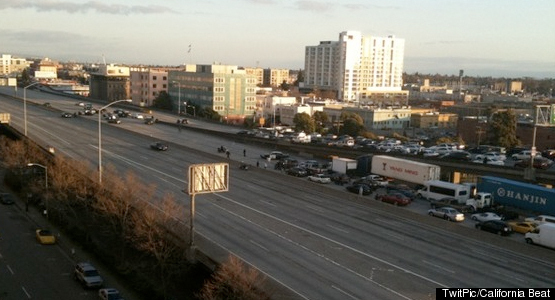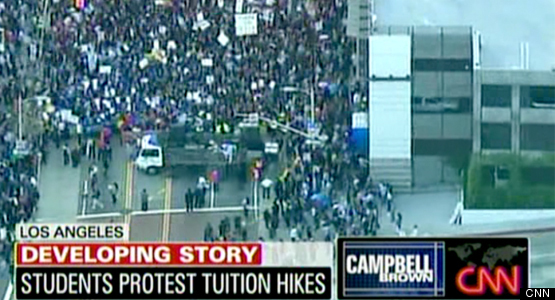 UCSD students are heading from Balboa Park to Gov's Office, we have reports that at least 4 buses have been moblizied (with around 45 people each, 200 people total) with many people carpooling.

They will be joining SDSU, SD Community Colleges, and SD k-12 people at the Governor's Office, which promises to be a huge rally! UCSD is definitely one of the sources of the action currently.
'
As my predecessor Clark Kerr often said, higher education should never be regarded as a cost, but rather as an investment. The university is an investment, not only in an individual's well being, but also in the public good. Public education drives a society's ability to progress and to prosper. This state's great public universities hold the key to our economic and social growth and are deserving of support by all Californians.
For those who have classes on March 4th, canceling or re-scheduling is not a decision taken lightly. However, given the statewide mobilization of teachers, professors and students, we believe that this one day could make a significant difference in the course of California education politics. For those of us who never miss a day of class, this one feels worth it.
UC Santa Cruz only has two entrances in and out of the campus. The west entrance and the north entrance. This is a well-known and unfortunate fact for administrators. Students have shut down both entrances, effectively shutting down the campus.
SUBSCRIBE AND FOLLOW
Get top stories and blog posts emailed to me each day. Newsletters may offer personalized content or advertisements.
Learn more