The Hospital de los Angeles stands atop a palm-tree dotted hill overlooking Santiago de Cuba, a city with nearly half a million residents. We'd just arrived from the U.S. - myself and about a dozen others - and although this was my third trip to Cuba, I shared the same nervous excitement as my travel mates who were there for the first time. Not only had we left behind snowy Colorado to explore a tropical island inaccessible to most Americans, we'd left the comforts of home on a mission to improve the health care infrastructure of this still developing nation.
Once we were joined by our hosts - the lead doctors, nurses and administrators at Hospital de los Angeles - we introduced ourselves as representatives of Project C.U.R.E., a nonprofit humanitarian relief organization that delivers medical equipment and supplies to communities in need around the world. After only a few minutes of conversation, it was obvious these were expertly skilled, knowledgeable and dedicated medical professionals. Their hospital, however, lacked much of the basic equipment they needed to do their jobs. That's why we were there.
Almost two years ago, nonprofit humanitarian relief organization Project C.U.R.E. launched and branded a unique approach to travel by which donors intimately connect with the organization's work by personally experiencing our mission first-hand in communities in need throughout the world. We call it PhilanthroTravel, and it brings the mission of the organization to life for participants.
Project C.U.R.E. is the world's largest provider of donated medical supplies and equipment to developing nations around the world. We collect from hospitals, manufacturers, etc. throughout the U.S. - items that would otherwise go to waste or remain unused - and deliver these goods to hospitals in developing countries where they can literally make the difference between life and death. With international headquarters in Centennial, CO, we have about 300,000 square feet of warehouse space in four locations throughout the U.S., and additional collection centers in 11 other cities.
Our PhilanthroTravel excursions let trip-goers experience the end result of our work building health care infrastructure in the developing world, as well as giving them a glimpse into the conditions we work to correct - hospitals where old exam gloves are re-used; where patients go without basic examinations and treatments for a lack of appropriate supplies and equipment; where patients' families need to provide their own food, bed sheets and often overhead light bulbs upon admission.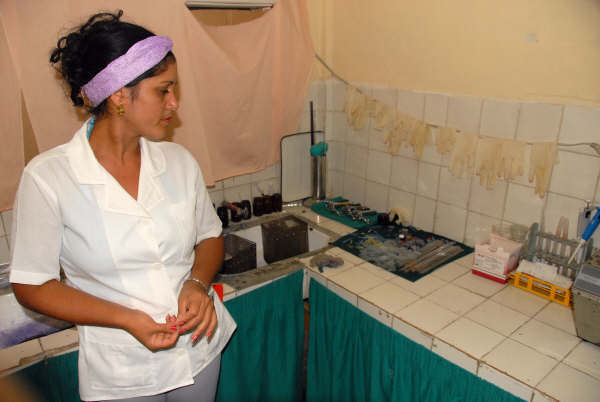 In this picture: Exam gloves, rinsed and drying for re-use in a Cuban hospital.
We couple these hospital visits with exposure to new and fascinating cultures via sight-seeing in a way not afforded by other travel opportunities. On an upcoming trip to Belize, for example, participants will couple their hospital outreach with meetings with the Prime Minister and First Lady of Belize and dine at the private residence of the U.S. Ambassador; explore the Belizean jungle on horseback and visit ancient Mayan ruins; and most importantly, return home with a better sense of issues in global health care.
In just a year and a half that we've been organizing PhilanthroTravel groups, we've gone from an idea to a thriving program. We've taken more than 40 people to Cuba alone. And, with the funds raised so far through our trips, PhilanthroTravel has enabled Project C.U.R.E. to send nearly $5 million in medical relief to people in need in that small island nation.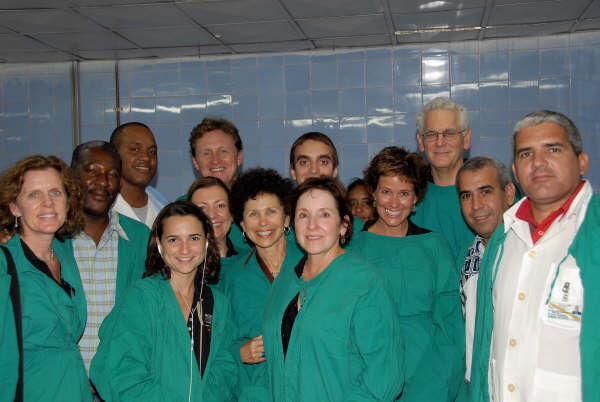 In this picture: Participants of Project C.U.R.E.'s PhilanthroTravel excursions to Cuba during a hospital needs assessment.
In store for the second full year of our program are additional trips to Cuba, and a specialized trip to Belize. Potential future destinations include Ethiopia, Mexico, Panama and other countries around the world where Project C.U.R.E. has delivered materials. In my role planning PhilanthroTravel excursions for Project C.U.R.E., I'm able to witness the impact these types of trips make in participants' lives. They return to their communities and their work with a greater perspective on and appreciation for the comforts they enjoy at home. And having seen for themselves the positive impact they made in others' lives, they are inspired to do more - for their community at home and for the new community they've found outside the U.S. through the PhilanthroTravel trip.
Voluntourism opportunities exist for almost any budget, interest, and travel destination. We at Project C.U.R.E. invite you to learn more about how we're innovating in voluntourism through PhilanthroTravel, and furthering our mission of "Delivering Health and Hope to the World" in the process.
SUBSCRIBE TO & FOLLOW THE MORNING EMAIL
Start your workday the right way with the news that matters most. Learn more