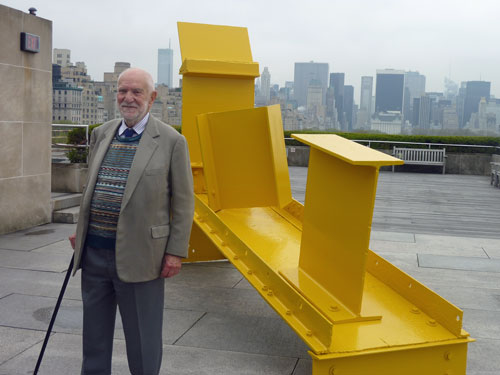 Anthony Caro in the Metropolitan Museum's Roof Garden at midday with "Midday," 1960 (sometimes displayed in the Sculpture Garden of its owner, the Museum of Modern Art)
While our thoughts were straying to British royalty, a member of England's art royalty, Sir Anthony Caro, recently paid an official visit to New York's artworld, during which he viewed several exhibitions, including the Museum of Modern Art's Picasso: Guitars and the Metropolitan Museum of Art's Cézanne's Card Players---both must-sees.
But he traveled here primarily for the opening of his own mini-retrospective of five painted and unpainted steel constructions on the Met's Roof Garden (to Oct. 30), ranging over his career from the 1960 "Midday" (above) to his brand new "End Up":
"End Up," 2010, rusted steel, cast iron, jarrah wood, collection of the artist, courtesy of Mitchell-Innes & Nash, New York
The Metropolitan Museum's own "Odalisque," 1984, was also in the show (below). That's Jennifer Russell, the Met's associate director for exhibitions, to the left, and Gary Tinterow, chairman of 19th-century, modern and contemporary art, to the right: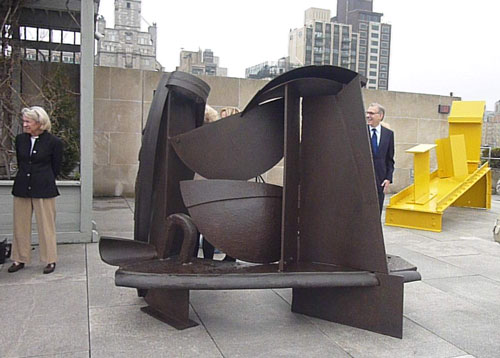 The Met's decision to showcase a sturdy, tradition-minded old master of contemporary sculpture marks a striking departure from the trendiness and American-ness of the Met's last three rooftop presentations.
It also marks Caro's first major museum show in New York since MoMA's 1975 retrospective. (A show of his new work was mounted last fall at New York's Mitchell-Innes & Nash Gallery.)
Charming, spry and articulate, Sir Anthony, 87, spoke during the press preview (as captured in the CultureGrrl Video, below) about the influence of figurative works by historic masters (Cézanne, Michelangelo) on his own abstract sculptures. He also disclosed that he's now working on a major new outdoor commission for Park Avenue in New York, to be installed next March.
The red sculpture behind him in the video is "Blazon," 1987-90, courtesy of Mitchell-Innes & Nash and Annely Juda Fine Art, London. The dapper man to the right is Tinterow, who co-organized the show with associate curator Anne Strauss.
As you can see, New York's weather was appropriately British for this occasion:
During my brief chat with Sir Anthony after the press conference, he discussed the contemporary artworld from the perspective of a distinguished elder:
I think the direction of the curators and directors is too fashionable. People are hopefully coming back to their senses, saying, "We want something really sculptural, or painting, or video, whatever it is. We don't want something that's a bit of life."
I don't think art can be quite "a bit of life." It says something about life.
I tend to shut up, if I can, because who wants to hear what an old guy has to say? You very easily get put in that box: "Well, he would like the old stuff, because old people always like the old things."
I'm a child of the '60s; I'm not a child of 2010. It was great in those days. Things do change, not always for the better. I can't easily come to terms with most contemporary work---say, Damien Hirst. It's a kind of storytelling and I don't like that.
I always had a lot of respect for sculpture and painting as things in their own right. One should just be using the eyes and say, "Does it turn you on or not?"
All photos by Lee Rosenbaum
SUBSCRIBE TO & FOLLOW CULTURE SHIFT
Every Friday, HuffPost's Culture Shift newsletter helps you figure out which books you should read, art you should check out, movies you should watch and music should listen to. Learn more