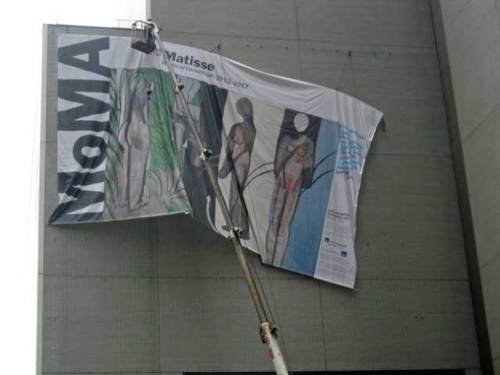 Banner being installed on exterior of Museum of Modern Art for its latest timed-ticket blockbuster
Photo by Lee Rosenbaum
The Matisse you know and love -- the vibrant colorist whose compositions are infused with joie de vivre -- peeks through intermittently in "Matisse: Radical Invention," the ambitious but ultimately disappointing show that has just opened (to Oct. 11) at the Museum of Modern Art, New York (previously at Art Institute of Chicago).
The letdown is more pronounced because the show had aroused such high expectations, thanks to the combination of a great artist, a high masterpiece-count and the two distinguished curator/scholars who organized it -- Stephanie D'Alessandro, the Art Institute of Chicago's curator of Modern Art; and John Elderfield, MoMA's chief curator emeritus of painting and sculpture, who was previously responsible for his institution's majesterial Henri Matisse retrospective and also co-curated its equally rewarding "Matisse Picasso" show.
This show is well worth seeing, notwithstanding its flaws, thanks to the curators' success in assembling from international sources an assortment of key works from 1913-1917 -- an under-explored and highly experimental period in the artist's oeuvre, when he was knocked off-balance by the one-two punch of Cubism and World War I. The first gallery includes examples from the years preceding the exhibition's main focus.
Criticism seems almost churlish when a show gives us the rare opportunity to see close juxtapositions of such mutually resonant (but usually separated) masterpieces as these...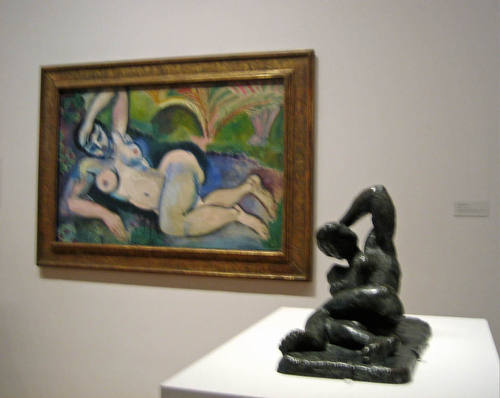 Left: "Blue Nude," 1907, Cone Collection of Baltimore Museum of Art
Right: "Reclining Nude," 1907, Albright-Knox Gallery, Buffalo
Photo by Lee Rosenbaum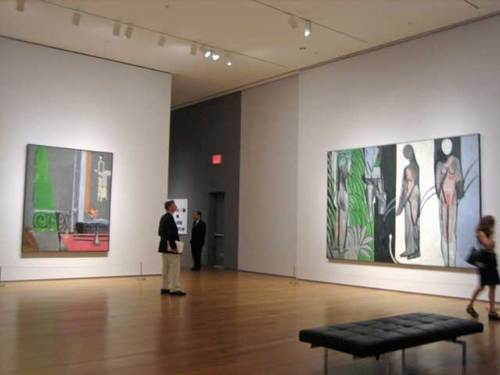 Left: "The Piano Lesson," 1916, Museum of Modern Art
Right: "Bathers by a River," 1909-10, 1913, 1916-17, Art Institute of Chicago
Photo by Lee Rosenbaum
Unfortunately, the curators' "big idea," at which they hammer away in almost every wall label, wears out its welcome long before the final, transcendent gallery, above, where "Piano" meets "Bathers." Over and over again, we are told that Matisse obsessively reworked his paintings and sculptures, leaving evidence of his process in the finished product. The voluminous catalogue laboriously records every tweak in every work, often aided by the scientific evidence of various imaging technologies. It's interesting for a while, but lacks the interpretive essence that we crave from a Matisse-ian exploration.
What was insufficiently expressed, to my mind, was the curatorial intelligence so much in evidence during the brief comments to the press at last week's preview, where the organizers explained why all this visual and scientific evidence matters -- in terms of the importance and impact of Matisse's work and what he was trying to achieve.
Below are two samples from their comments -- the first featuring D'Alessandro; the second, Elderfield. D'Alessandro begins by talking about the initial inspiration for the show -- Chicago's "Bathers by a River":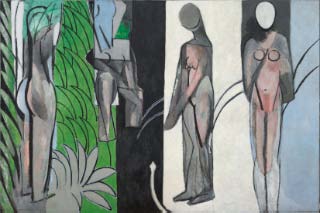 Photo from Museum of Modern Art
© 2010 Succession H. Matisse / Artists Rights Society (ARS), New York
D'Alessandro's desire to study this key painting in her museum's collection impelled her to consult Elderfield---a conversation that escalated into a major exhibition. Here's Stephanie (with John listening beside her), discussing "Bathers by a River" and how it informed the concept for "Matisse: Radical Invention":
At the very beginning of Elderfield's riveting oration. you'll see a white-haired man in a blue jacket. That's Claude Duthuit, Matisse's grandson:
The show, which begins with a Cezanne painting of "Three Bathers" that Matisse owned, might also have benefited from inclusion of a few examples of the Cubist works that moved Matisse to discard, at least temporarily, the sensuousness of "Blue Nude" for the more stripped-down, totemic forms of "Bathers by a River." And the inclusion at the end of the show of a few works from later years, when Matisse "slowly reengaged with a more naturalistic style" (according to a wall label), would have done much to illustrate the significance of the "radical invention" period for the evolution of his oeuvre.
Also providing food for deep thought might have been inclusion in the exhibition's wall text of this insight (not in the above video clip) with which Elderfield ended his press remarks:
I think that what this exhibition particularly tells us is that Matisse's reputation as a painter of pleasure is often very much misunderstood---by which I don't mean that his art doesn't give pleasure. But rather, I'm thinking of Keats, of whom Lionel Trilling once wonderfully said that he [Keats] may be thought of as the poet who made the boldest affirmation of the principle of pleasure and also the one who brought the principle of pleasure into the greatest and sincerest of doubt. And that remains true [of Matisse], when he turned away from the restriction of means after the war.
SUBSCRIBE TO & FOLLOW CULTURE SHIFT
Every Friday, HuffPost's Culture Shift newsletter helps you figure out which books you should read, art you should check out, movies you should watch and music should listen to. Learn more