THE BLOG
"Skin Fruit" Fallout: Seven Rules Museums Need to Avoid Perils of Single-Collector Shows

Members of the Association of Art Museum Directors, in Indianapolis last month for their annual meeting, posing for a photo op at the Indy 500's racetrack
Athens industrialist Dakis Joannou's contemporary art collection, exhibited this year to great controversy by the New Museum in New York, has recently left the building. But Skin Fruit (as that exhibition was called) has left a bitter aftertaste, raising doubts about the desirability and advisability of other single-collector shows now in progress elsewhere.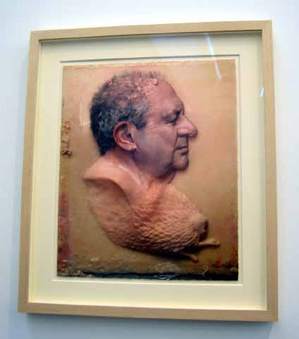 Portrait of the mega-collector: Robert Cuoghi, "Megas Dakis," 2007, from the New Museum's "Skin Fruit" show
The Metropolitan Museum of Art is currently showing the Tobey Collection of old master drawings, which includes an unrelated and incongruous section devoted to New Yorker cartoons by the collector's father. They're worth a giggle, but they don't belong there.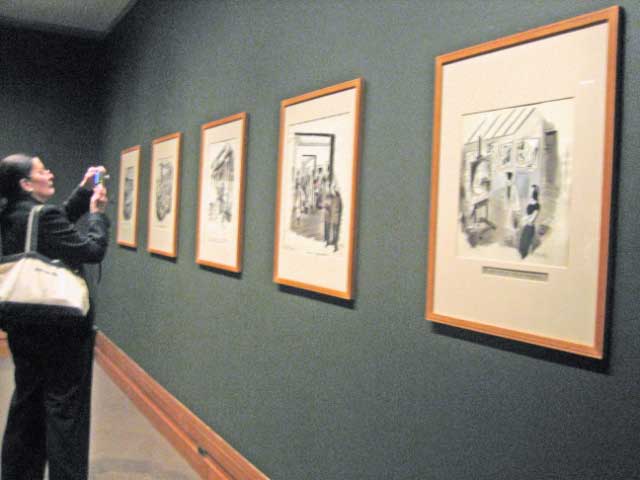 Some of the Barney Tobey's cartoons at the Met
The Met has long been wary of single-collector shows, ever since it got seriously burned in 1973 by Allen Funt of "Candid Camera" fame, for whom the museum had mounted a show of 35 paintings by Victorian artist Sir Lawrence Alma-Tadema from Funt's collection. He turned around and sold those same works at Sotheby's, London, in November of the same year, their value enhanced by the Met's imprimatur.
Museums see such exhibitions as a way to bring important works to the public's attention, and as an important collector-wooing tool. The Met has been stepping up its single-collector schedule lately, having recently exhibited the Bonna Collection of old master drawings and Australian aboriginal paintings from an unidentified private collection. The Yale University Art Museum is currently hosting a show of Italian old master paintings from the collection of New York dealer Richard Feigen (Yale 1952), who last year sold a Turner landscape he owned soon after it was displayed in the Met's major Turner retrospective.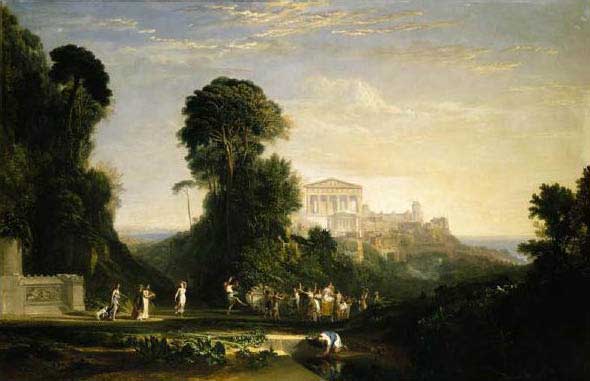 J.M.W. Turner, "The Temple of Jupiter Panellenius," 1816---$12.96 million at Sotheby's, New York, January 2009; shown at the Met, July-September 2008
Photo: Sotheby's website
The Association of Art Museum Directors, the leading professional organization for American art museums, recently identified the need for clear guidelines for single-collector shows as one of the hot-button topics to be discussed at last month's annual meeting. But no publicly disseminated guidelines have yet emerged from those closed-door deliberations.
So let me step where AAMD has feared to tread, enumerating what I believe should be seven non-negotiable requirements for granting a private collector's trove the coveted Museum Seal-of-Approval:
Curatorial control of how works are displayed and explicated. This is the museum's show, not the collector's. The collector's knowledge and suggestions may be useful, but the museum's own professional experts must rule.
A firm commitment, preferably in writing, that works will not be sold off the walls. Under no circumstances should a museum exhibition morph into a presale exhibition, with value of the collection enhanced by the museum's imprimatur. That said, if a collector pleads that he really needs the money, how can a museum be strict about holding him to a no-sale commitment? (That thought crossed my mind in connection with the the Joannou show, which coincided with Greece's economy's going into freefall. I have no knowledge, I should emphasize, of any changes in the Athens-based industrialist's personal fortunes.)
No pay-to-play: Museums should not accept financial support from the collector that is either directly or indirectly related to the show of his works. By "indirectly," I mean, for example, a donation made contemporaneously with the show to support the general operations of the museum. Independent funding is, I believe, essential, to avoid the perception that the museum's galleries are for sale or that providing a donation along with loaned art gives a collector an inside track for an exhibition devoted to his holdings.
A strong preference for a collector who is known as a keeper, not a trader. Some collectors are clearly in it for the long haul and have every intention of eventually giving their holdings to a museum---whether an existing one or a museum-of-one's-own. The collector who is granted a museum show should be known as public-spirited, not profit-driven.
No single-collector shows of the holdings of museum trustees, unless most or all of the works in the show are promised to the museum. A board members' insider status necessarily imposes obligations and limitations because of the need to avoid any real or perceived conflicts-of-interest, self-dealing or favoritism. It is because of Dakis Joannou's status as a trustee of the New Museum that I believe "Skin Fruit" should never have happened.
The show should be on the same level of quality, scholarship and presentation as other exhibitions at the museum. The museum shouldn't present a mixed-bag assemblage of the great and not-so-great. That would be flattering to the collector's vanity but damaging to the museum's aura of authority.
All of this should be done with complete transparency. There must be no doubt in the minds of the public that the show is being done in the right manner for the right reasons.
Even if these conditions are scrupulously adhered to, shows of private collections that are not promised to the museum should be mounted sparingly, if at all. The most satisfying museum shows tend to be those in which carefully selected works, gathered from a wide variety of sources, are studied, installed and explicated by museum curators -- the professionals who are best qualified for those tasks by their scholarly knowledge, training and experience.