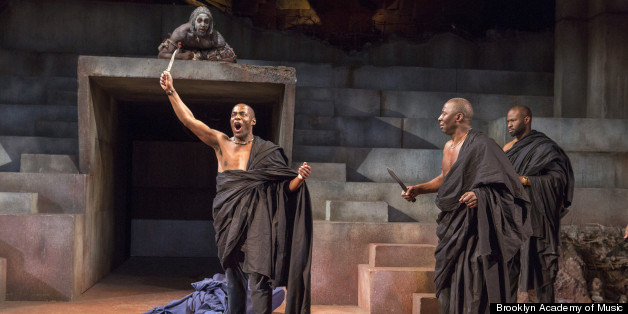 When you step into the Brooklyn Academy of Music's Harvey Theater for the Royal Shakespeare Company's unique production of "Julius Caesar," you encounter a pulsing crowd dancing to the beat of African drums.
As I took my seat for "Julius Casar" on Thursday night, I passed African revelers cheering Caesar's name, a surprising sight for a tragedy cast in ancient Rome. The gamble worked. Director Gregory Doran's revamped Shakespeare tragedy, including an all-black cast and a modern African setting, is irresistible.
Instead of coming off as a gimmick, Doran's take on of "Julius Caesar" actually makes the play more relevant for today's audience. The unstable political climate of ancient Rome could just as easily be found in, say, Libya today.
In fact, in his New York Times review, Ben Brantley likens Jeffery Kissoon's Caesar to the former Libyan despot Muammar el-Qaddafi and Congolese leader Mobutu Sese Seko. Even the grand statue that presides over the stage "inevitably recalls that of Saddam Hussein."
Much credit goes to the actors who make this world believable, although Brutus, played by Paterson Joseph, steals the show. The actor's patient delivery allows us to linger on his sorrow and appreciate his humor, gaining our sympathy for Brutus's moral dilemma; in the end, we really feel for the killer.
The play is updated with visually captivating contemporary dress that ranges from gold watches and dashikis for the senators to a plain undershirt for the handsome Mark Anthony. "Once you get rid of the togas and the sandals, you see what Shakespeare was doing," Doran told Interview Magazine. "He was writing something really, really acute about politics."
By breaking the mold of the stoic Roman setting, the director infuses new life into the play. It cannot be easy to get a modern audience laughing along to Shakespearian puns, but this one even lept up in a standing ovation at the end of the performance.
PHOTO GALLERIES
"Julius Caesar" At BAM