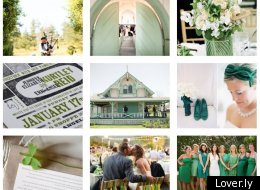 March is upon us (can you believe it? where has the year gone?) Spring weddings are just around the corner and what better way to celebrate then to call upon the luck of the Irish! A St. Patrick's Day wedding can be so stunning and elegant. Whether it be shades of emerald, olive, kelly, or mint, GREEN symbolizes growth and new beginnings -- perfect for weddings!
In honor of the Irish holiday I've put together a bundle of my inspiration on Lover.ly. It's my favorite place to find wedding-specific inspiration with tons of gorgeous images from some of the biggest names in the industry. Brides and vendors (or even just wedding enthusiasts!) can make their own account with bundles of inspiration and the best part is that it can stay private or you can share it with the world.
Click through the slideshow to see some of my picks for beautiful St. Patrick's Day wedding inspiration!
This is what my inspiration bundle looks like on Lover.ly!

Want a fun way to incorporate Irish tradition into your wedding? How about having a bagpipe for your music?

Pastel green doors are the perfect way to greet your wedding guests!

Florals are a great way to incorporate natural elements into your Big Day and these green, cream, and white centerpieces add a hint of the Irish countryside to the table decor!

Mmmm... who doesn't love mint-flavored macaroons?!

Love the textured green on this invitation, it's the perfect pop of color!

A wraparound porch with green trim is the ideal location for a sunny Spring wedding.

Love the contrast of the deep emerald accessories with the bride's white dress.

A fresh stem of clover is a great way to add a touch of pretty (and luck!) to your table setting.

Ombre green ribbons give the bride and groom's chairs an extra special touch.

Alternating styles and shades of green bridesmaid dresses give each bridesmaid a unique look.

This green paisley pattern adds natural and sweet elements to a wedding cake!

Who says you have to wear white on your wedding day? Dare to be bold like this bride in an emerald green wedding dress!

Fresh green and crisp white are the perfect pairing for a spring soiree.

This kelly green bridesmaid dress is the perfect pairing for a single succulent bouquet.
Follow Leila Lewis on Twitter: www.twitter.com/weddingPR