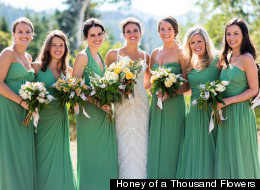 St. Patrick's Day is getting us excited for all things green! Mix and match shades of green for bridesmaid dresses, incorporate greenery into your flowers, and don't forget to have some green desserts (likes pistachio macaroons!). The possibilities are endless. These green-inspired photos will work for St. Paddy's Day celebrations, engagement photo sessions, and on your wedding day.
St. Patrick's Day Wedding Inspiration
Love this mix of vibrant shades of green for the bridesmaids' gowns! Perfect for an outdoor ceremony. Photo by Aaron Shintaku.

Treat guests to delicious green pistachio macaroons placed in pretty apothecary jars. A delicious dessert for a green-themed soiree. Photo by Aaron Young.

Show your love with these chic mint "Husband and Wife" chair signs! We love the hand-drawn music notes and flowers adding a personal touch to the bride and groom's wedding decor. Photo by Amorology Weddings.

Liven up your dessert display with a colorful mint dresser! Photo by Brandon Kidd.

Photo props? Yes please! Love this adorable eucalyptus heart-shaped wreath. Photo by Charmed Events.

How chic and unique is this cabinet of desserts! Love the mix of cake stands and mint doilies for a feminine green display. Photo by Found Vintage Rentals.

Obsessed with the emerald bridesmaids gowns in different styles and the mix of floral bouquets! Photo by Honey of a Thousand Flowers.

Green shorts and suspenders?! In love with this adorable little boy's party outfit. Photo by Kayla Adams.

A "living" basket covered in greenery is the perfect accessory for any flower girl. Photo by John Schnack.

Treat guests to this decadent and delicious enoki mushroom soup with chervil truffle cream for a green-themed St. Patrick's Day menu! Photo by Urban Palate.

A green polka dot tie for the groomsmen... you can't get more Irish than that! Photo by Easton Events.

Irish Whiskey and Guinness beer not your thing? Mix it up with mini bottles of Patron...as long as it's served with limes and green straws you're in the St. Paddy's Day clear! Photo by Cassandre Snyder.

Planning a green celebration? Spread the word with your stationery in fun shades of green! Photo by Envelopments.
Follow Leila Lewis on Twitter: www.twitter.com/weddingPR