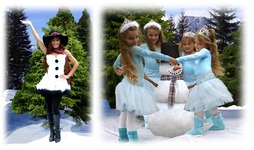 Every mom in the world goes through the same thing when she has little kids at home, particularly if the little ones are not of school age yet. There are days that just get away from you. There are days when it is 3:00 in the afternoon and mom is still in her pajamas because the kids needs come first.
As a mom of two sets of twins ages four and three, I can honestly say some days one would never guess that I am an ESPN reporter and television personality. I homeschool all four girls for pre-school and run two businesses out of my house. So like many moms, I just don't have a lot of time to glamorize myself. That is why busy moms need to find a few quick and easy magic beauty tricks. These beauty tricks really come in handy when you feel the need to release your inner Diva.
There are four beauty products that I cannot live without. Even when I look exhausted from working all hours of the night trying to meet a deadline, these quick beauty steps give me that radiant summer glow. I never put anything inside or on my body that has preservatives, dyes or harsh chemicals. After all the skin is the largest organ of our body. Natural beauty products that work are difficult to find and 100% organic products are even harder to come by. After lots of experimenting, I was able to find a few fabulous beauty products that give results without the added preservatives and harsh chemicals.
1. Eminence Organic Pumpkin & Orange Masque - This rejuvenating masque is packed with organic fruits and veggies. It contains vitamin A, which is found in carrot and imparts radiance, orange, which is high in vitamin C and nourishes the skin, and pumpkin, which revitalizes. In just 5 to 10 minutes your complexion perks up and you look like you just got back from a tropical vacation. This masque also has great aromatherapy benefits, so I love to use it at the end of a stressful day. You can purchase online at buynaturalskincare.com. This is a great web-site because you can even buy small samples to try their products out first.
2. Becca Cosmetics Beach Tint - I cannot leave the house without this product. This is a beautifully blendable crème stain for cheeks and lips that looks great on everyone's complexion - from fair to dark. Each shade is deliciously scented in its synonymous name. The watermelon smells so yummy! I love this product because it's oil- free and works great for those who have many allergies and break out from products easily. This is not organic, but is preservative and paraben free.
3. Cargo Plant Love Lipstick in Sarah or Grace - 100% Natural lipstick! What a fun and environmentally friendly line. All of the shades are designed by some of your favorite celebrities. Grace is Angie Harmon's signature and gives that shimmery, sun-kissed look. The lipstick tube is made entirely from corn! PlantLove lipsticks are certified by ECOCERT for being environmentally friendly in Product, Packaging, and Process. You can purchase Cargo at most Sephora stores.
4. Becca Cosmetics Eyeshadow in Damask- Apply this in the crease of your lid and top off your new look. The fine shimmer softly illuminates eyes, deflects discoloration and brightens eyes. This is also preservative, fragrance and paraben free. You can find this at some sephora stores or beccacosmetics.com
Being a mom is one of the hardest jobs in the world. Sometimes I think looking good gives us the power and self confidence to get through the day. It doesn't take a make-up artist and an hour out of your day to look glamorous. You just need 15 minutes, an educational dvd for the kids and the right products!

SUBSCRIBE AND FOLLOW
Get top stories and blog posts emailed to me each day. Newsletters may offer personalized content or advertisements.
Learn more