In 2007, I launched on this site a column called Lets' Bring Back -- which has since celebrated hundreds of forgotten-yet-delightful fashions, pastimes, objects, and personalities.
From zeppelins to sealing wax, from turbans to typewriters, from Auntie Mame to the Ziegfeld Follies, Let's Bring Back has covered a lot of ground. Special editions of the column included a wildly popular Mad Men edition and the crowd-pleasing "Culinary Delectables" edition, among many others.
This week, Let's Bring Back made its official debut as a book -- and in honor of its release, I've compiled some of the most popular items mentioned in the column over the years.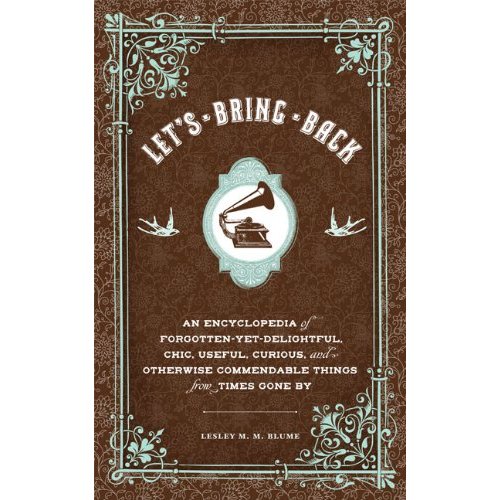 I hope you enjoy revisiting these things, and let us know what you'd like to bring back in the comments section below!
Let's Bring Back ...
A man in a hat just looks so cool. Not to mention polished and confident.

Preferably one in a leather case. There is something truly wonderful and evocative about a record popping on an old player.

A conspicuously missing entity these days. Suddenly it's perfectly acceptable to tap on a PDA throughout dinner or let the lobby door close on someone carrying heaps of grocery bags. Emily Post would be crying into her hanky over this sorry state of affairs. (Pictured: Elizabeth Post/AP)

Oh, how we love to shriek into our cellphones, and make sure that everyone in a restaurant knows every detail of our fevered little lives.

Thoughtfully written ones - and letter writing too. No matter how frequently you speak or email with someone, you'll know them differently if you spend time with them on paper.

I'll admit that this is eccentric of me, but they're just so Jackie Kennedy, circa 1961. Excepting, of course, those bloated, gummy canned olives. Those can be left happily in crystal candy-dishes of the past.

Cross-country, Kerouac-style. With unruly maps, and a dog in the backseat. (Photo from Flickr: cnszym)

These clinical, gimmicky Ian Schrager-affairs crawling with headset-donning staffers often make me long for a gin-and-tonic in a mahogany-walled hotel lobby from bygone eras. Check out the Baron Hotel in Aleppo, or the American Colony in Jerusalem: That's the way to do it. (Photo of American Colony in Jerusalem from www.americancolony.com)

And scented inks too - divine! I was particularly gratified to learn recently that lemon juice makes an excellent invisible ink, which 'appears' when the paper is held up to candlelight.

I'm bored to sobs of that ubiquitous sticky gloss. Let's bring back old guard glamour. Golden-Era Hollywood knew what it was doing. (Getty)

Public ones and personal ones. Along with those lovely bookplates for the front covers, the ones that proclaim: This Book Belongs To ...

The former is so much more dignified. Why would you want to see anyone before noon on a weekend anyway? Revive also: the word "luncheon." Lunch is something you grab. Luncheon, on the other hand, is something that you savor.

Next time you walk past a manicure salon, peek in the window at the women getting their nails done. I'll bet you a million bucks that they're all sullenly slumped down in their chairs, as though they'd been shot. (Photo: A young Lucille Ball/AP)

Banish the sluggish, clichéd resort retreat.

With black-and-white film. Particularly good on the above-mentioned Kerouac-style road trip. A Pentax K-1000 takes all of the wretched passivity out of taking pictures. And they won't just sit there blobbily on your hard drive afterward.

In which you invite your family and friends late in the afternoon. This is a particularly nice ritual if you happen to like your family and friends.

These are best adorned with green grass courts.

Think El Morocco and the Stork Club. With those discreet curved leather booths, palm trees, and a wonderful old-fashioned ebony telephone on each table.

"Whatever happened to going out dancing for an evening?" a friend of mine recently lamented. "As in, it's Friday night. Let's go out dancing." (Photo: Elizabeth Taylor and film producer Mike Todd/Getty, 1956)

With pictures inside, of course. They're just so endearing and personal. On a less endearing note: people used to store poison inside lockets too.

Polite ones or impolite ones. It doesn't matter. Let's take a break from online chatter and move back into real rooms with three-dimensional people. Anonymous internet postings try to pass for discussion societies but they are absolutely not the same thing. Too often they breed animosity instead of constructive discourse. Talking is good. Real debate is a dying art.

And picnic baskets. They're hard to carry but in the end they are worth it. Wear linen clothing, set up shop under a tree, bring (and read) books, take black and white pictures.

Good ones, obviously, in wood-paneled cars, with white linen-covered tables. And crystal, china, etc., Agatha Christie-style.

Perfect for long, rainy November afternoons, and for prolonging first-date make-out sessions. Let's also bring back pre-feature cartoon shorts.

It will make you look wonderfully old-world and curious. Plus, it removes the watch as a dull, ubiquitous status symbol.

After dinner, take a stroll around the neighborhood. A bonus: window-peeping is always better at night.

Scrabble, bridge, poker, whatever. A friend of mine points out that game nights used to serve as wonderful occasions to get soused and gossip and argue. And it does get so dreadfully boring to go to yet another couple-y restaurant dinner.

And collections. Book collecting. Butterfly collecting. Bee keeping. Whatever. Hobbies are quaint, and it's nice to do something in which the process is the pleasure.

A great friend of mine has quite an impressive collection of telegrams from Cole Porter. These divine missives become chic historical collages. Plus, upon arrival, telegrams are practically synonymous with anticipation, adventure, and mystery ... and who among us couldn't use more of these things in our lives? (Photo: Mickey Mantle and Roger Maris look over a telegram from fans encouraging them, 1961/AP)

Truly the stuff of creaking whimsy. Wonderful places to hide from irritating relatives. Equally cunning perches from which to spy on various unsuspecting members of the household: much chicer than a nanny-cam.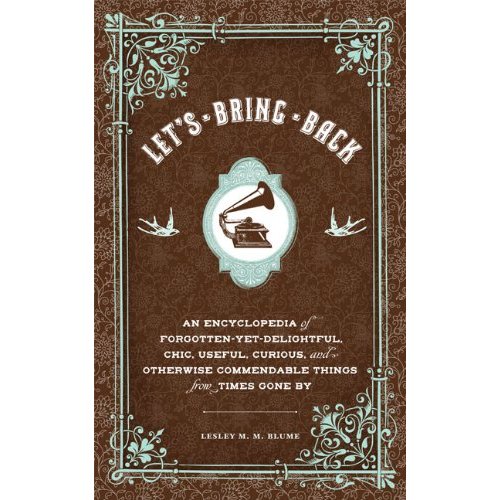 BUY THE BOOK: Click here to purchase Let's Bring Back.
Follow Let's Bring Back on Twitter: @LetsBringBack
For publicity inquiries, please contact April Whitney at Chronicle Books: April_Whitney@chroniclebooks.com
Follow Lesley M. M. Blume on Twitter: www.twitter.com/lesleymmblume