It seems that Americans have always been nostalgic around the winter holidays. Just look at the lyrics of Irving Berlin's iconic song, White Christmas, written around seventy years ago:
I'm dreaming of a white Christmas
Just like the ones I used to know
Where the treetops glisten,
and children listen
To hear sleigh bells in the snow
According to legend, Berlin came up with the song while dawdling poolside in the sunshine at Arizona's Biltmore Resort. The trappings of a snowy holiday must have seemed very far away to him -- as they do to many of us today in different parts of the country and world.
In this special edition of Let's Bring Back - my recurring column that celebrates objects, rituals, curiosities, and personae from eras past - I've compiled a shortlist of holiday season cheer from eras past. Many of these whimsical things are not necessarily from a world "[we] used to know," but rather one that we wish we had known.
Without further ado, Let's Bring Back ....
1. Popcorn strands on Christmas trees. Along with those wonderful big yellow bulbs, the sort that hang in Van Gogh's cafe paintings. Also popular in my childhood household: construction paper chains, which invariably drooped lower and lower to the floor as the days passed.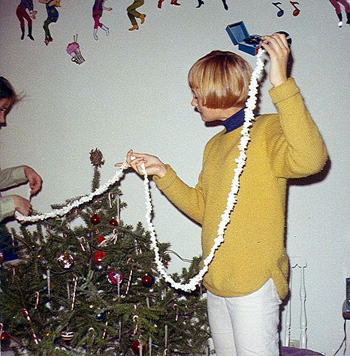 I love childish, disheveled-looking Christmas trees; so did one of my favorite writers, Truman Capote. In his novella Breakfast at Tiffany's, main character Holly Golightly decorates hers with stolen balloons from Woolworth's; in his short story A Christmas Memory, a child and his elderly cousin festoon their tree with "coils of frazzled tinsel gone gold with age," "a few winged angels devised from saved-up sheets of Hershey-bar foil," and a "shoebox of ermine tails." As a final touch, they "sprinkle the branches with shredded cotton (picked in August for this purpose)."
2. Fur muffs. Black or white ones, worn with red coats: very Dr. Zhivago-chic. Rarely made anymore, they can be easily found in flea markets, vintage stores, and on eBay for a song.

3. Ice skating parties. And ice-skating after-parties as well. The 1966 New York Times Cookbook includes a menu for "A Supper After a Skating Party," featuring hot buttered rum and old-fashioned vegetable soup. Just the thing to warm your ego after your many spills onto the ice.
* 1 stick unsalted butter, softened
* 2 cups light brown sugar
* 1 teaspoon ground cinnamon
* 1/2 teaspoon grated nutmeg
* Pinch ground cloves
* Pinch salt
* Bottle dark rum
* Boiling water
In a bowl, cream together the butter, sugar, cinnamon, nutmeg, cloves, and salt. Refrigerate until almost firm. Spoon about 2 tablespoons of the butter mixture into 12 small mugs. Pour about 3 ounces of rum into each mug (filling about halfway). Top with boiling water (to fill the remaining half), stir well, and serve immediately.
4. Bing Crosby's Christmas albums with the Andrews Sisters. I love the Andrews sisters: Maxene, Patricia, and LaVerne. These ladies - and their songs - once pulled the heartstrings of every homesick American soldier in World War II. And Mr. Crosby's voice consoled the soldiers' wives, sweethearts, and mothers back home.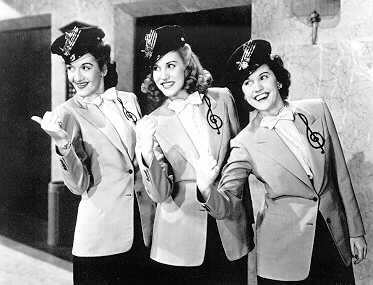 5. The art of toasting. Nothing makes an occasion more memorable (for better or worse) than a toast given to commemorate it; yet it is an increasingly arcane artform. In their book A Gentleman's Guide to the Noble Tradition of the Toast, etiquette experts John Bridges and Bryan Curtis offer the following example of an appropriate New Year's Eve toast:
"I can't think of a better way to ring in the new year than with a group of people who have been such an important part of my past and, if the heavens are smiling on me, will be an equally important part of my future. Here's hoping the new year will bring each of us good health and happiness."
However, Bridges and Curtis warn the gentlemen not to say something along the lines of the following: "Here's to the new year - it can't be any worse than the last one."
6. Laura Ingalls-style Christmas stockings for little girls. I used to absolutely covet Laura's stocking presents that she finds in her stocking on Christmas morning in Little House in the Big Woods. If my memory is correct, it was filled with a rag doll, peppermint candy, tangerines, and a shiny penny in the toe. I'm not sure that all girls would appreciate the relatively spare quaintness of this suggestion, but any Little House fans certainly will.
7. Sleigh rides. The perfect occasion to debut your new fur muff, and after which to try out the hot buttered rum recipe above.
Tilda Swinton got to zip around in the most gorgeous sleigh in The Chronicles of Narnia: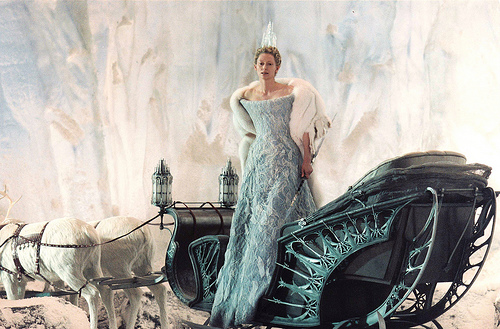 8. New Year's Day parties. An elegant alternative to drinking your face off the whole night before and ringing in the New Year with a horrendous hangover and sense of remorse.
The 1966 New York Times Cookbook suggests the following menu for a civilized "Dinner for New Year's Day":
* Consomme Julienne
* Beef Wellington
* Sauce Madere
* Rissole Potatoes
* Spinach with Sauteed Mushrooms
* Grand Marnier Pudding
9. The film Scrooge with Albert Finney (1970), who was the most deliciously peevish Ebenezer Scrooge ever to grace the silver screen. While the special effects might seem hokey by today's standards, Finney's wistful cantankerousness and the London street scenes make revisiting this movie a sheer pleasure. Plus: Finney is a gorgeous hunk of man in the flashback scenes.
10. While we're in the general realm of Dickensian England, let's bring back Christmas goose for supper. These days, turkeys often have to do double-holiday duty, appearing on our tables at both Thanksgiving and Christmas. This year, why not opt for their old-fashioned feathered cousins instead?
Click here for a recipe for "Dickens style Christmas Goose" from Yankee magazine.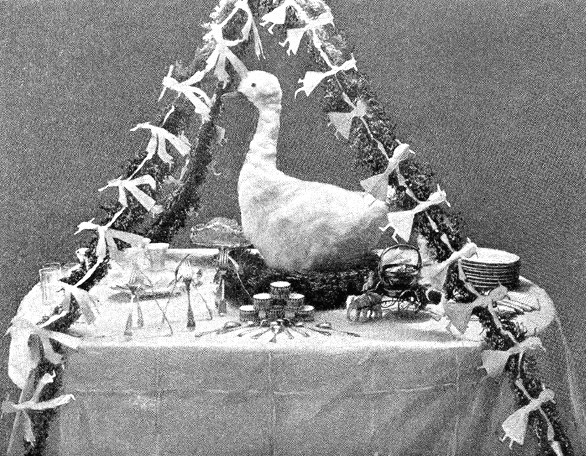 In Fall 2010, Chronicle Books will release a book by Lesley M. M. Blume based on this popular column. 'Let's Bring Back' will be a sophisticated, stylish cultural encyclopedia, celebrating forgotten objects, pastimes, and personae from bygone eras. From sealing wax and quill pens to the Orient Express, fainting couches, and limericks, there is a great deal of ground to cover. Please make sure to visit previous installments of Let's Bring Back.

SUBSCRIBE TO & FOLLOW LIFESTYLE
HuffPost Lifestyle is a daily newsletter that will make you happier and healthier — one email at a time. Learn more