While not exactly a rags-to-riches tale (since no one could ever imagine designers Brian Wolk and Claude Morais in rags, for goodness sake), the story behind the emergence of New York City-based fashion house Ruffian is evidence that the American dream is still alive and kicking.
Its founders seem to have won a fashion-world version of the "Dollar and a Dream" lottery - literally. About ten years ago, New York native Wolk and Montreal-born Morais each invested a humble $200 in a collection of men's neckties made from couture textiles, which they assembled together on the floor of their Brooklyn apartment. They had the naive audacity, as Wolk puts it, to send those ties to a buyer at Barneys New York, a haute Upper East Side department store.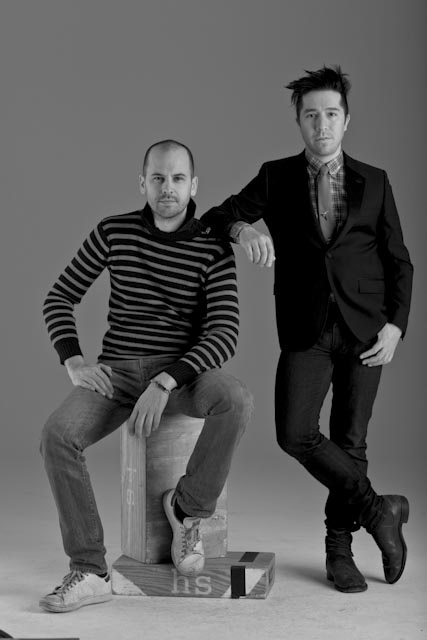 Claude Morais and Brian Wolk, co-designers, Ruffian
The crapshoot paid off: the buyer eagerly bought the ties, and Ruffian was born. Nearly a decade later, Wolk and Morais have become darlings of the New York fashion world: Kate Moss and Cate Blanchett have touted their designs; Christian Louboutin crafts the runway shoes for their collections; Marc Jacobs is a good pal.
Yet, when I caught up with them this past weekend - just after they debuted their new cosmos-inspired "Big Bang" collection for fall 2010 - Wolk and Morais insist that, at heart and beneath the glamor, they are simply tailors with a strong appreciation of history and fine design. They still live in the same "sacred" Williamsburg apartment where they launched the Ruffian ship a decade ago.
Below, Wolk and Morais talk about their love of old-guard New York City, their iconic acquaintance Lady Gaga, and how NASA was an unlikely muse for their new line.

Lesley M. M. Blume: Your latest collection is called "Big Bang." So, tell me about the Big Bang that created Ruffian.
Brian Wolk: Well, at first we did collars and ties and soft accessories ... our biggest expense at the time was actually making the label: we had to order a couple thousand of them. We were like, "How are we going to use all of these labels?"
Claude Morais: We did everything ourselves ... it's like an American story, the American dream, with me being new to America --
BW: I think that Claude and I both share this certain kind of romanticism about America, [and] the amazing days of American fashion, with people like Charles James --
CM: -- and [Norman] Norell --
BW: -- and all of these brilliant American designers, who had this certain sense of detail and tailoring, and all of these things that used to be made here in New York City in the garment district. So, for us that American tradition has always been really exciting.
CM: And in Europe too. When you look at any old-fashioned houses -- Chanel, Lanvin -- all those designers, they all started with an address, a studio, and a store. We wanted to build our own story. And Halston did it here in the 70s by doing hats in his townhouse --
BW: -- Those are business models we look at all the time. The Halston business model especially.
LMMB: For a couple of guys who started their design house peddling ties from your living room, you sure hit the stratosphere pretty quickly. I hear that [famous fashion editor] Isabella Blow hosted your first trunk show.
BW: Our first [apparel] collection, the name of it was called "Savoy." And it was inspired by the golden era of transatlantic travel. It so happens that we were lucky enough that Isabella Blow hosted us at the Savoy [Hotel] in London, where we did a tea and a fashion show. She was really supportive and sponsored it, and that's how it all really began.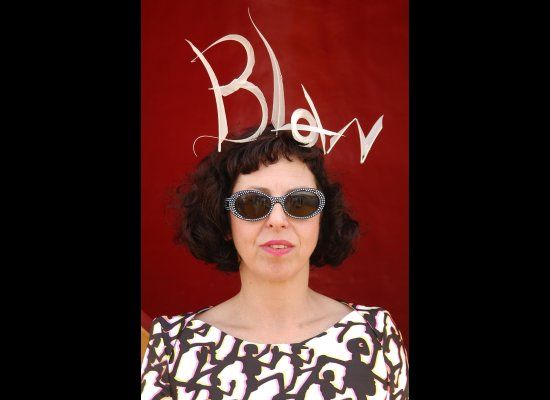 Isabella Blow, legendary fashion editor and early Ruffian benefactor
LMMB: Why the name Ruffian? You both seem pretty gentlemanly.
(A side note to readers: Dictionary.com defines the word "ruffian" as "a tough, lawless person; roughneck; bully.")

BW: You know, 'ruffian' is not just a common scoundrel. A ruffian is a very worldly, sophisticated person who does things against the rules. And with our business, we kind of do it our own way. We definitely break a lot of rules.
CM: It's rebellious, but it's also avant garde. It's all of those emotions that are mixed in our lives and lifestyles --
BW: And it's an interesting juxtaposition between nostalgia and avant garde, and that's something that we always strive for. In every collection we do, there's always culture and counter-culture, ... which creates friction and excitement.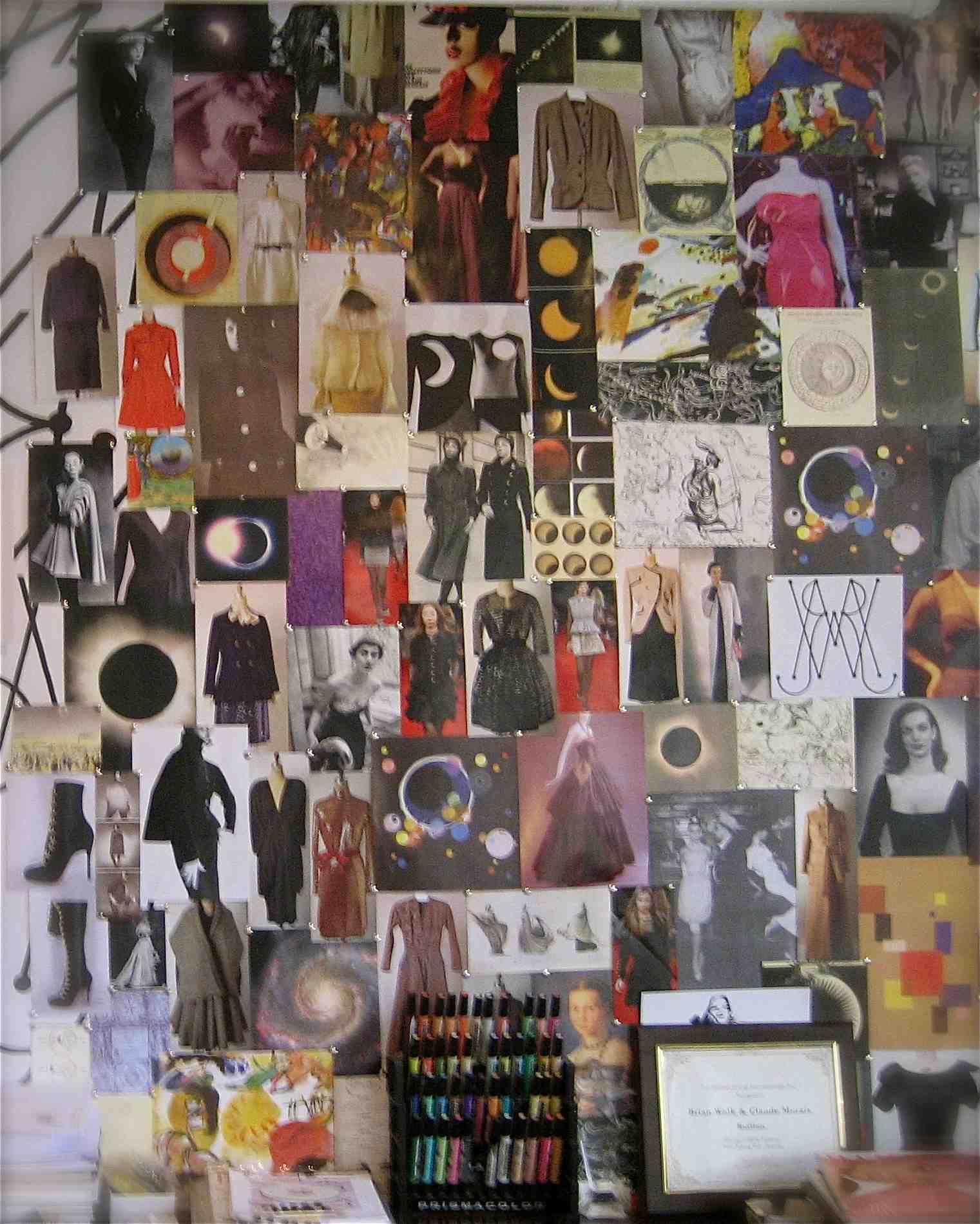 The inspiration board in the designers' garment district studio
LMMB: So, basically Ruffian's aesthetic is premised on old-meets-new.
BW: Designers have to be in touch with the zeitgeist. That's what fashion is: being able to understand the moment that you're living in, understand its relevance in history, and then being able to create things that make sense for now. But in order to do that, you have to have a thorough understanding of history and what people wore before.

LMMB: Tell me about "Big Bang," the collection you just presented here during New York's Fashion Week.
CM: "Big Bang" is the beginning, it's the creation, it's a party. We are loving how this name is meaning everything for us ...
BW: We were really interested in looking at the cosmos and the stars and space, and we explored different cultures' and civilizations' and artists' perspectives on the stars and the universe. We looked at Kandinsky, we looked at Van Gogh ... We traveled through time with the collection ... We had [an] astrological print, but we also have a print that was actually a Hubbell spacecraft photograph of the galaxy that we downloaded from the NASA website.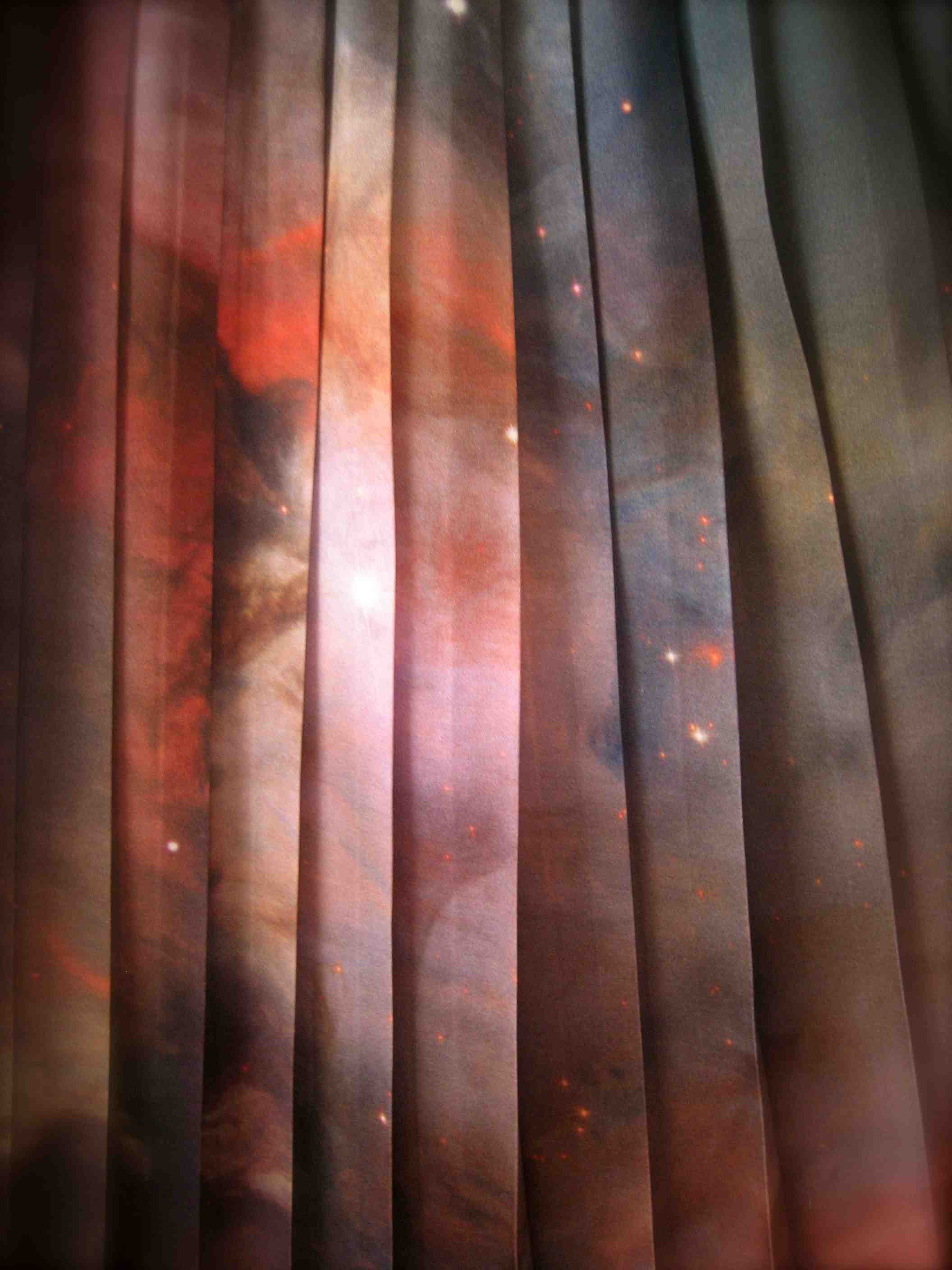 NASA-print dress, fall 2010 collection
LMMB: Ruffian has dressed some of our generation's most spotlighted style icons. And now I hear that you've been hanging out with Lady Gaga lately.
BW: Marc [Jacobs] and Lorenzo [Martone] took us to go see Lady Gaga and afterwards we hung out with her. She was great: super-smart, inspirational, talented ... but do you know what the great thing about Lady Gaga is? When we were at her concert, all of those kids in the audience felt so free to express themselves, fashion-wise, the way they looked, the way they dressed, the way they acted. There was, like, this wonderful freedom at her concert that she kind of enables. Talking about amazing role models - she's constantly stressing to believe in yourself and do whatever you want to do. She has great spirit and great energy.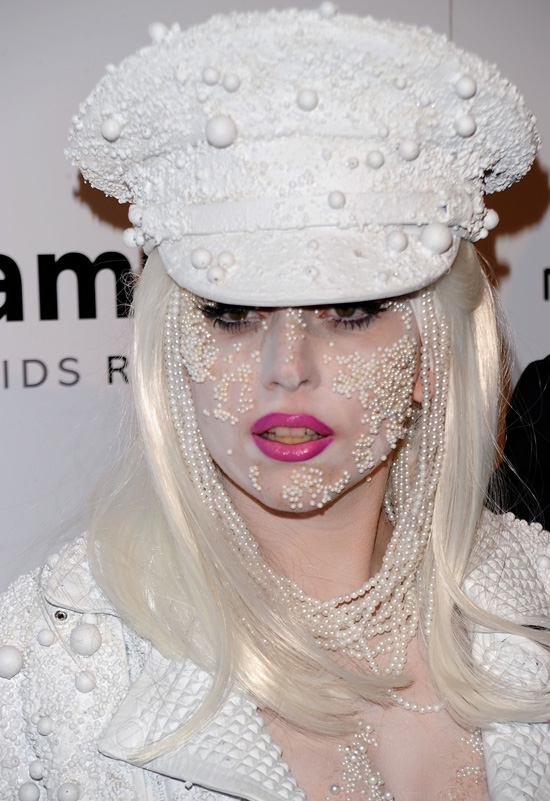 Fashion renegade Lady Gaga
LMMB: If you could dress any woman in history, who would it be?
(Note to readers: there is a lot of hemming and hawing here, until Claude comes up with:)
CM: Carla Bruni. Grace de Monaco. Caroline de Monaco. I always have a passion for European women.
BW: Ugh, we're so bad with the current women. Let me think. Oh, you love what's-her-name. You know, from [French 1966 film] Mademoiselle.
CM: Jeanne Moreau. It's always French iconic women.
BW: Well, Grace Kelly wasn't French.
CM: No, she was American.
(More hemming and hawing)
CM: I think models are my favorite people to dress. In old times, in old couture houses, you would have fifteen full-time girls working for you only. I can't wait for that day that we can have girls here.

BW: I think that people don't understand the rarified art form that models bring to the fashion world ... people will often have a lot more respect for a prima ballerina than a model - but to me, I always compare them.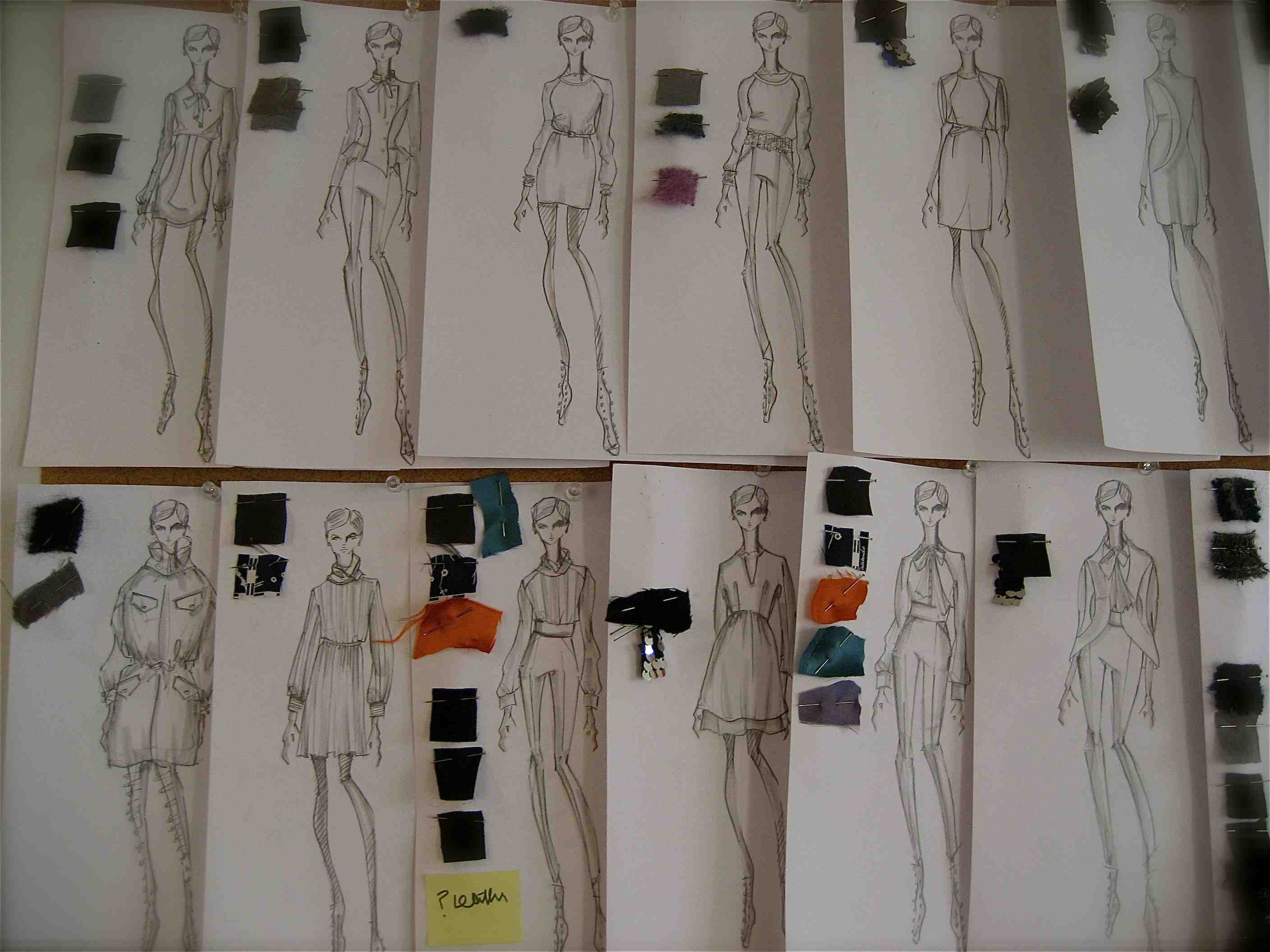 Sketches and fabric samples for the fall 2010 "Big Bang" collection
LMMB: Which designer - historical or contemporary - do you most admire? And which one would you happily bury in your backyard?
CM: I love Marc Bohan, who did Dior, pre-Galliano.
BW: We love Yves Saint Laurent.
CM (to Wolk): I think, for you, it's Charles James.
BW: He was amazing. We like Norell too. James and Norell are designers' designers. Living designers: we like Karl Lagerfeld, Marc - we love Marc. Who else?

CM: That's it. That's a lot.
(Note to readers: the second question - about burying a least-favorite designer in the backyard - was politely ignored.)
LMMB: You've been together - as both business partners and life partners - for a long time. Who's the lazy one and who's the taskmaster?
BW: There's no laziness. We both share a similar vision of living; we have different ways of getting the same place. We both love to cook at home, having friends for dinner. We're opposites in some ways: Claude is more monastic, and I'm more rococo, but we both really appreciate the opposite. We can put rococo furniture in the monastery.
LMMB: What did you want to be when you were kids?
BW: I always wanted to be designer. My dad bought me my first sewing machine when I was twelve.
CM (reclining wistfully): I wanted to be the only child.

BW: No, you love your sister.
CM: Yes, yes, I love her.
BW: I think the thing that Claude and I share: fashion is a business, but it's very pure for us. The most important thing is: do we believe in what we do? Do we still feel passion about it? Because if you don't feel passion about it, your clients won't either.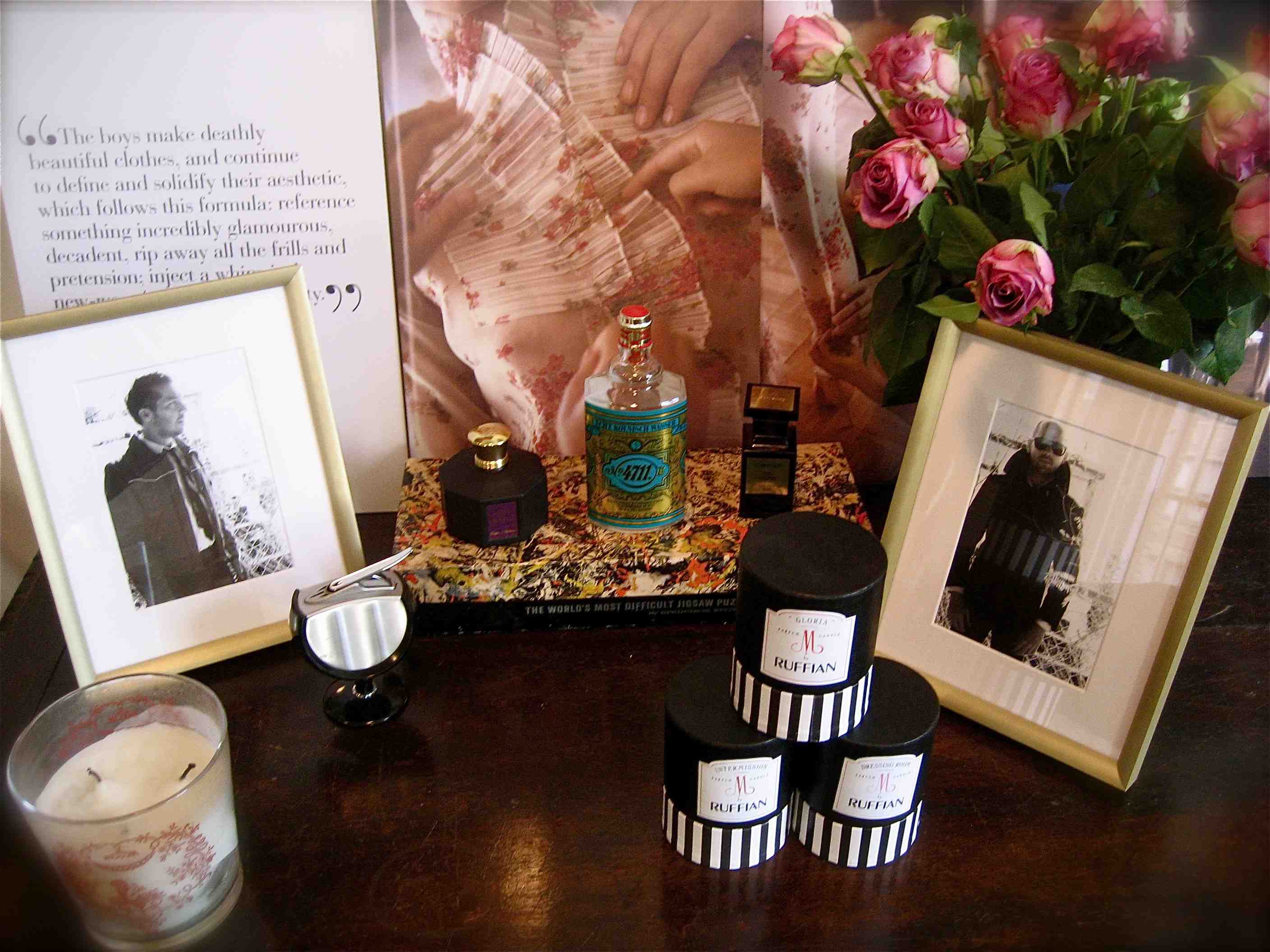 A "tablescape" in the Ruffian studio

This is an edited transcript of a conversation between Brian Wolk, Claude Morais, and Lesley M. M. Blume at the Ruffian studio on Sunday, February 14, 2010.
Follow Fashion Week LIVE on Twitter!
SUBSCRIBE TO & FOLLOW LIFESTYLE
HuffPost Lifestyle is a daily newsletter that will make you happier and healthier — one email at a time. Learn more