Fashion Week is underway in New York City, and American designers are showcasing their visions of the future. Our fashion world heavyweights - Donna, Calvin, and Marc - are further cementing their legends; the next generation of designers, such as Jason Wu, Thakoon, and Derek Lam, are building theirs.
I'm watching the proceedings with great interest, but also thinking about celebrated designers of bygone eras, whose works once shimmered on runways and filled the closets of American women.
It's interesting to see whose legends thrive and whose fade. Chanel, for example, has prospered into an international powerhouse, while many of Coco Chanel's once-powerful contemporaries -- such as Elsa Schiaparelli and Madeleine Vionnet -- have been relegated to the backpages of history, even if their pioneering designs quietly continue to influence.
Fashion often looks to the past for inspiration. This fall, history is in great evidence: surrealist flourishes from the 1940s abound; shoulder pads and neons from 1980s saturate clothing lines at all levels.
Amidst this burst of energized nostalgia, it seemed like a good time to honor some designer luminaries of yesteryear. In a special edition of Let's Bring Back - my recurring column that celebrates objects, rituals, curiosities, and personae from eras past - I present an appreciative (certainly not all-inclusive) shortlist of greats who've fallen into comparative obscurity.
You might not be familiar with all of the names on this list, but if you'd lived in the 1930s, you'd likely have worn (or wanted) one of Lilly Daché's marvelous hats; in the 1960s, you certainly would have known about Oleg Cassini, who was responsible for so many of Jackie Kennedy's now-iconic White House ensembles.
Let's give them an encore bow on the runway.
This Parisian self-proclaimed "King of Fashion," is often credited with emancipating women from corsets, petticoats, and pantaloons; when he opened his maison de couture in 1903, he draped a lucky few instead in luxurious, exotic, robe-like gowns, influenced by the Greek chiton, the Japanese kimono, and the North African and Middle Eastern caftan. He ousted prim fabrics and ushered in brocades and velvets, often in lush jewel tones.
Poiret was considered terribly modern until he wasn't: Chanel's little black dress of the 1920s made his lavish designs look overly-adorned and "old hat." One anecdote describes a meeting between the two designers, between whom no love was lost: noting Chanel's all-black ensemble, Poiret quipped, "Madame, for whom do you mourn?" She stared at him coldly and responded answered: "For you, monsieur."

Elsa Schiaparelli (1890 - 1973)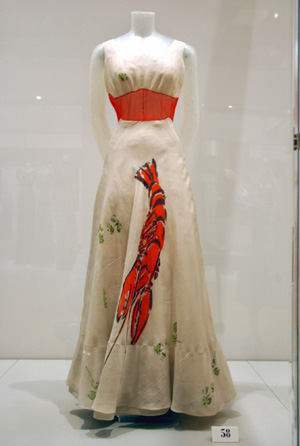 This lavishly-creative Italian-born designer - known as "Schiap" to her friends - was once as revered and famous as Mademoiselle Chanel, who derisively referred to her rival as "that Italian artist who makes clothes."
Schiaparelli was closely associated with Dada and Surrealist movements, collaborating on pieces and collections with artists Salvador Dalí, Jean Cocteau, and Alberto Giacometti; her most famous creation was arguably the Lobster Dress, a simple white silk evening gown with a big, fat lobster painted by Dali onto the skirt. She also created a hat shaped like a woman's high-heeled shoe, with the heel pointing straight up into the air and the toe tilted over the wearer's forehead. Both designs were were touted by some of the world's most formidable clotheshorses.
Lilly Daché (1898 - 1989)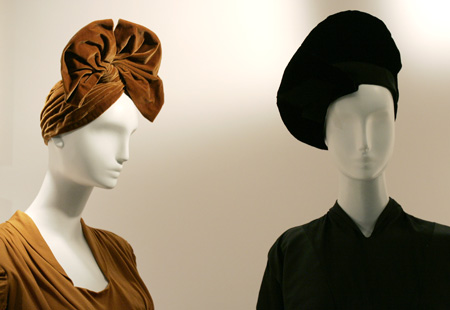 French-born Lilly Daché was the most celebrated milliner in the United States during the 1930s and 40s - a time during which hats were the centerpieces of a woman's wardrobe. Her wildly-creative hat designs were coveted by all fashion-minded females and touted as status objets by practically ever major movie star of the day, including Greta Garbo, Marlene Dietrich, Carmen Miranda, and Jean Harlow.
Like so many fashion industry powerhouse doyennes of her era, Daché was rags-to-riches icon: arriving in America at the age of 16 with thirteen dollars in her pocket (or so the story goes), she took a job working for a milliner on Broadway, eventually bought the shop from the owner, and soon became a household name across the country.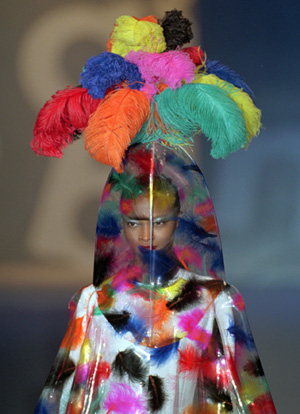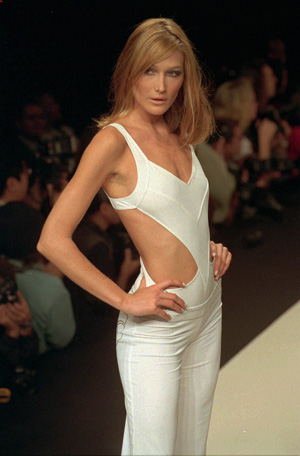 Carla Bruni models a Rabanne jumpsuit in 1995
Rabanne originally studied to become an architect, but instead became the enfant terrible of the fashion world in the 1960s. Taking a cue from the contemporaneous Pop art movement, he made wild dresses out of chain mail, aluminum panels, and plastic; in 1966 he showed a collection of "12 Experimental and Unwearable Dresses in Contemporary Materials." Anteceding today's concept of so-called disposable fashion by decades, he marketed paper dresses sold in envelopes.
Madeleine Vionnet (1876 - 1975)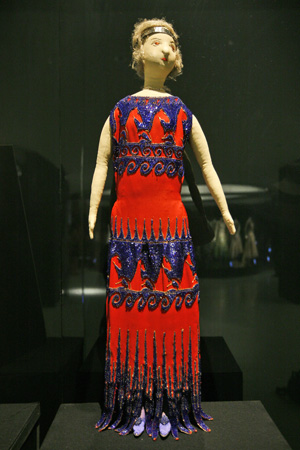 An iconic 1920s and 30s French designer, Vionnet is regarded by many experts as the greatest dressmaker of the 20th century. She took a deeply architectural and intellectual approach to her creations, and is perhaps most famous for her famed "handkerchief dress," which consisted of squares of silk assembled on a then-revolutionary bias-cut, which Vionnet herself pioneered. Worn by someone like Josephine Baker or Marlene Dietrich, the dress clung sensuously to their famous curves and left absolutely nothing to the imagination - an intensely daring notion in that era.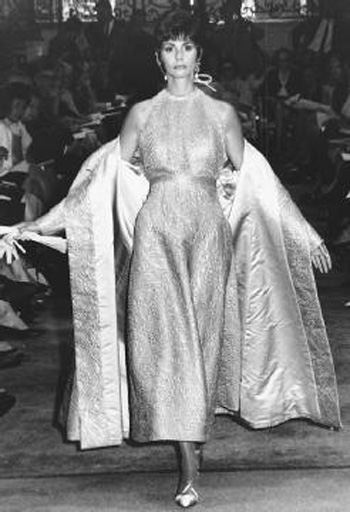 American-born James Galanos founded Galanos Originals in Los Angeles in 1951. He became a pioneer of ready-to-wear fashions, yet unlike the ready-to-wear of today's market, Galanos's designs shared the same standard as couture; some of his clients noted that "the inside of his garments were as finished and beautiful as the outside."
Although celebrated within the fashion industry since the 1950s, he became truly renowned when First Lady Nancy Reagan began to wear his gowns. He retired in 1998.
Oleg Cassini (1913 - 2006)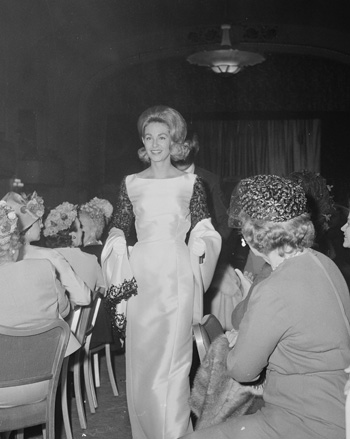 Ted Kennedy's first wife, Joan Kennedy, models a "Jackie Look" white silk evening dress by Oleg Cassini
For years, Cassini worked as a Hollywood costume designer, and began creating ready-to-wear in the 1940s. The fashion world was stunned when First Lady Jackie Kennedy began to wear his designs; as one Women's Wear Daily journalist wrote, "Everyone was surprised. Oleg Cassini had been around for years. He was debonair, amusing, social, but none of the fashion intellectuals had considered him an important designer."
Suddenly he was among the most important, and his Camelot-endorsed sheath-and-pillbox-hat ensembles created a watershed moment in fashion history. It has been estimated that Cassini designed three hundred outfits for Mrs. Kennedy, including her famous ivory satin gown for the inaugural balls in 1961.
"All I remember about those days are nerves, and Jackie on the phone: 'Hurry, hurry, Oleg, I've got nothing to wear'," he wrote in his 1995 book, A Thousand Days of Magic: Dressing Jacqueline Kennedy for the White House.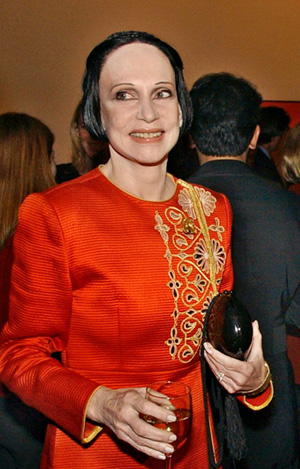 Born on a cotton plantation in Tennessee, Mary McFadden eventually became one of America's most worldly designers. Often referred to as a "design archeologist," McFadden and her gowns (often inspired by ancient civilizations) were particularly renowned in the 1970s and 80s.
McFadden's 100+ collections reference the art of ancient Near Eastern, African, Greek, Javanese, Pre-Columbian, Dynastic Chinese, Japanese, and Korean cultures; she also hosted fashion shows in Guatemala, Saudi Arabia, Oman, Beirut, Lebanon, Russia, and India. She was president of the powerful Council of Fashion Designers in America (a spot now occupied by Diane von Furstenberg) and remains fashion industry royalty, although less known now in the mass market.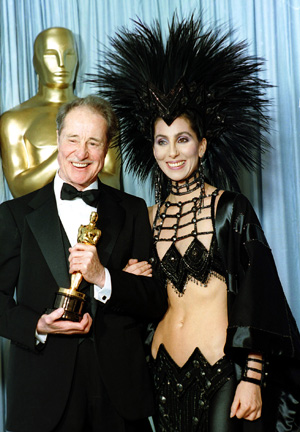 Cher, in a Bob Mackie creation, and actor Don Ameche at the 1986 Oscars
This beloved designer and costume designer has often been called the "sultan of sequins" and the "rajah of rhinestones," which should give you a clue that he was prominent in the 1970s and 80s. His clients included Liza Minnelli, Diana Ross, Joan Collins, and Barbra Streisand; yet his coup d'etat might have been the shocking ensemble he conjured up for Cher's appearance at the March 1986 Academy Awards: a sort of Vegas-showgirl-meets-the-Crow torso-baring outfit, capped with an absolutely towering feathered Mohawk headdress. As Mackie once said, "A woman who wears my clothes is not afraid to be noticed."
In Fall 2010, Chronicle Books will release a book by Lesley M. M. Blume based on this popular column. 'Let's Bring Back' will be a sophisticated, stylish cultural encyclopedia, detailing objects, pastimes, curiosities, and personae from bygone eras that should not have been left behind. From sealing wax and quill pens to the Orient Express, fainting couches, and limericks, there is a great deal of ground to cover. Please make sure to visit previous installments of Let's Bring Back.


Follow HuffPost Style on Twitter and become a fan of HuffPost Style on Facebook!
SUBSCRIBE TO & FOLLOW LIFESTYLE
HuffPost Lifestyle is a daily newsletter that will make you happier and healthier — one email at a time. Learn more