In the current economy, Halloween isn't just a holiday for children, it's also a source of free food for adults trying to feed themselves and their families.
But before you go out and gather the season's bounty, it's important to remember that some Halloween candy is worth more than others nutritionally speaking.
This handy Halloween candy food pyramid will help you make healthier choices while trick or treating this year. With a little thought and rationing, you'll have the makings of several weeks worth of well-balanced dining options that will have more nutritional value than a Happy Meal.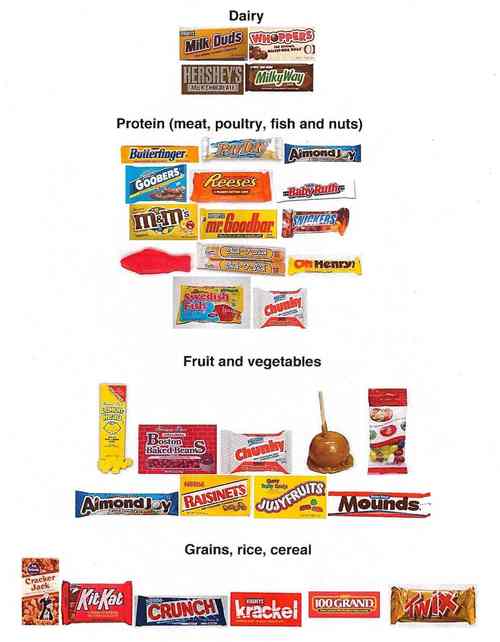 Always go for the candy with the greatest number of food groups in it. For example, a Chunky bar is preferable to a Hershey bar with almonds, because it contains three food groups, dairy (milk chocolate), protein (nuts), fruit (raisins) while the Hershey bar only has two (dairy and protein).
Here are a few examples of well-rounded Halloween candy menus:
Breakfast: A bowl of Cracker Jacks and Milk Duds with a glass of fresh squeezed Jujyfruit juice.
Lunch: Reeses Peanut Butter Cup and Jelly Belly sandwich served open-faced on a Twix bar with a nice cold glass of Malted Milk Balls to wash it down.
Dinner: Swedish Fish served atop a Nestle Crunch Bar with a Lemonhead bearnaise and Boston Baked Beans on the side.
For a nice international meal try Chicko-Sticks mole (use a Hershey bar for the mole), candy corn tortillas and refried jelly beans.
So get yourself a free mask and get ready to stock your cupboards. Happy Halloween and bon appetit!
SUBSCRIBE AND FOLLOW
Get top stories and blog posts emailed to me each day. Newsletters may offer personalized content or advertisements.
Learn more