Some say it's well worth reading at least one children's book a year. Of course I'm speaking about people who don't house the under 6 crowd. Their kid book requirement is well in tact I would imagine. But reading a kids book as an adult to better connect with the parable is also well worth the go as I found out when I read You Mean the World to Me by Bayne Gibby. First, it was short. Second, though it didn't go anywhere near a philosophical bent, as in Alice in Wonderland, or show us the tragic and adult aspects found in Winnie the Pooh's characters, it did re-connect me to why and how we nurture.
I guess that's why, when I came across on Facebook the book's cover of an illustrated sweet orange mama cat hugging her baby blue kitten with the title You Mean the World to Me, it grabbed my attention. The illustrations are loving and sweet and happy and dare I say adorable, but mostly I found them and the story nurturing.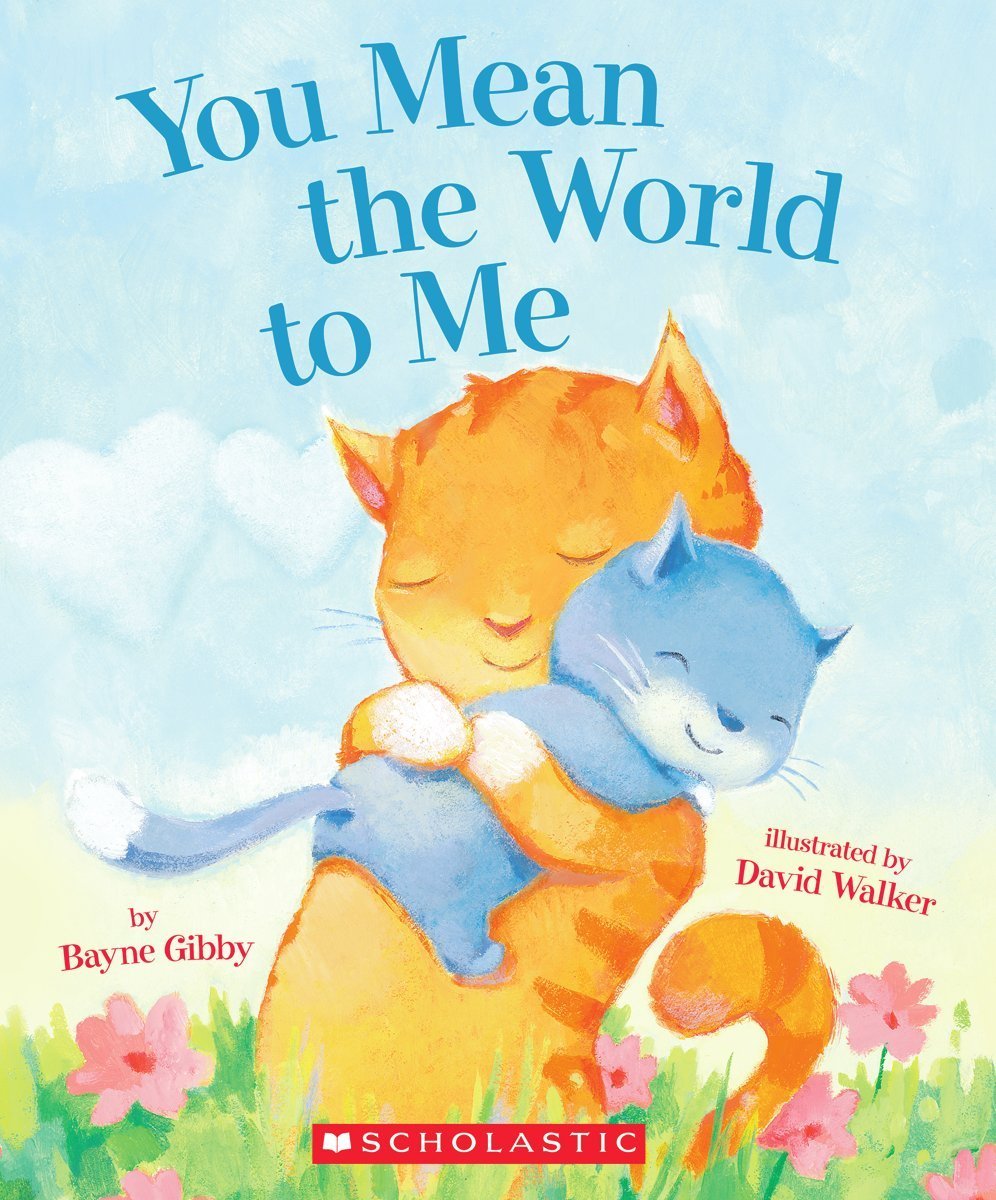 We nurture our offspring, but we also nurture things, experiences, and animals. We do so because they make us happy, help us stay motivated, confirm our existence, or at least promise a future pay-off of the same.
I asked the busy actor hyphen author who recently appeared on HBO's Enlightened about the book.
What inspired you to create such a nurturing little tale?
When my two older brothers began having children, I started making small books for my nieces and nephews for their birthdays and Christmas, getting them laminated and bound at Kinko's. It was originally written from my perspective of being an aunt but I did a re-write and it turned into a mother's perspective when Scholastic took notice.
You're a busy actor with a recent role on HBO's Enlightened with Laura Dern do you feel the urge to nurture other aspects in your life besides acting?
Writing is a totally different muscle, and I think that's why I like it. Acting is not for the weak of heart. It's like going a blind date every day, auditioning in front of strangers and trying to get them to choose you for the job. I get a big adrenalin rush from it, but it sometimes feels like a merry-go-round that I want to step off for moment. Writing is a very relaxing and almost meditative activity for me. Hours go by quickly and effortlessly while I'm writing or playing with the words to get a rhyme just right. The re-writing reminds me of sanding down a piece of wood. You take what you have and go over and over it, trying to improve it, imagining who might read it, how it might make them feel, if it will make them laugh or introduce them to something new.
Why a kids book?
I've always been interested in children's books. Even in high school, I remember giving my friends books by Shel Silverstein, like The Giving Tree and Where the Sidewalk Ends and The Missing Piece and the Big O for their birthdays and Christmas presents. I was this 15-year old girl who would get totally absorbed in the kid's book section, which is kind of odd when I think back on it.
Besides being an aunt have you had many experiences with kids?
When I lived in NYC, one of my jobs was as a pre-school music teacher at an international pre-school near Union Square. In my class, I created little songs and phrases and things we would say or sing together along with my guitar. Kids love repetition. They love knowing the words to something and participating in an inside joke. I think it's comforting to them.
How did you become a published writer?
It wasn't exactly easy. I've been told by more than one publisher and lit agent that my writing is a little "old fashioned" and I need to think more about characters that can cross over to cartoons and apps, etc, but my brain doesn't naturally work that way. I like simple stories that reassure and calm the reader, that a paint a picture, or express a simple idea. My book, You Mean the World to Me, is basically a mom saying to her child: I love you. I love you! You Mean the World to Me!
What writing projects are you currently nurturing?
I currently have thirteen children's book manuscripts that I am shopping around for publication. They range is subject from ladybug hugs, to questions like what makes the rain? the concept of gratitude, spirituality, and what your dog does while you are gone. In one of my favorites, a child tries to convince his parents to let him stay awake because someone is stealing the stars from the sky. In another, we find out who wins in a race down a country road: a snail or an inchworm. The race ends up taking a whole year. My hope is that some of these stories will be part of a slew of children's bedtime routines in the coming years, and they will remember the stories for a long time.
You can meet Bayne this weekend at the Los Angeles Festival of Books where she will be signing her book from 12pm - 2pm on Saturday.