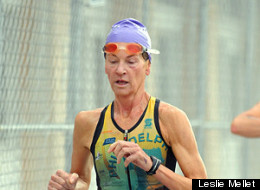 Before I tell you about how I stay in shape and what motivates me, let me introduce myself.
I am 57 and happily married with seven grown children (two girls and five boys) and four
grandchildren (all boys). Wow -- right? So life for me has been busy for a long time.
I have been active my entire life. I started skiing when I was seven, took six years of ballet
and began swimming at a very young age. I grew up in Michigan, and we always went to the
lakes in the summer and swam competitively through high school. I also did gymnastics, played basketball (why not? At 5 foot 7, I was considered tall back in the day), ran track, rode horses ... I am exhausted just writing about it. My parents didn't push me into these things; rather, I always asked to do more.
I stayed active before, during and after my children were born. I can still recall the first Pepsi
10K race I ran when I was 24. Running races was just starting to become popular, and Pepsi
was one of the first big sponsors. My sister-in-law and I consistently ran three miles about five
days a week when we decided to do the local Pepsi 10K race. Keep in mind, we had never run six miles and certainly not at a race pace. During the race, about three miles in, we started throwing the water from the water stations on each other to keep going. For three days after the race I walked down steps backwards because my quadriceps were so sore. But I did keep running and racing! We didn't have much money, and what little money we had went to diapers and food, so buying new running shoes was out of the question. I found a product called Shoe Goo. When applied to the worn-out portion of your running shoes, you could cover holes and even out the worn edges and heels.
One of my oldest daughter's earliest memories was standing at a finish line next to her dad
waiting for me. My husband always had something for me to drink when I finished. Celeste
recalls that the day was very hot, and she kept begging her dad for some of the orange juice
he was holding for me (a half gallon!). He wouldn't give any to her because he wanted to
make sure I rehydrated at the end of the race. (I think the real reason is he didn't want to hear me complain.)
I should mention my husband here -- he doesn't want me to write his name so going forward, he will be called "Hermes," the Greek god of Herds, Trade and Athletics, so it fits. He is also French so it fits from that perspective too (though he's hardly one to wear designer duds). My oldest thinks Hermes is trying to run away from cancer -- he had prostate cancer a few years ago and has been more obsessed with fitness since then. In fact, he was on our NordicTrac the night he came home from his surgery.
Flash forward to a few years ago. Both of us, of course, had been staying fit by running,
swimming, participating in spin classes, etc. I had been toying with the idea of doing a triathlon for a while, but didn't think I had enough time to commit to the training. I have a full-time job at a major Philadelphia university that is pretty demanding, and Hermes also works full time. But suddenly, three Januaries ago, Hermes declares we need a goal -- we should do a triathlon. Why not? I can swim and run, and how hard can the bike be?
What motivates me to train and stay and shape? I can name many reasons that you have
probably seen a thousand times and are very good to consider when you think about your health. First, I truly enjoy running, swimming and biking, but they are also my therapy. Working
out not only relieves my stress, it helps me sort out work issues as well as general day-to-day
problems. If I am upset, it calms me down (swimming 3000 yards has that effect, since it relaxes my mind). The health benefits are phenomenal. I feel terrific, have a lot of energy and rarely get sick. These are the things that motivate me.
EARLIER ON HUFFPOST:
10 Exercises For After 50
Yoga offers a myriad of wellness benefits: flexibility, balance, centeredness, strength, mindfulness and others. Yoga is a great option for aging bodies, as it promotes working within your own comfort zone. Postures and sequences range from gentle and relaxing to more intensive for advanced yogis.

Another way to promote flexibility and overall health is incorporating some simple stretches into your daily routine, be it at home, at the gym or even outdoors. Stretching prevents injury, can relieve back pain and boosts energy. Note: It's important to stretch properly to avoid injury. Check out some good examples of stretches here and these common stretching mistakes.

Biking is a great low-impact, cardiovascular workout, not to mention it's a lot of fun. There are a few ways to incorporate biking into your routine. Joy rides in your free time are always a good option -- alone or with a group. You could consider joining a local bike group or riding to nearby destinations instead of taking the car. Stationary bikes also have great health benefits. Already a cycler? Here's how to get more benefit from your bike ride.

One of the most beneficial exercises is something humans have been doing for centuries: walking. Simple modifications to your routine, like parking further away and walking the extra distance or taking the stairs instead of the elevator, can really add up to boost your overall health. For an even greater benefit, take brisk walks that get your heart rate up.

Pilates is another low-impact exercise that's ideal for aging bodies. It's similar to yoga but puts more emphasis on gaining control and balance of the body by strengthening the core muscles. Pilates can be done in a class or at home with a video or other guide. This piece offers a great run-down of the activity, along with images of some classic pilates stretches and workouts.

Tennis is a classic sport, well-loved for being fun and great for you. It's a strong aerobic workout and helps keep you agile, especially important as you get older. Tennis is also a very social activity -- great for the body, mind and spirit!

Swimming is easy on the body and is also one of the most comprehensive workouts, hitting all the major muscle groups: shoulders, back, abdominals, legs, hips and glutes. If you're getting serious about swimming, it's important to learn proper techniques, but even free-styling in the local pool or outdoors in the summer is a great way to exercise.

Dancing is one of those activities that doesn't feel like working out, but is an incredible aerobic exercise. It's a good option for those that want more physical activity but don't like the gym or in the winter when it's harder to get outdoors. There are a bunch of styles to choose from: ballroom dancing, contra dancing, salsa, ballet, tap, country and others.

As the body ages, running and jogging can take a toll on the joints, knees or back and potentially cause injury. An elliptical cross-training machine is an alternative to running, which still gets your heart rate up but at a lower impact.

You can take a simple walk to the next level by bringing weights along to build strength in your arms and boost the cardio benefits. Strength-building techniques like pushups, squats and lunges are easy to do at home or can be squeezed into buckets of free time throughout the day.