Earth Day is a great opportunity to volunteer within your community or at a local park. This year, I recommend spending your time with Youth Service and Conservation Corps, some of the best National Service programs around.
For the uninitiated, Corps are crew-based youth development programs that provide their participants with paid job training, academic programming, leadership skills, and additional support through a strategy of service that improves communities and the environment.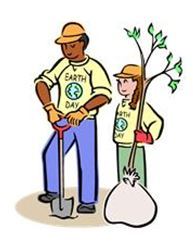 Last year across the nation, 10,473 gardens, parks, and playgrounds were improved and maintained by Corps, many of which are AmeriCorps / National Service programs. Additionally, 188,640 acres of ecological habitat were restored or improved by Corps. These projects occur while young people are mentored, building job skills, and becoming stronger environmental stewards. So it's a win-win. Or a triple win. Or a triple bottom line. Lots of good things are happening. You know what I mean!
This year, over 40 Corps nationwide are hosting Earth Day events, and many additional AmeriCorps programs. Some examples of activities that Corps have planned include river clean-ups, cultivation of urban community gardens, spring plant sales, e-waste recycling, tree plantings, and trail maintenance projects. I hope you will consider lending a hand at one of the events listed below!
Earth Day Projects and Volunteer Opportunities by State
Arizona
Coconino Rural Environment Corps
For the fifth year in a row, CREC will be organizing and executing the City of Flagstaff's Service project. We will be doing a cleanup for two hours on April 20th. We have been sharing this event on community calendars and social media and anticipate around 100 to 150 members.
SCC - Sonoran Desert will be hosting, in partnership with other local organizations and REI, a day of education and events focused on non-motarized transportation, local food and other sustainable practices (4/20/2013).
American Conservation Experience
ACE will be working on Flagstaff's Service Project with the Coconino Rural Environment Corps (4/20/2013).
California
Los Angeles Conservation Corps
The Los Angeles Conservation Corps has an annual Earth Day even in partnership with the City of Redondo Beach (4/20/2013).
For Earth Day we have 7 electronic waste collection events planned across Tulare County (4/20/2013).
Civicorps will have a booth at the Oakland Earth Expo to educate the public about our program and the projects our Corpsmembers do to care for the East Bay environment. Civicorps will also participate in the day of service with the East Bay Regional Parks Department (4/10/2013 & 4/13/2013)
Our organic farm is having a Spring Plant Sale and offering mini workshops on sustainable gardening practices. Our recycling crew members will be making Marin Earth Day a zero waste event and educating attendees on how waste diversion reduces green house gases (4/20/2013).
California Conservation Corps - Inland Empire
On Friday, April 19th the corpsmembers at Inland Empire will be participating in an Earth Day celebration at Highland Sam J. Racadio Library & Environmental Learning Center. Elementary schools will be visiting the library and the corpsmembers will be going to assist with event set-up/clean-up as well as serve as tour guides for the elementary school visitors.
California Conservation Corps - Camarillo
Camarillo is set up to help with the Santa Barbara Earth Day festival on April 20th & 21st from 11am to 8pm. Approximately 15 Corpsmembers will be assisting with sorting compost.
California Conservation Corps - Los Angeles
The Los Angeles Satellite will volunteer with an organization called "The Compton Initiative - Just Do Good". They are a non-profit organization that partners with other businesses, community residents, and churches to bring restoration and hope to the Compton community. Their commitment includes thousands of acts of service (every 3 months) through neighborhood clean-ups, removal of graffiti, mural painting, painting of schools and homes (4/20/13).
California Conservation Corps - Tahoe
The Tahoe center is currently in the process of working with a Committee for Earth Day in Squaw Valley on April 20th.
California Conservation Corps - San Diego
The San Diego center has a crew of 15 to 25 that will be assisting in set-up, grounds maintenance, and take down of the San Diego Earth day event in beautiful Balboa Park (4/20/13).
California Conservation Corps - Placer
The Placer Center will be working with Auburn State Recreation Area to find opportunities to assist the State Park on Earth Day (4/20/13).
California Conservation Corps - Greenwood
The Greenwood Center will be participating in a two part Earth Day Event. For the first part Corpsmembers will be helping to get ready for the 10th Annual Georgetown Nature Festival by installing fencing, removing invasive species, and helping with trail maintenance. They wil then help implement the event, facilitate activities, help with garbage control and help with teardown (4/6/2013 & 4/27/2013).
California Conservation Corps - Ukiah
Ukiah once again will be working with North Coast Opportunities to cultivate and prepare several gardens in the local area. Corpsmembers will be at schools, community garden plots and possibly Plow Shares, which feeds locals in need. Not all locations have been identified but we the center will be starting prep work soon cumulating the week/ weekend of Earth Day.
California Conservation Corps - Chico
For Earth Day in Chico crews will partner with the city and work with a group called "Friends of Bidwell Park." Corpsmembers earn volunteer time and are encouraged to tell friends and family to stop by and help out. The event is held every Saturday in the month of April in the park for 5 hours. Corpsmembers will be doing anything from litter patrol, park maintenance, or invasive species removal (Every Sat. in April)
California Conservation Corps - Napa
The Napa Satellite is planning to participate in Napa's downtown Earth Day celebration on April 20th, put on by the Environmental Education Coalition of Napa County. Corpsmembers will offer volunteer services in whatever capacities are required.
Urban Corps of San Diego County
Urban Corps AmeriCorps members will be volunteering for the San Diego Earth Fair, providing recycling and litter abatement services (4/20/13).
EOC - Local Conservation Corps - Fresno
Fresno Local Conservation Corps is planning a e-Waste recycling Earth Day/Global Youth Service Day event on April 27th.
California Conservation Corps - Greenwood
The first part will be held on April 6th, 2013. The corpsmembers will be helping two organizations get ready for the 10th Annual Georgetown Nature Festival 2013 by helping put up fencing for safety and security; assisting with the removal of some invasive scotch broom on the Nature Trail; Burning some wood piles on the Nature Trail; and Re-habituating parts of the trail by laying down gravel for erosion control purposes.
Colorado
Southwest Conservation Corps - FC
SCC- Four Corners will be implementing a service event to engage high school and community volunteers in a river clean up and/or service project at the Old Fort Lewis Farm. Service project will be lead by Crew Leaders from the Veterans Fire Corps program (4/22/13).
Southwest Conservation Corps - LV
The Rio Grande Headwaters Land Trust (RiGHT) has been working with Colorado Parks and Wildlife to both honor the lives and service of Doug Shriver and Ray Wright and to provide a wonderful year-round place for the Monte Vista and San Luis Valley community to enjoy the Rio Grande corridor and its wildlife. The Shriver-Wright State Wildlife Area is on the river just to the east of Monte Vista and north of Homelake where a new Watchable Wildlife Trail and memorial site are being constructed. SCC-Los Valles is partnering with RiGHT and CPW to create an accessible trail and educational resource, starting with an experiential, environmental education and work day for Monte Vista eighth graders on Earth Day, Monday, April 22nd.
Illinois
Details to come, planning an Earth Day event.
Louisiana
We are going to have a neighborhood awareness party where we teach people about weatherization techniques and energy efficiency. It will be an exciting day. We will have children's activities, family giveaways, gardening tips, and barbeque (4/20/13)!
Maine
Here are the Earth Day Events that are planned at this time: 1) At host site Mount Desert Island Biological Laboratory, in Salisbury Cove, Maine, two members have events planned for after school the Friday before and the Friday after Earth Day, in honor of Earth Day. They will get local high school students and MDIBL staff, as well as a volunteer family from Old Town, to come and help construct biodegradable grids for eelgrass restoration in the summer. 2) At host site Rachel Carson National Wildlife Refuge in Wells, Maine: Two members will represent the Refuge at a 5k running race (held in N.H.), helping run a booth representing the Refuge, and helping run children's activities. All proceeds from the event are being donated to New England cottontail habitat restoration efforts, which is something the members are active with at the Refuge (4/20/13).
Michigan
Michigan Civilian Conservation Corps
MCCC Stewardship Crew will be participating in the St Clair County Earth Fair, an event that draws 5,000 visitors, and conducting education activities about the natural area at Algonac State Park and the work completed AmeriCorps members (4/20/13).
Minnesota
Conservation Corps Minnesota & Iowa
Conservation Corps Minnesota and Iowa and their AmeriCorps members will be conducting a tree planting event in partnership with Three Rivers Park District, Hanover, MN and local volunteers. Members may also be involved in a river and/or park clean up and other activities as the weather may dictate (4/20/13).
New Hampshire
Student Conservation Association
The Student Conservation Association (SCA) will celebrate Earth Day at Massabesic Audubon Center in Auburn, NH, with an Earth Day festival on Saturday, April 13, 10:00am - 2:00pm. Live music, drawings, games, prizes, marshmallow roasting, crafts, service opportunities.
New Jersey
May potentially partner with the Newark Conservancy for Earth Day event.
Nevada
NCC northern NV AmeriCorps members will be supporting Keep Truckee Meadows Beautiful during their eWaste pick up event and 2. NCC southern NV AmeriCorps members will likely collaborate on another group's volunteer event, e.g. supporting an event at Red Rock NCA with the Las Vegas Climbers Liaison Council (4/20/13)
New York
The Service Collaborative of Western NY
The SCWNY will be participating in 1.5 miles of shoreline clean-up, 2 park clean-ups and is projected to engage 225 volunteers (4/20/13).
Ohio
WSOS will clean up an area near downtown that has collected a lot of garbage over the winter (4/20/13).
SCC - ES
The Preble Soil and Water Conservation District and the AmeriCorps members will engage 500 - 6th graders in a tree planting project for Earth Day (4/20/13).
Oregon
Heart of Oregon will be volunteering with the City of Redmond doing community clean up and working in the community garden (4/20/13).
On April 27th, Northwest Youth Corps will be participating in a park maintenance project with the Rotary club at the Sheldon McMurphy Johnson House. Approximately 60 volunteers will be participating and the project is planned for half a day with a bbq following.
Utah
Utah Conservation Corps is sponsoring the Providence Canyon Trail Run on Saturday, April 20 in honor of Earth Day and Utah trails. Members will be organizing and administering the Earth Day Kid's Fun Run, as well as offering support during the adult trail run. This event will serve to raise awareness and appreciation for Utah's public lands access and the work of Utah Conservation Corps.
Washington
EarthCorps will recruit and engage 750 community volunteers in environmental service around the Puget Sound on Earth Day. Four events will be happening, including: EarthCorps and Nature Consortium's 8th annual Duwamish Alive event at the West Duwamish Greenbelt/Pigeon Point Park; and events in the Cities of Tukwila, Kirkland, and Federal Way.
Throughout the entire month of April (which EarthCorps has coined as Earth Month!) 2000 community volunteers will be engaged in meaningful environmental service around the Puget Sound, restoring critical ecosystems (4/20/13).
WCC will be hosting a trail project on Saturday and a competition on Sunday for WCC crews who will compete in a relay event (4/20-4/21).
West Virginia
Citizens Conservation Corps West Virginia
CCC- WV will have an Earth Day project with the Appalachian Coal Country Team interns, but plans have not been finalized at this time.
*****
If an event was not located near to you, you can see a complete list of Corps by State here.
Additional volunteer opportunities can be found on serve.gov
Follow Levi Novey on Twitter: www.twitter.com/Armadingo