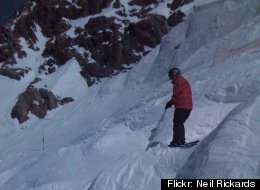 Discovery is one of the Liftopia team's favorite aspects of skiing and riding. Many of us in the office are no longer pioneers, but we'll hike a good amount to find the perfect powder stash, a chute to navigate or a (two foot) "cliff" we can huck. Luckily for us, most of these spots were discovered long ago and creatively named. A poll of the Liftopia crew's favorite runs resulted an amazing response and our list of the Top 5 Epic Ski Runs. "Epic" means different things to different skiers and riders but here's a list of names that should sound familiar. Go out and discover these trails...and bring your courage.

White Heat at Sunday River has as epic a name as it has terrain. If you like moguls, this is what you're looking for. The long, sustained pitch sets up perfectly for bumps. I promise your legs will be nice and worked after this run.

Corbets Couloir at Jackson Hole requires that skiers "drop-in" at least 10 feet to start this gnarliest of gnarly runs. Actually, once you've entered (and checked your drawers), it's not that tough and the couloir accumulates a ton of snow.

Bubblecuffer at Sugarloaf scared a few members of our team for years and made them feel like true skiers when they finally conquered it. Start up in the Snow Fields for bigger turns before you're required to keep it tight on this steep and hairy trail.

East Castle at Alta requires a pretty hefty hike, but that just keeps some crowds out and forces you to earn your turns. Steep, great snow that can get some decent wind buff. It usually opens 1 to 2 days after a storm, so have patience...it's a virtue.

KT-22 at Squaw Valley isn't really a trail, but picking from West Face Alternatives, Chute 75 or Jonny Moseley's run (to name a few) is too hard. This terrain is definitely advanced. Watch for pros and sickos hitting the "Fingers" on a powder day.
Are these your tops? Maybe you can choose from some very honorable mentions:
Honorable mentions:
· Superstar at Killington
· Regular Johnson at Snowbird
· Genghis Khan at Vail
· Front Four at Stowe
· Idiots at Alpine Meadows
· Wipeout at Mammoth
· Spiral Stairs at Telluride
· Big Couloir at Big Sky
· Tuckerman Ravine on Mt. Washington
· Tightrope at Attitash
· Exhibition at Sun Valley
If we missed one of your favorites let us know.
Follow Liftopia on Twitter: www.twitter.com/Liftopia