Imagine the luck of director Craig Teper when he landed the job of documenting the inspiring orphanage-to-riches life of the world's most influential hair designer, Vidal Sassoon. British-born Sassoon was an innovator in three areas: as a creative hairstylist, a salon designer, and later as a businessman with hair products. Born in 1928, he would eventually create five super-modern haircuts that would liberate women from curls and tradition and make him the most popular hairdresser ever. Yes, this film would be both fun and challenging to make.
My job started because Michael Gordon, owner of Bumble and bumble hair salons and products, realized no one had immortalized Sassoon's enormous impact on fashion and hairdressing. Besides, they were friends. Though from different eras, both were from the poorer side of London, both Jewish, both successful hairdressers with product lines.
Director Craig Teper / Portraits by Leslie Hassler
Filming this big life turned Teper's own life upside down as he crisscrossed the Atlantic and the U.S. umpteen times, living with his imagination, frustrations and growing footage as the project went from hair to eternity. Today, Sassoon, 82, swims and stretches daily. He and his wife Ronnie seesaw between their designer-filled homes in Los Angeles, New York, and London. Teper also darted "all over Europe" collecting stories from Sassoon's former co-workers. A touching one comes from his second wife, the mother of his children. To a person, they say he was a highly disciplined perfectionist. He was, and still is, perfecting himself, as in this story he tells...
Returning to London from fighting in Israel's 1948 war, I applied at a well-known hair salon but was rejected because of my Cockney accent. I decided to take elocution lessons. That turned into three years. But the lessons worked, as I next went to work for Raymond, London's most successful and flamboyant hairdresser. He taught me how to cut hair; just a pair of scissors, no thinning shears, no razors. I had to put the geometry to it later.
By 1954, Sassoon had his own small salon on Bond Street. He says the next nine years were the most exciting of his creative life, despite the failure of his first marriage. During these years, he made progressive steps toward what would become his five signature geometric cuts. In 1957, upcoming British fashion designer Mary Quant saw a photograph of his modernized 1920s "bob" in his salon window (it wasn't asymmetric yet) and rushed in to get the cut that she still has today. They became fast friends, and her ultra-popular chic clothing designs began to augment Sassoon's haircuts. But how did he get to those geometric cuts?
I don't know how we got there, because there were so many lonely down times when I'd sit in my flat listening to Mahler's 8th and think 'I'm wasting my time'. I knew one thing--I wanted to be a winner. I looked at architecture, the buildings that were going up. You saw a whole different look, in shape. If I'd gone to college, I'd have studied architecture. To me, hair meant angles, cutting uneven shapes, as long as it suited that face and bone structure.
His answer was to come in 1963 when he was 35. That's when this handsome perfection-seeker single-handedly revolutionized hairdressing. He did it with a breakthrough haircut for actress Nancy Kwan (The World of Suzie Wong with Wm Holden).
She came in, a beauty, with four feet of hair. As I started cutting, she became petrified. So she played chess with her manager because she couldn't look. The angled cut was so magnificent that I called photographer Terrence Donovan to come in that evening to photograph her. That photo made American Vogue, then English Vogue, then Italian Vogue, then all the papers.
Luckily, there is photography of this event. Sassoon believed in dazzling eye make-up to augment his haircuts, changing that fashion, too. "His styles had a huge impact on architecture and design in general, even film," says Caroline Barker, famous British stylist. Think Mia Farrow in Rosemary's Baby.
So how did he choose this career? Born to a mother who was evicted when her husband left her, little Vidal was put in a Jewish orphanage. He and his mother were eventually reunited. When he was 14, she told him she'd had a premonition that he'd be a hairdresser.
She then led me to an impeccably-dressed tiny Jewish hairdresser named Adolf (the last Jew with that name) in the East End and asked if I could be his apprentice. He said it would cost 100 guineas. My mother told him she didn't have 100 buttons! I smiled, since I didn't want to be a hairdresser anyway. I held the door for my mother to exit, then doffed my cap to Adolf. He followed us out and said I had rather nice manners and that I could start Monday morning. To my mother, he said, 'Forget the fee.' I was a shampoo boy for the next three years, learning among other things that I had to arrive with highly polished shoes and pressed trousers, a habit I instilled in all my salons.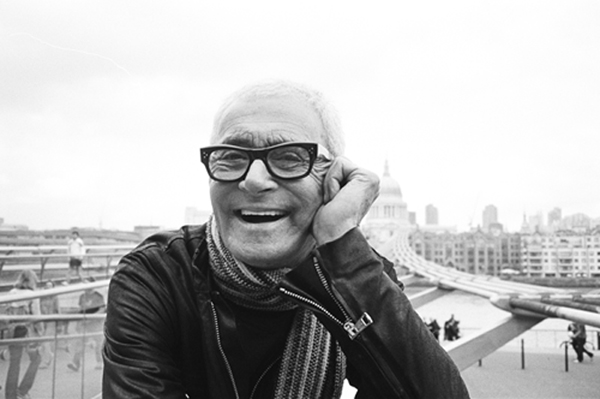 Vidal Sassoon on London's Millennium Bridge
Teper has put all the high points of Sassoon's career in the film. He says Sassoon is very generous in large and small ways. Motivated by anger over the non-support for the thousands who lost homes in Katrina, he built 23 homes in New Orleans with help from the hairdressing industry. "America is in danger of losing its soul," he laments. We can see he is in no danger of losing his. Though as an artist, he gave his soul through his work, that generosity only seems to have increased the soul he still has. When you see the film, you'll notice how polite he is to everyone and how often he smiles, at all stages of his life. Perhaps he was a prince in a former life.
For more on the film, see www.vidalsassoonthemovie.com
Contact Linda Hassler on Facebook
To view more of Leslie Hassler's photography, see www.lesliehassler.com
SUBSCRIBE TO & FOLLOW ENTERTAINMENT
HuffPost Entertainment is your one-stop shop for celebrity news, hilarious late-night bits, industry and awards coverage and more — sent right to your inbox six days a week. Learn more