Luckily, American audiences will soon have the chance to see one of France's best new films, Romantics Anonymous. It's a clever romantic comedy about two interested but reluctant, stymied sweethearts who can't manage hinting, flirting or even a date outside their work at a chocolate factory.
Romantics Anonymous will reach US audiences "in the coming months," according to Tribeca Film, which announced May 18 it has acquired all US distribution rights for the film. At its international premier last month during the 2011 Tribeca Film Festival, its laughs and chocolates made it one of audiences' favorites. Plus it is already a box-office hit in France.
The film features an easily-embarrassed blond chocolate maker and her boss, a panic-prone chocolate company owner. Neither can act on the chemistry they feel. Are they just painfully shy? Director Jean-Pierre Améris, who co-wrote the film with Belgian scriptwriter Philippe Blasband, says it's more than that.
In France, we call this being emotif, or hyper-sensitive, hyper-emotional. People like this don't have defenses, so they feel they're being invaded by others and by their fears. They carry a permanent state of tension between desires to love and work with others and something that keeps them held back. It causes a lack of self confidence and a fear of others -- a 'who's going to look at me' phobia.
We have support groups for emotifs in France called Les Emotifs Anonymes. In fact, that's the title of the film in France. It doesn't translate in English, so we changed the name here. I myself suffered from this problem. I remember when I was young and had to leave the house, I'd open the door a crack to see if the street was clear. It got even worse in adolescence and continued beyond that. So when I discovered the organization 10 years ago, I joined a group and went to it for two years.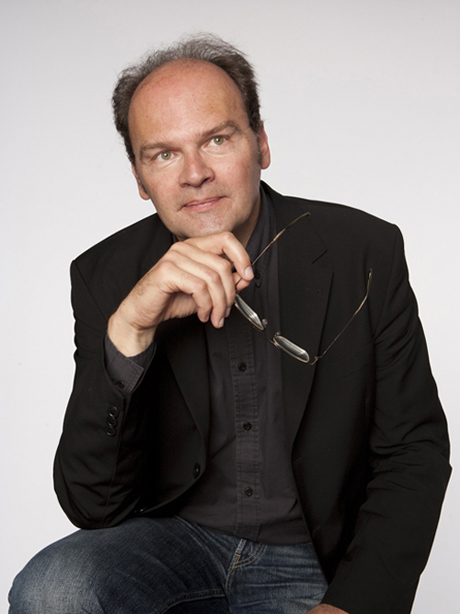 Jean-Pierre Améris / Photo by Leslie Hassler
Do many people suffer from this?
I found a huge number of people have this problem. I met people from all walks of life, in particular, teachers and businessmen. But also bank managers, and so forth. They all found it very difficult to respond when other people are looking at them.
What about artistic people?
Actually, if you're hyper-emotional and an artist, you're lucky. Because you can use this as your source material. Your emotions can become your tool. A writer or a filmmaker can actually make something with these feelings. On the other hand, for people who have this and are not artistic, they don't know what to do with all these emotions.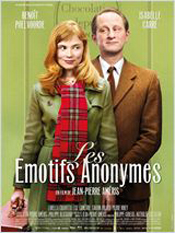 The two main characters in Romantics Anonymous fit Améris' latter description. Working in a chocolate factory, Angelique (Isabelle Carré) makes such delicious chocolates that her company's business soars. The public demands to know the chocolate maker's identity. Angelique, fearful of publicity, insists her boss fabricate his reply. The public is told the chocolates are made by an unnamed hermit living in the forest.
When her boss dies and his factory closes, Angelique takes only job available at another chocolate factory. Her new boss, Jean-René (Benoit Poelvoorde), also suffers in secret from hyper-sensitivity. Angelique's job is sales, but the chocolates won't sell. She discovers why when the owner of the city's best chocolate shoppe tells her they are passé, declaring it a shame the city's best chocolatier has died. This, of course, was Angelique's former boss.
Now Angelique has a worse dilemna. Should she show her co-workers how to make the modern chocolates the city demands, throwing light on herself? Or should she hide her talent, letting her company fail?
What ensues is Angelique's contorted though creative artifice to save her company while all the while being drawn romantically to Jean-Renée. This presents another conflict--how to show her feelings? At the same time, he is falling for her, but the idea of being alone with her, even in a restaurant, causes the kind of panic that is comedy on the level of Peter Sellers. (Indeed, Améris did say he loved the Pink Panther films.)
Comedy pours forth as Jean-René, attempting to wiggle out of intimate situations, performs bizarre, unexpected acts. Améris says there's a real life explanation.
"When faced with an upcoming scary event, people like this will do something else as a substitute, something which may also scare them, but scare them less. It's usually quite creative, something that someone else might never think to do."
I thank Améris for making Romantics Anonymous, by his admission the most autobiographical one of his career. He responds:
"We all regret not having tried, dared to do something, and it's often for silly reasons. I wanted to tell a story involving this fear, but with a light-hearted approach that could inspire confidence in people who share the characters' suffering to different degrees."
He has definitely inspired me. (I now reach for the last of my chocolate bourbon balls, made as a tribute to this film.)
To see more of Leslie Hassler's photographs, see www.lesliehassler.com
SUBSCRIBE TO & FOLLOW THE MORNING EMAIL
The Morning Email helps you start your workday with everything you need to know: breaking news, entertainment and a dash of fun. Learn more