Imagine the population of your town swelling with war refugees by 25 percent in one year - or even doubling or tripling in size. Imagine the competition for work, housing, and social and medical services.
On a recent trip to Lebanon, I found that this is the current reality for many towns across the country. Lebanon, a country two-thirds the size of Connecticut, has a population of 4.1 million. The U.N. has registered nearly 250,000 refugees from Syria in Lebanon -- though the government estimates that there could be four times that amount in the country. If that is actually the case, it means that the smallest country to border Syria now has received the most refugees. An influx of this magnitude poses real risks to Lebanon's already precarious stability. It has repeatedly dealt with political violence and power struggles since its own civil war ended in 1990.
Fatima, 50, had arrived from Syria only two days prior when we met in Baalbeck, a town in Lebanon's Bekaa Valley. She, her seven children, and 12 other families are taking shelter in a small mosque. We sat with several mothers in the 20 foot by 20 foot room that Fatima shares with three other families.
Fatima's house in Aleppo burned. They moved near Damascus, but shelling intensified there too. "The children were crying all the time," said Fatima. "We had to leave." Emotion washed suddenly over her. She wiped tears hastily away. "I just want it to be peaceful again, and to go back to my country," she said. "I left a daughter in Aleppo. She is disabled."
For now, Fatima lives purely on the assistance provided her by the mosque and organizations like Mercy Corps. She might be considered luckier than others; thousands of other refugees in Lebanon are entirely on their own. Lebanon has received waves of refugees over the decades: Palestinians after the 1948 and 1967 Arab-Israeli wars, Iraqis after the Iraq war. Now they are wary of setting up any large camps for Syrians, who may not return to their own country for years, if ever.
So for now, refugees double up in houses with relatives, rent rooms, or live in tents on the outskirts of town. To buy food and other necessities, they compete with Lebanese for jobs already difficult to come by -- and since they are not permitted to work legally, they work without any rights.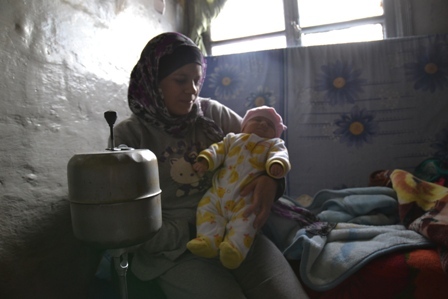 Raifa, a Palestinian refugee who fled Syria to Lebanon. She gave birth to her baby on the same day she arrived to the overcrowded Weavil Camp in Baalbek, about six weeks ago. Her family is living in a 4' x 8' room, has received little assistance and lacks access even to a latrine.
Fatima and the other women spoke of their uncertain welcome in Lebanon. Some Lebanese have been helpful, offering food and blankets. Others have been resentful and wary. Many communities where refugees are settling were already poor. Now with prices skyrocketing and jobs becoming scarce, locals are only getting poorer. Tensions are palpable.
Meanwhile, the international response effort struggles to meet even the most minimal needs of this population. There is little funding. As of March 15, the U.N. has only received 20 percent of the $1.5 billion pledged at the Syria crisis donor conference in January.
But it feels like a human tidal wave is coming. The numbers of refugees flooding out of Syria are only increasing. The average number of Syrians leaving their country jumped from 3,000 daily in December to 8,000 daily in February, the U.N. recently reported. As fighting moves into Damascus, there is risk of an exodus of hundreds of thousands of Syrians in a matter of weeks.
As a former aid worker and as board chair of Mercy Corps, I have visited with many survivors of war and disaster, including those in Darfur and in the 2010 Haiti earthquake. What struck me most about Fatima and other refugees in Lebanon is how little the world has heard of their plight.
One could argue that refugees in Lebanon have it better than those in Jordan's massively expanding camps. In Lebanon, they have some freedom, a chance to integrate into local communities. But the dark side of their situation is that they have no sprawl of thousands of tents to gain the world's compassion.
What's more, these innocent Syrian families are caught in a political disaster rather than a natural one. It is common knowledge in the humanitarian community that it is the earthquakes, hurricanes and tsunamis that trigger the public's spontaneous and amazing generosity. Not the wars. Despite the fact that the needs of innocent people like Fatima and her children are absolutely the same - shelter, safety, water, food, clothing, and medical care.
Until Syria's civil war ends, millions of people will continue to suffer. Donors to Lebanon - from powerful governments to average American families - are desperately needed. The situation of refugees like Fatima will only grow more desperate, unless we reach out with help. Our timely response would also help safeguard against Lebanon's return to conflict. The country shares a border with Israel, and its stability is critical for the region.

Linda Mason is the Chair of Mercy Corps' Board of Directors, and Chair of and Co-founder of Bright Horizons www.brighthorizons.com.