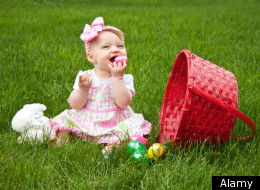 When it comes to finding an Easter-themed baby name, you don't have to limit yourself to hopping down the Bunny Trail. There are more subtle options related to the name and time of the holiday itself, to relevant Biblical characters, symbolic animals -- bunnies, chicks, and the lamb -- plus botanicals, and names whose meanings relate to immortality or rebirth.
Here are the Nameberry picks of the names leading the Easter parade, some as obvious as Lily, others as oblique as the Italian name meaning lamb.
This is certainly the most direct route to a connection with the holiday and would make a novel choice for a springtime girl baby. Not as rare as you might think, Easter appeared on the Top 1000 list during the first few decades of the 20th century, just as Christmas did before it was overtaken by Noel and Noelle.

Sunday became a more usable day-name instantly after Nicole Kidman and Keith Urban chose it for their daughter in 2008. It has a bright and sunny feel (and readymade nickname), and, with seasonal names and month names gaining in acceptance, perhaps more parents will start considering Sunday.

Pascal is French for Easter and a classic Gallic boys' name, as Pascale is for girls. We slightly prefer the English Pascoe, which has been around since medieval times, and would make an appealing o-ending choice. Pasqual/Pasquale is the Spanish version, and though the Russian Pasha/Pascha is actually a diminutive of Pavel, it sounds very Easter-ish (and Pashka is actually the name of a fabulous Russian Easter dessert).

Dial the calendar back several weeks and you get to Ash Wednesday, the movable feast that marks the start of Lent, in preparation for Easter. Ash can be a nickname for Ashley or Ashton or Asher, but it's perfectly capable of standing on its own, as a strong tree name that could also appeal to kids via its Pokémon connection.

Palm Sunday is celebrated the week before Easter, commemorating the entry of Christ into Jerusalem where he was greeted by crowds waving palm branches. Palma is an attractive Latin name that is geographical -- the romantic Spanish island city of Palma de Majorca -- as well as botanical.

Tamar is another name related to the palm, meaning 'date palm' in Hebrew. A rich, strong biblical name, it has long been outshone by its Russian version, Tamara, but is worthy of consideration. One noted bearer is singer Tamar Braxton, the sister of Toni.

The flower name most closely associated with Easter has been a longtime love of baby namers -- it's been in the Top 100 for a decade, and in the Top 10 for the past two years, with almost 8,000 little Lilys born last year. Parents seeking something similar but less popular might consider Lillian or Liliana, Lilia or Lilias.

Susanna is the New Testament form of the Hebrew name Shoshana, which means 'lily.' It's a timeless beauty, with or without the final 'h' (more stylish now without), unlike the shortened Susan or Frenchified Suzanne or Suzette, which are rarely used today. Name-savvy William Shakespeare named his younger daughter Susanna.

Mary Magdalene plays a leading role in the Easter story, a witness to the crucifixion and the first person to see Jesus after his resurrection. The more frequently heard form is Magdalena, used in Hispanic and Slavic cultures, a name that's been associated with several high acchievers in sports and in the arts.

Arley is a boys' name meaning 'from the rabbit meadow' and is the most usable of the Easter bunny-related appellations. It has a fresher, softer image than the once macho Harley -- which is now split almost evenly with the girls.

The lamb is another animal associated with Easter, as it represents Jesus, who is traditionally referred to as "the Lamb of God," in Latin Agnus Dei. Agnes and its international variations thus make highly appropriate choices. We like this rhythmic Italian version, as well as the Irish Una/Oona, and the Spanish Inez.

The Spanish word for cross has long been a unisex standard in Latino cultures, but it became more of a crossover possibility when Victoria and David Beckham picked it for their third son, who was born in Madrid in 2005. Cruz has been climbing the US popularity charts since then, now ranking at Number 321.
Follow Linda Rosenkrantz on Twitter: www.twitter.com/@nameberry