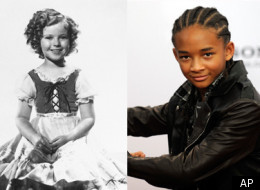 Which people over time have had the greatest influence on baby names? We've collected the top dozen individuals who've inspired millions of namesakes, often in unexpected ways. Sometimes it was an actual name that went viral; in other cases these people set off a wider-ranging trend. Here, the greatest baby name influencers of all time:
JEFFERSON -- There probably were some 18th century kids named Washington Williams or Adams Adcock, but it was with the third president that namesaking after the Commander-in-Chief would became a lasting tradition. Jefferson has been consistently on the bestseller list, while Jackson is the current top ex-Prez name at Number 25. Of course Jefferson was helped by its attractive nickname Jeff--much better than Wash.

SHIRLEY -- During the Great Depression, sunny Shirley Temple, with her golden ringlets and dimply smile, almost single-handedly lifted the spirits of the American people. No wonder other parents wanted a little Shirley of their own -- making it not surprising that in 1935 alone there were 42,000+ baby Shirleys born -- a tipping point moment in the history of celebrity influence on names.

LINDA -- Though Linda Darnell was not a huge star on the scale of a Joan Crawford or Rita Hayworth, her name had an impact way beyond her celebrity status. Linda was the name that, in 1947, succeeded in knocking Mary -- the top girls' name since time immemorial -- out of first place and launched a Mary popularity backlash that continues to this day.

DYLAN -- Dylan, the Welsh name of a legendary sea god, was so unusual when poet Dylan Thomas was born in 1914 that many people even in Wales didn't know how to pronounce it. But its recognition spread with his fame, and after Robert Zimmerman adopted Dylan as his nom de musique in 1962, Dylan became even more prevalent, eventually becoming a Top 20 name.

MUHAMMAD ALI -- In 1964, when Cassius Marcellus Clay, Jr. joined the nation of Islam, he decided to drop his "slave name" in favor of the Muslim appellation Muhammad Ali, setting a path that many others would follow, including musicians like Cat Stevens (Yusuf Islam) and athletes like Lew Alcindor (Kareem Abdul Jabbar). With the success of the TV mini-series Roots in 1977, more African-Americans began to look into their ethnic and racial heritage for names reflecting their own roots, a practice that expanded to other hyphenated Americans rediscovering names that their Irish, Jewish, or Italian grandparents left in the Old Country.

CHER -- There may have been earlier celebs known only by their first names, but when Cherilyn Sarkisian lopped off most of her moniker, it paved the way for all the Oprahs, Vannas, Beyoncés, Adeles, Rihannas, Madonnas, and Shakiras to come. But this almost didn't happen -- Sonny and Cher released their first record as Caesar and Cleo.

LUCI -- In the late 1960s and into the70s, the coolest thing a girl could have was a shiny new name ending in 'I' -- Staci or Traci, Marci or Darci. This got the Presidential Seal of Approval when Lyndon Johnson and his family moved into the White House, including 16-year-old Luci, who had recently traded her birth-name spelling of Lucy to something more mod. Even more modern was Luci's Secret Service code name -- Venus.

MOON UNIT -- Frank Zappa proved to be a real Father of Invention when he named his first child Moon Unit, to be followed by Dweezil (birth certificate name Ian Donald Calvin Euclid), Ahmet Emuukha Rodan and Diva Thin Muffin Pigeen. Zappa's legacy continues with both celebrity babies from Bronx Mowgli to Moxie Crimefighter and non-starbabies with unique (and sometimes yooneek) names.

RYAN -- The 1970 movie (and best-selling novel) Love Story had a profound and lasting effect on baby naming, not only via the names of its lead characters, Jennifer and Oliver, but from that of its young star, Ryan (born Charles Patrick Ryan) O'Neal, who promoted both his own name and Irish names in general for Americans of all ethnicities. By 1974, Ryan was in the Top 25, where it has remained ever since, and opened the door to the brigade of Aidens, Liams, Connors, Rileys et al that followed.

MICHAEL -- Archangel name Michael has been well used forever, but the combined celebrity power of singer Jackson and super-athlete Jordan was instrumental in making and keeping it the Number 1 boys' name in the US for more than forty years. Both their last names soared as well: in 1997, Jordan was the Number 26 boys' name and Number 40 for girls, while Jackson is still in the Number 25 spot today.

DREW -- Barrymore came by her boyish surname name legitimately -- her Drew ancestors included some major figures in American theatrical history. But she - -along with Glenn Close, Daryl Hannah, Sean Young, Michael Learned and a few others -- were among the first to publicly gender-bend boys' names, to the point where today there are millions of little children named Avery and Rory and Quinn who might as easily be a boy or a girl.

JADEN -- When Jaden Smith was born in 1998, many people assumed his name was a subtle salute to mama Jada, as his sister Willow would be to father Will, few realizing it was an alternate spelling of the biblical Jadon. In any case, Jaden took off, not only engendering multiple spellings (Jadon, Jayden, Jaydon), but a huge family of rhyming cousins -- Brayden, Kaden, Caden, Kayden, Cayden, Kaiden (all in the current Top 200) and revivals of the more traditional Hayden and Aidan.
Follow Linda Rosenkrantz on Twitter: www.twitter.com/@nameberry