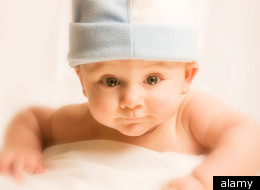 Pop open the champagne: It's Middle Name Pride Day! In celebration, everyone's supposed to reveal their middle names to three people who don't know it. What if you learned, probably the hard way, that your middle name might make other people laugh, gasp, or punch you in the nose? Then take comfort in knowing that you're in good company. Many of the most famous names around have middle names they'd probably just as soon keep out of the limelight.
Charlie Sheen was born Carlos Irwin Estevez, and we can't help wondering -- would he have needed all that anger management therapy if his first two names were reversed and he was known to the world as Irwin? Poor Irwin has had a bit of a schlubby image for decades, completely dropping off the radar by 1965, though it had ranked as high as #245 in the early 1930s.

Daniel Wroughton Craig shares the middle name of his father, Timothy John Wroughton Craig, who was of half-Welsh descent. It's a name more fitting to the actor's debonair James Bond persona than to some of his tougher-guy roles. Two others with unexpectedly upscale middles: Owen Cunningham Wilson and Kevin Norwood Bacon.

Born Diane Ernestine Earle Ross, Diana Ross received her mother's unglamorous name in middle place, one that clashes with her own drama-diva image. Ernestine is an unfashionable feminization of the equally dated Ernest, and for those who were around are likely to call up Lily Tomlin's classic snorting telephone switchboard operator Laugh-In character, whose best friend was named the more interesting Phoenicia.

Unlike his girlfriend Daisy or Mickey Mouse or Minnie, Donald Duck actually did have a middle name, though it was only revealed in a couple of early cartoons. The name Fauntleroy, as in the prissy Little Lord, was in perfect keeping with Donald's usual uniform of sailor suit and floppy bow tie, if not his feisty character.

Mungo might sound a bit mongrelish to some of us, but it is actually quite a well-used name in its native Scotland -- it's a saint's name that means "beloved." But this is not the most unusual name in Hugh John Mungo Grant's family: his mother was christened Fynvola.

Kimberly Noel Kardashian and not Kimberly Noelle? It's pretty surprising to find that this symbol of womanly pulchritude would have the masculine version for her middle name, especially when her four sisters all have unambiguously feminine ones: Kourtney Mary, Khloe Alexandra, Kylie Kristen and Kendall Nicole.

Leonardo Wilhelm DiCaprio's name represents a sandwich of his multi-cultural heritage -- the Italian on either end from his father, an underground comic artist, and the middle via his German-born mother Irmelin. Wilhelm pretty much faded from the American naming landscape after World War I, because of its association with the detested Kaiser Wilhelm.

Quincy Jones inherited his delightful middle name from his father, Quincy Delight Jones, Sr, and continued the tradition with his own son, Quincy Delight Jones III, also a composer and music producer. There's no reason Delight couldn't join such other ecstatic baby names as Bliss, Joy, Merry and Glory -- all usually reserved for girls.

The whole Phoenix clan had unusual names, but it was sister Rain who walked away with the prize for Weirdest Middle. We're all for names that are inspirational and aspirational, but this one goes a tad too far. At one point she changed her first name to Rainbow, deeming Rain too dreary. The names of the other Phoenix (originally Bottom) sibs: River, Leaf/Joaquin, Liberty and Summer.

Ralph Nathaniel Twisleton Wykeham Fiennes. Try saying that fast ten times -- which we hope the actor didn't have to do too often at school. But he comes by his aristocratic name legitimately: Fiennes is an eighth cousin of Britain's Prince of Wales. Namewise, he's got nothing on his actor brother Joseph, whose full name is Joseph Alberic Iscariot Twisleton-Wykeham Fiennes.

It's easy to see where Elizabeth Stamatina Fey's stage name came from, and also to discover the obvious origins of Liz Lemon's on 30 Rock. Stamatina reflects the Greek roots of Fey's mother, whose first name, Zenobia, became the middle name of Tina's daughter Alice.

Zachary Knight Galifianakis is a whole lotta name, and we're kind of glad for the guy that he didn't have a multi-syllabic appellation in the middle of it. Knight is the kind of noble, Arthurian name that's coming back into style, and was in fact used by singers Kelis and Nas for their son.
Follow Linda Rosenkrantz on Twitter: www.twitter.com/@nameberry