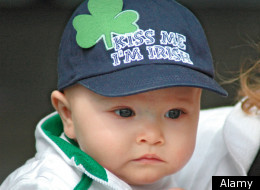 Irish names have been making the trans-Atlantic crossing for centuries, beginning with easily assimilated ones like Patrick and Kathleen, Kevin and Brian and Ryan. But recently, thanks to a few high-profile celebs in both the entertainment and literary worlds, we've been introduced to some authentic Gaelic names we hadn't met up with before. Here, to celebrate St. Paddy's Day, are some of the best.
When Aidan Quinn hit it big in "Desperately Seeking Susan" in 1985, most Americans didn't know if his name was pronounced EYE-den or ADE-en. That soon changed -- by 1995, his name had entered the baby names popularity list, and eight years later it was in the Top 100, accelerated by heartthrob Aidan Shaw on "Sex and the City." This version of the Irish sun god and saint's name Aodh (pronounced EE) was overtaken by the Americanized spelling Aiden, which is now a Top 10 name.

The powerful Irish-born character actor Ciaran Hinds, seen in everything from "The Phantom of the Opera" to "Harry Potter," introduced his authentically Irish name, pronounced KEER-an, to U.S. audiences. The more familiar anglicized Kieran spelling entered the American pop list in 1992, was chosen by Julianna Margulies for her son in 2008, and is also familiar via a Culkin brother. Hinds has a daughter named Aoife -- an Irish name that hasn't emigrated.

The singer Enya did the hard work for us when she anglicized her name from Eithne Ní Bhraonáin, which is pronounced as Enya Brennan in her native Donegal dialect. Although Eithne has a lovely mythological back-story, we don't see it catching on here--except maybe as Enya. Singer Enya has performed with male relatives named Máire, Pól, Ciarán and Pádraig.

This blue-eyed native of Cork who made his mark in such films as "Batman Begins" and "Breakfast on Pluto" bears a name that, like Ciaran, is a saint's appellation usually seen here in its phonetic English pronunciation, Killian -- as on the label of Killian's Irish Red beer; it's been in the Top 1000 for the past four years. Cillian Murphy has two Irish-named sons, Malachy and Carrick.

The name of the author of the novels Brooklyn and The Master, and of actor Colm Meaney, looks easy to pronounce. One syllable, right? Wrong. It's actually KUHL-uhm, as if it were spelled Cullum. Colm is the Irish form of Columba, which has the peaceful meaning of dove.

The pronunciation of the first name of this young actress, who first attracted attention with her extraordinary performance in "Atonement," has posed some real problems for her admirers. As an explanation, she herself has said, "'Searsha' is how Irish people pronounce my first name, but I would pronounce it 'Sersha,' like 'inertia'. It's Irish for 'freedom."

No pronunciation problems here, which has brought the name Cormac, associated with the distinguished novelist Cormac McCarthy, into the American stewpot of names. Interestingly, however the writer was named Charles at birth, and changed it to Cormac after one of the great legendary high kings of Ireland. Cormac McCarthy has a son named Cullen.

You probably know him better as Elvis Costello -- Costello was the stage name he borrowed from his father's stage name, and Elvis came from, well, Elvis. Declan is a popular Irish saint's name, and one of the most importable. It is, in fact being heard more and more in U.S. playgrounds, jumping 268 places since 2000, to Number 275.

The author of the Artemis Fowl series bears one of several Irish versions of the name John, though it's sometimes anglicized as Owen, which is close to its Irish pronunciation. Eoin is not nearly as well known here as Sean, which derives from the French Jehan, while Eoin comes directly from the Latin. Eoin Colfer has sons named Sean and Finn.

There's Malachi and there's Malachy. Malachi (pronounced with an eye sound at the end) is the Hebrew name of an Old Testament prophet that now ranks at #163 in the popularity charts. Malachy (ending in an ee sound) was the name of two famous high kings of Ireland, and came to our attention via the bestseller Angela's Ashes as the name of author Frank McCourt's father and brother. The junior Malachy McCourt wrote a best-seller of his own.

The fame of the controversial Irish singer helped familiarize the spelling and pronunciation (shin-AYD) of her previously unknown name in America, which is the Irish version of Jane. O'Connor was named after Sinead de Valera, wife of Irish President Eamon de Valera, has siblings named Eimear and Eoin and a daughter called Roisin.

Jazz singer Tierney Sutton represents the enduring trend of using Irish surnames in first place. Tierney is a venerable clan name meaning 'lord' and is associated with two actresses -- Golden Age Hollywood's Gene and current TV star Maura. Tiernan is another, similar unisex possibility.

Novelist Maeve Binchy was one of the first to bring this classic Irish name, that of a legendary ancient queen, into the American consciousness. Short but strong and evocative, and now at Number 536, Maeve was chosen by both Chris O'Donnell and Kathryn Erbe for their daughters.
Follow Linda Rosenkrantz on Twitter: www.twitter.com/@nameberry