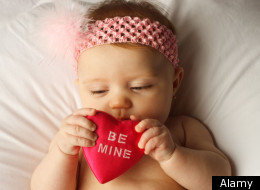 A baby born around Valentine's Day automatically gets an extra measure of love, which can also be boosted by choosing an apropos name. Options include shooting straight to the heart of the matter with something like Valentine or Valentina, or picking a name that embodies love in its literal meaning, or looking back to the appellations of ancient mythological goddesses of love. Here are some such choices that could make a child feel especially loved.
A feminissima Spanish name practically overflowing with amor, and now beginning to cross over into the Anglo world. Some other names that are equally loving and lovable: Amadea, Amabelle, Amada, Amata.

A straight-shooting word name that comes right from Cupid's bow. Arrow began to be heard occasionally in the hippy-dippy sixties, but feels more acceptable and usable now, especially with its connection to Arlo, Arno, Aldo, and all those other cool sounding o-ending names.

This Welsh name, which means 'to love', was introduced to most Americans when Welsh-born Catherine Zeta Jones bestowed it on her and Michael Douglas's daughter. Other names with the same endearing root include Cara, Carina, Carella, Caresse and Carissa.

The cooing of turtle doves is very much associated with love, and Dove is one of the soft and gentle bird names, along with Wren and Lark, that are being heard more and more, especially in middle place. Other names that mean dove: Paloma, Columba, Calum, Jonah, and Jemima.

Freya is the goddess of love, beauty and fertility in Norse mythology and, though it has long been popular in England and Scotland (currently a Top 20 name in the latter), it is just beginning to be noticed here. Freya Crescent is a character in the video game Final Fantasy IX.

Kalila is one of those double-l names, like Lila and Lola and Lily that fairly roll off the tongue. An Arabic term of endearment that means "girlfriend" or "sweetheart," the lilting Kalila would make a delightfully, delicate choice.

Kerensa is a charming Cornish name meaning 'to love' and could make an updated namesake name for a Grandma Karen. In its native Cornwall, it also has the alternate spellings Kerenza or Carenza, which adds a bit more zip.

This Slavic name meaning 'dear' or 'loved by the people' can be a short form of Ludmila or Milena, though is increasingly used on its own. Mila is currently enjoying a bump in popularity via the Ukrainian-born actress Mila (full name Milena) Kunis, acclaimed for her dramatic turn in the film Black Swan.

Querida, pronounced keh-REE-dah, is a Spanish name meaning "beloved" that is rarely if ever heard outside the Latino community. Pretty names starting with Q are hard to find, and this is one that fits the bill. Querido is the version for a beloved baby boy.

Suki, though known in this country as an old-fashioned nickname for Susan -- usually spelled Sukey -- is also a Japanese name meaning name meaning "beloved," and would make an ideal choice for a Japanese-American family. True Blood character Sookie Stackhouse puts a while 'nother spin on it.

Valentina has been picking up speed for girls, especially after being chosen by Salma Hayek for her starbaby, but we'd like to see more parents consider the dashing and romantic Valentino, the name Ricky Martin gave to one of his twins. The more straightforward Valentine is another possibility.

The name of the Roman goddess of love and beauty was considered too celestial for a mortal babe until tennis champ Venus William brought it down to earth and put a modern athletic spin on it. The Greek equivalent is Aphrodite, which might still be a bit too ethereal.
Follow Linda Rosenkrantz on Twitter: www.twitter.com/@nameberry