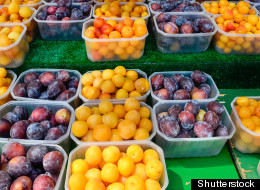 The new meta-study from Stanford asks Are Organic Foods Safer or Healthier Than Conventional Alternatives?
No doubt, this study will have many people, even parents, breathing a sigh of relief. Finally, justification to save a few cents by buying conventionally raised food so they can use the savings for... what? What is more important that feeding your family food that has about one-third less risk of having pesticides or fierce bacteria on it? Even if you think these risks are fine for your own family, wouldn't you be willing to waste a little less food so you could afford the type that doesn't give farmers cancer and their children horrific birth defects?
As the author of Wildly Affordable Organic, I was alarmed by the study. When I went to a university library so I could read the whole paper, I was surprised to find how mild it was compared to the Stanford University press release. The meta-study says:
There have been no long-term studies of health outcomes of populations consumng predominantly organic versus conventionally produced food controlling for socioeconomic factors
Our results should be interpreted with caution
Our comprehensive review ... found limited evidence for the superiority or organic foods
In fact, the peer-reviewed study is full of good news about the health and value of organic food, even while it admits repeatedly that more studies are needed. In other words, there's evidence for choosing organic food even if you only care about safety and nutrition, but the authors don't think it's overwhelming evidence.
But the Stanford press release might lead you to a different conclusion. It says that if you are an organic shopper "new findings from Stanford University cast some doubt on your thinking." These findings mush be right, given that Stanford is a top university and that:
The authors received no external funding for this study.
But what about the inside money? The money used to fund the researchers and the Freeman Spogli Institute for International Studies at Stanford? A simple look at FSI's 2011 annual report shows that it is funded by Cargill and others who have a strong financial interest in Monsanto, McDonalds, Walmart, and other businesses that profit from industrial food practices. Bradford M. Freeman is a top one percenter in the Muckety 400, with strong connections to the Republican Party. How strong? He was George Bush's cat sitter!
Before you head out to the market, check out this slide show to see how the Stanford Institute that funded the study gets its money and to see some of the other reasons to choose organic when you can. Tell us which ones you would take with a grain of salt.
Should you take the Stanford organic study with a grain of salt?
The inside funding for Stanford's Freeman Spogli Institute includes Big Food, Fast Food, and Big, Fast Food investors. This slide shows the big picture, which we'll examine in more closely in the next slides.

Bradford M. Freeman and his partner donated so much money to Stanford that they renamed the Institute for International Studies for them. Freeman is a top Republican fundraiser known for taking in George W. Bush's cat to save the White House furniture from claw marks. Freeman Spogli also invests in conventional-food restaurants.

Lead researcher Crystal Smith-Spangler told NPR "There's a definite lack of evidence," especially when it comes to studies of people. Key researcher Ingram Olson was a consultant and researcher for the Council for Tobacco Research. He and another researcher on the organic study, Deana Bravata, did a similar low-carb meta-study to address concerns from "numerous professional organizations, including the American Dietetic Association and the American Heart Association, [which] have cautioned against the use of low-carbohydrate diets." Results? "Insufficient evidence to make recommendations for or against."

According to its website, Cargill is an international producer and marketer of food, agricultural, financial and industrial products and services. Cargill serves the global animal feed and production supply chain. According to FSI's 2011 annual report, Cargill was one of two main contributors to its twelve-year Global Food Policy and Food Security series, intended to train "future policy leaders."

The Bill & Melinda Gates Foundation is the other force behind FSI's Global Food Policy and Food Security series, along with Cargill. The Gates Foundation is heavily invested in McDonalds, Monsanto, Walmart, and Costco, according to the SEC.

The homepage headline on the Freeman Spogli Institute for International Studies at Stanford University reinforces the myth that going organic is a major financial decision when it asks: Worth the Price? Stanford study shows little evidence of health benefits from organic foods The prices I track show that going green with mostly organic or organic-method ingredients costs not much more than choosing industrially grown ones. Organic can be affordable even on a food-stamp budget.

The study rejects a study on pesticides in apples because it used "different methods of detection," but says the study found: pesticide residues were undetectable in both organic and conventional samples once apples were peeled. But the authors of the apple study highlight this: Higher levels of pesticide residues were found in apple fruits under conventional conditions. If you peel apples to get rid of the pesticides, you are also losing half the fiber and a significant amount of Vitamin C, iron, and calcium, according to the USDA's National Nutrient Database.

Eating organic helps kids. They'll have "significantly lower levels" of pesticides in their urine and lower risks of eczema. If you'll pay $19 to read the full Stanford study instead of just the free abstract, you'll find other organic benefits too.

Kids and adults gain from other health benefits, according to the full study. Organic food has "significantly more phenols" and more omega-3 fatty acids. Nursing mothers who eat mostly organic food have more nutritious breast milk than those who don't. Organic produce had a 30 percent lower risk of pesticide contamination than conventional fruits and vegetable. Organic chicken and pork had a 33% lower risk of exposure to antibiotic-resistant bacteria than meat from conventionally raised animals.

The study didn't address many of the prime reasons that going organic is so important. It's not just about staying healthy yourself, but about supporting a healthy food system and planet. Industrial farming exposes workers, farmers, and their unborn children to pesticides. The babies of farm workers have higher rates of birth defects, some horrific (no brains, no arms or legs). Read the riveting Tomatoland before you decide organic costs too much. Organic farming outperforms conventional farming during droughts, builds the soil instead of exhausting it, and uses 45% less energy, according to the Rodale Institute's 30 year farming trial. Organic farming makes the most sense economically as we continue to stress our resources to the point of exhaustion, including oil, water, and yes, phosphorus. See Mark Bittman's terrific summary of Jeremy Grantham's monumentally depressing report, Welcome to Dystopia: entering a long-term and politically dangerous food crisis.
As for me, I'm sticking with organic for my own health, for the farmers, and for the planet. The long-term savings are delicious.
Related story: Stanford Organic Food Study: Amidst Pushback, Co-Author Acknowledges Limitations
Follow Linda Watson on Twitter: www.twitter.com/cookforgood