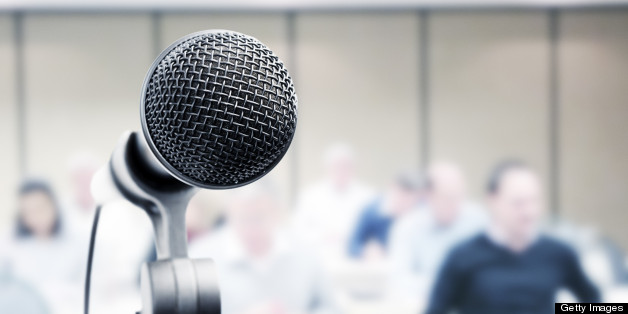 Getty Images
As I took the stage, I hoped that my nervous, heavy breathing wasn't audible in the microphone I held tight in my sweaty hands. I squeezed my eyes shut, taking a few more deep breaths as Kaitlyn, one of the event planners for the 2013 Relay for Life at UIUC and a new friend of mine, gave me a short introduction. As I heard the welcoming, echoing sound of applause, I knew it was time to verbally tell my story to the world for the first time, no longer hiding behind the bright lights of my laptop screen.
I was a whole mix of emotions when Kaitlyn, on behalf of Colleges Against Cancer here at my university, extended the invitation to speak during the Relay for Life opening ceremonies at the beginning of April. Excited, honored, scared, anxious, grateful -- it all hit me at once, and I hadn't even figured out what I was going to say. Once I accepted, Kaitlyn sent me a list of guidelines to follow with my speech. I looked them over multiple times, unsure of how to tell my story the right way on my behalf, and on behalf of young adult cancer patients and survivors everywhere. It's such a tough topic, despite me being so intimate with the details of it. I wanted to do it justice.
I reread the previous articles I've written for The Huffington Post, scraps and mini-pieces I had on my cancer blog as I went through treatment, and diary entries I kept at the time. Nothing came to me. Finally, on the day of Relay, April 20th, I walked to Chipotle in the beautiful spring weather (one of the few we've had in Illinois!) with my friend Liz, contemplating the writing I still hadn't done. And finally, as took in all of the smiles and stares my fuzzy little buzz-cut usually gets, I knew what I had to write.
Just like the guidelines said, I spent a little bit on the actual background of my diagnosis and treatment, and my connection to CAC, Relay, and the American Cancer Society. But the rest of the article, the real meat of it, came from the heart. I spoke about being a college student and a cancer patient. It was, after all, the reason I'd been asked to speak over other survivors -- my story was recent, real, and relatable to a college-age audience. So, to my friends, family, and a large number of total strangers, I recalled the woes and lessons I encountered during my battle and continue to encounter today. I should have known from how well-received my blogging and writing has been -- I have something to say, as a young adult who's beaten cancer, and people do want to hear it.
I'm still reeling from the state of pseudo-college-celebrity I enjoyed that night, and how amazing it was to have friends and strangers alike celebrate life and fight back against cancer at my side. It was my first Relay, and while I wish I'd been able to experience the amazingness that it is earlier in my life, my special connection to it made it as great a night as it truly was. And I learned a whole new lesson that night, even this far after chemo and remission. I have a reason to keep on fighting. Cancer is a fight that, while it's physically ended for me, I will continue to fight for the rest of my life as a survivor. I didn't choose to be an advocate, but I now understand that it's a gift, and I need to do more than sit at my computer and encourage others to act -- I need to act, too.
I look forward to many, many more years of Relay -- to many more survivors joining me in the opening lap, to more of my family being able to attend, and to the event gaining more and more attention not just on my campus, but on campuses and in towns all over the country and the world.
Lindsay's speech from the 2013 Relay for Life at the University of Illinois can be found here.
FOLLOW HUFFPOST