5 Frightfully Good Halloween Cocktails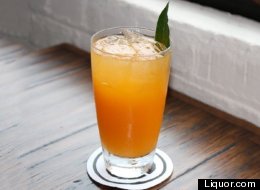 Trick-or-treating may have been fun as a kid, but after a certain age, it's no longer socially acceptable to don a superhero outfit and go door to door asking for candy. But don't give up the spirit of Halloween completely -- a costume party with plenty of adult beverages is the proper way to celebrate the ghoulish holiday.
This year, we suggest you fix one of these five eerily good cocktails. Happy Halloween!
5 Frightfully Good Halloween Cocktails
This spicy and fruity drink calls for rum, sugar, cloves, nutmeg, lemon and apple juice, and it's topped with soda -- but the best part is the garnish: apple, a cinnamon stick and pumpkin seeds! One sip of the special libation will leave you glowing.View recipe: Jack-o-Lantern Punch

After a long, chilly night of trick-or-treating -- or bar-hopping -- this rich, chocolaty drink will warm you to the core. The simple mix of hot chocolate, coffee-flavored Irish cream liqueur and whipped cream is the ideal nightcap for All Hallows' Eve.View recipe: Baileys Velvet Mocha

Visiting the pumpkin patch may have been fun as a kid, but nothing beats using the beautiful orange fruit in an adult cocktail. For an evening in with friends and family handing out candy to trick or treaters, try whipping up this delicious Halloween twist on Eggnog, which combines rum, eggs, sugar, milk, vanilla extract, ground cinnamon and, of course, pumpkin puree.View recipe: Pumpkin Nog

Hosting a costume party? This mouth-watering drink, which includes rum, allspice liqueur and homemade lemon-pumpkin soda, is the perfect festive tipple. Garnish with a bay leaf to give the creation a bit of extra flair.View recipe: Smashing Pumpkin

Spice up your night with this icy-hot brew of spiced rum, lime, Tabasco Sauce, ginger beer and pilsner. It sounds like a dangerous concoction -- and that may be right -- but fortunately the beer cuts the heat a bit. That's not to mention that it's delicious.View recipe: Hellfire
Follow Liquor.com on Twitter: www.twitter.com/Liquor