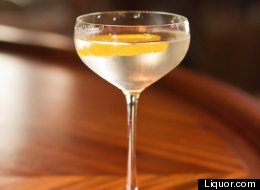 Like Frank Sinatra, Scandinavian furniture and I Love Lucy, the Dry Martini is a mid-century classic, a streamlined bit of '50s Americana in a glass.
Regarding its constitution, therefore, we allow no amendments: A Martini consists of gin, vermouth and bitters, and maybe an olive if you're feeling ebullient. Full stop. No asterisk.
Although we are purists, however, we are not robots. That's why we are presenting you with these five mouthwatering variations on the cocktail standard for when you feel like giving history your own personal spin.
They may not be Martinis, but they're family... and we'll always make room at the bar for family. Cheers!
5 Great Not-Quite-Martinis
Dry and refined, the Martini tends to be associated with very propah figures like Winston Churchill and James Bond. That's all well and good, and goes perfectly with watercress sandwiches, but if you want to inject a little New World wildness into your three-drink lunch, we suggest swapping the gin out for a nice aged tequila. Pro-tip: Stir, don't shake, and garnish with orange.View recipe: 1942 Martini

The nice thing about a drink this well-designed is that it speaks for itself. From its watery chartreuse hue to the fanned-pear garnish (put "learn to fan a pear" on your weekend to-do list), this is a cocktail that has a real elegance. But the key to making it is balancing the muddled pear and simple syrup with the cardamom and bitters. Too sweet and you're in T.G.I. Friday's territory.View recipe: Cardamom Pear Martini

Named after James Bond's first female companion, Vesper Lynd (thankfully one of Ian Fleming's more subtle female sobriquets), this is the drink that gave rise to the super-spy's legendary mixological prowess. Featuring both gin and vodka, this cocktail rewards a "have it both ways" approach. Just make sure the Lillet is noticeable and the lemon garnish is robust. As in all things Bond-girl-related, tartness is key.View recipe: Vesper

Not every variation on a classic needs to claim bold new territory. Though Jimi Hendrix, for example, may have made "All Along The Watchtower" his own, Tori Amos failed to do the same for "Smells Like Teen Spirit." Sometimes, simple is best: This is a Martini with an onion in it.View recipe: Gibson

Though we don't mind a little brine, this clever concoction is not exactly what it seems. The delicate mixture of Hendrick's Gin, white grape juice, simple syrup and white balsamic vinegar was an April Fool's Day recipe, but it's so tasty that we drink it year-round. Guess we should change the name.View recipe: "Dirty Martini"
Follow Liquor.com on Twitter: www.twitter.com/Liquor