Last night, I took my two kids downtown Sarasota on a school night to experience a little democracy in action at a public option vigil being held in front of Congressman Vern Buchanan's downtown office.
As we waited to cross the street from the "no health care" corner to the "pro health care" corner, one woman protester yelled,
"They're all welfare moms."
"That's not true," replied my 10 year-old son matter-of-factly, "my family has insurance, and we think everybody else should too."
I pulled my son a little closer, as the woman shouting "welfare, welfare, welfare" decided that "stupid, stupid, stupid" might be a more effective chant.
"Smile and keep walking," I told my son.
As we crossed the street, I wondered if it was such a good plan to bring my children to witness such a heated debate. Yes, it was a great educational opportunity. But on the other hand, I worried that the passionate debate on health care might get out of hand, as it had at other events.
Fortunately for everyone involved, the event was loud but peaceful.
More than 550 supporters showed up Wednesday night outside the downtown Sarasota office of Florida Congressman Vern Buchanan (R) for a candlelight vigil in support of President Obama's plan to reform health care, and specifically, the public option. Buchanan represents Florida's 13th district, a heavily Republican area. According to the Sarasota Herald-Tribune, "only 33.6 percent of the registered voters in the five counties are Democrats."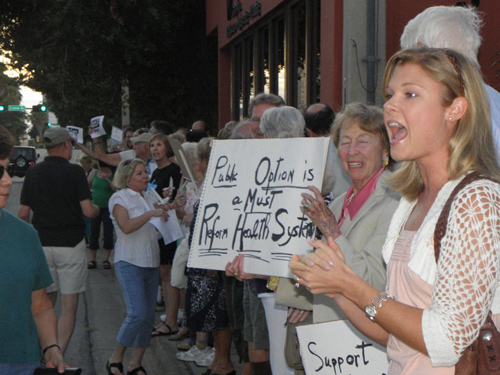 Support for the public option and the President's health care plan was strong and vocal. More than five hundred supporters stretched a full block -- carrying candles, waving signs and chanting "Health Care Now" for nearly two hours. Those in favor of the public option outnumbered protesters against the public option by a margin of more than 2-to-1. (The Republicans claimed 215 demonstrators against, while the Democrats counted more than 550 in support of the public option.)
Supporters carried signs that read "Public Option Now" and "Public health care, it's only fair" Several of the pro-public option supporters wore signs or carried banners that simply read, "Pre-existing condition."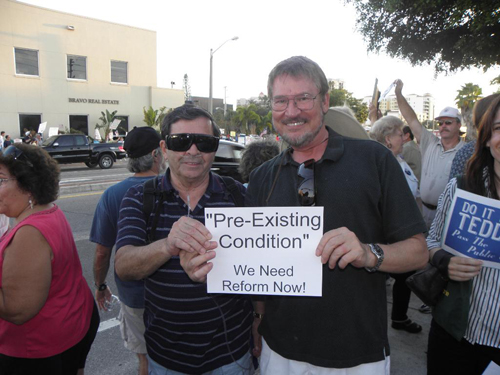 The Sarasota Herald-Tribune reported on Wednesday, that Richard Rehl, a single parent in Englewood, planned to tell his health care story at the vigil "because he believes the reform message 'has been hijacked' by conservatives.'"
"Rehl had two jobs, lost one, and expects to lose his health insurance for his family in December because the grocery store where he works will not let him work enough hours to qualify for the company health insurance plan.
'I support President Obama but I don't think he's done a good job selling it,' Rehl said.
'Republicans have done a good job at making it about socialized medicine. You have seniors now yelling about socialized medicine who are in Medicare and like Medicare. It's amazing.' "
One anti-reform protester held a sign with the controversial image of Obama depicted as The Joker. Messages against the public option were mixed, ranging from "Give me liberty, not debt" to "Socialism" to "Get a Job" with lots of mentions of "Obamacare"
The crowds dispersed just after 9 pm, without incident.
Photo credit: Mary Clupper
First thing Thursday morning, many Sarasota-area Republicans received the following email from Peter Rice, Secretary of the Republican Party of Sarasota
SUBJECT: MoveOn.org vs. GOP Wednesday Night
Dear SRQ Area Republicans and Conservatives:
Wednesday evening, September 2nd, MoveOn.org called out their activisits to demonstrate outside the offices of Congressman Vern Buchanan at Orange Avenue and Fruitville Road in Sarasota .

Pictured below, more than 215 Republicans who demonstrated in front of Congressman Vern Buchanan's office showing their support for him and opposition to ObamaCare - all of our signs were homemade.

Across the street a couple hundred MoveOn.org activisits demonstrated against Congressman Buchanan and for ObamaCare - only one of their signs was homemade and they had only one USA flag, which was small and seldom seen.

More photographs are available at: http://www.rpos.org/
Thank you to all who came out,

Peter Rice
Obviously, there are a few inaccuracies in the GOP email:
1) There were LOTS of homemade signs on the pro-health care side. My family alone made and displayed three, and there were dozens more. (See photos above.)
2) The supporters were there to voice support for the public option, and for Obama's health care plan, (see photos above,) not to oppose Rep. Buchanan. (And for the record, as of 1:58 pm EST on Thursday, his office stated that Representative Buchanan had not made any decision as to whether or not he would be supporting the health care reform bill, with or without a public option.)
3) Not that I want to get into an "our flag is bigger than your flag" debate, but the flag carried by the supporter in the picture below is huge. HUGE! (And, in case you were wondering, there was definitely more than one flag being waved on the pro-public option side of the street.) However, in all fairness, many of the demonstrators in the the pro-health care camp were also holding lit candles. More flags could have complicated things considerably, especially in a brisk wind -- and an accidental flag singeing would have been pretty bad as far as vigil mishaps go.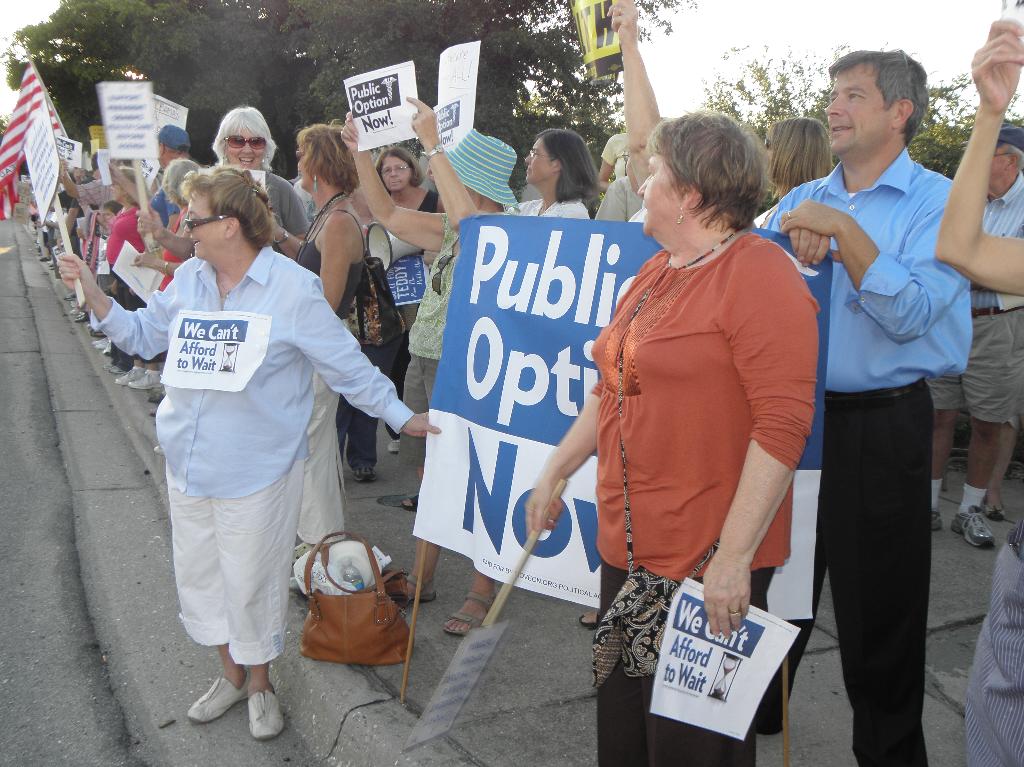 SUBSCRIBE TO & FOLLOW TRUMP'S FIRST 100 DAYS
How will Donald Trump's first 100 days impact YOU? Subscribe, choose the community that you most identify with or want to learn more about and we'll send you the news that matters most once a week throughout Trump's first 100 days in office. Learn more