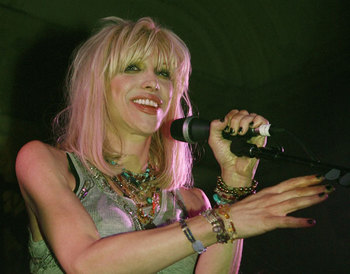 Courtney Love's new album was supposed to hit stores yesterday, but
Nobody's Daughter
has been postponed. The
New York Post reports
that she may release the album independently via her website courtneylove.com. Love's MySpace administrator
posted reasons for the delay, including:
some paranormal technical issues and had to be moved from one studio to another studio right around the holidays...Courtney and crew could not hear between guitars. Sound and vocal mixings have to be completed still to perfection.
Along with recording issues, Courtney has been consumed tracking down a vast embezzling scheme.
When she first began investigating the nefarious malfeasance it was simply to discover who had opened credit card accounts and bought plane tickets in her name.
Now on her own
--the police, the FBI, politicians and media refuse to listen to her--Courtney has accumulated evidence that $800,000,000 has been stolen using Kurt Cobain's social security number and variations on the spelling of his name and the names of other celebrities, as well as family members, as she
reports on her most recent blog
:
Mark Consuealas and Kelly IPA mine under courtney lovecobain no space is 98 pages and i get stuck being of all people axl rose, yep B A Bailey B baily ab bailey wa rose a rose all with 100s of iff addresses i get stuck being Pamela lee ANDERS , myneighbou and dear friend Pamela and Davids daughetr sara is also a good friend, since Knispel and Chapman is using their ssns and their ex spouses
All of which is tied to illegal mortgage leveraging and property acquisitions! Courtney explains
the mortgage fraud sitiuation wich has now grown to over 800,000,000 netted by the Estate Of Kurt Cobain and embezzled by a cospiracy of cpas , lawyer slash bankers and a few corrupt loan officers...and my mortgage fraud strikes me as not only New York NJ GA TX and PA and CT problems, its very very much a California problem... im actially wuite furious that my ag is governor gerry Brown and my senator BOxer and my Congressman Waxmen and ive ardently supposrted all of them and since the 4 trillio yep FOUR TRILLION in mortgage fruad annually in the usa 65% of it begings in the San fernando Valley depsite ending up in Houston or Metarie or Verdi Nev
Wow! Plus, as she uncovers the information it is erased by the criminals, so she has been typing it up in her blog so there is a record of the strange entangled chain:
my mac is so hacked when i get a piece of data it changes...they change information once i dissemnitae it
But while Courtney and her daughter may have had $800,000,000 stolen from them, they aren't broke. Sixteen year-old Frances is shopping for a $7 million dollar NY condo and per her MySpace admin:
Courtney has 30 million dollars in sponsorships,
from a prominent feminine hygiene/menstrual company and a prominent tequila company ??? and Courtney doesn't even understand that part! and many more companies etc

Lisa Derrick is LaFiga on Firedoglake.com