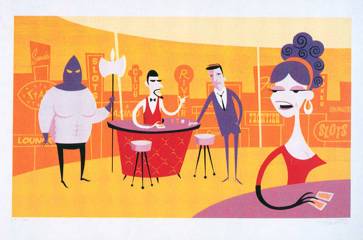 Next weekend, October 22 to 24th Las Vegas revives, revitalizes and celebrates the style pioneered in desert resort's glory days when glamour ruled the Strip and the Rat Pack packed 'em in. This is a weekend full of classic retro Vegas chic.
Mondo Lounge III comes to the Palms Hotel for three suave days and two debonair nights, bringing the swank, swingin' Mad Man style of Las Vegas Modernism to real life with classic Las Vegas and Hollywood glitz; lounge culture, martinis and other retro cocktails; vintage fashion, Mid Century Modern, Atomic Age and Space Age living; stereophonic sound and Exotica à la Les Baxter and Pablo Esquivel; swing and ballroom dancing, the fox trot, rhumba, and samba; Eames-era, 1950s, and1960s style; bachelor pads, minks, black tie and Sean Connery-era James Bond; pin-up girls, and nightclub glitz.
Themed around the lifestyle and culture of Americana from 1957 to 1963, Mondo Lounge III will feature live music, lounge and burlesque acts, plus DJs from internet Exotica radio station Luxuria, exhibitors and vendors, as well as off-site cultural events including an architectural film screening and panel discussion at the former Stardust Country Club (National Golf Club), a guided bus tour and a self-driven architectural tour of Las Vegas landmarks (these have separate admissions from the Mondo Lounge event). The Junior League will host a complimentary open house at the Morelli House on Sunday too! The off-site events are produced by Las Vegas cultural entities such as Friends of Classic Las Vegas, VeryVintageVegas.com and the Architectural and Decorative Arts Society of Las Vegas.
The weekend's in-person host is the highly collectible and popular fine artist SHAG (aka Josh Agle), famous for his Jetsons-meets-James Bond jet-set themed paintings. A large selection of SHAG's artwork will be a premiere exhibit at the event with an exclusive opening on Friday night.
Other art includes tiki artist extraordinaire, Bosko and his Witco burnt-wood carving style artwork; mod/psy-fi fine artist Chris Reccardi; and vintage serigraphs by David Weidman, animator for many cartoon classics including Mr.Magoo, Gerald McBoing Boing and Fractured Fairytales.

SUBSCRIBE TO & FOLLOW LIFESTYLE
We're basically your best friend… with better taste. Learn more