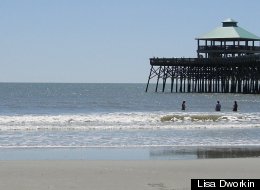 Charleston, South Carolina is one of the most beautiful and historical cities in the United States. Millions of people visit there every year for Charleston's culture, history, architecture, food and shopping.
In fact, Charleston was named the top city in the U.S. in the Conde Nast Traveler 2011 Readers' Choice Awards.
You should also consider Charleston when planning a beach vacation. While the city itself doesn't have any beaches, you don't have to travel far to enjoy world-class beaches, which simply adds to Charleston's attraction as a vacation destination. With its many opportunities to delight in city and beach activities, Charleston appeals to travelers with a variety of interests.
The Beaches of Charleston County, South Carolina
Isle of Palms is a barrier island located about half an hour's drive northeast of Charleston, South Carolina. It's the location of one of three public beach parks operated by the Charleston County Park and Recreation Commission. Isle of Palms County Park is an especially good beach for families.

Folly Beach County Park is another Charleston County Public Beach. In addition to the amazing beach, there are wonderful nature programs offered here. Unfortunately at the time of this article, Folly Beach County Park is closed due to erosion problems.

Center Street Beach is another well-known beach in Folly Beach, South Carolina. This is where you will find the fishing pier. Center Street Beach is close to the center of town with its shops, restaurants, hotels and activities. The beach has a laid back, surfer vibe to it making it a really fun beach for people of all ages.

Kiawah Island is the location of a well-known destination resort with multiple golf courses, vacation homes, tennis courts, a spa and a AAA rated 5-diamond hotel. It's also home to Kiawah Beachwalker Park, another of Charleston County's public beach parks. That means mere mortals can enjoy the same beach as resort guests for a fraction of the cost!
Follow Lisa Dworkin on Twitter: www.twitter.com/thebestbeachnet